How To Apply Blush According To The Shape Of Your Face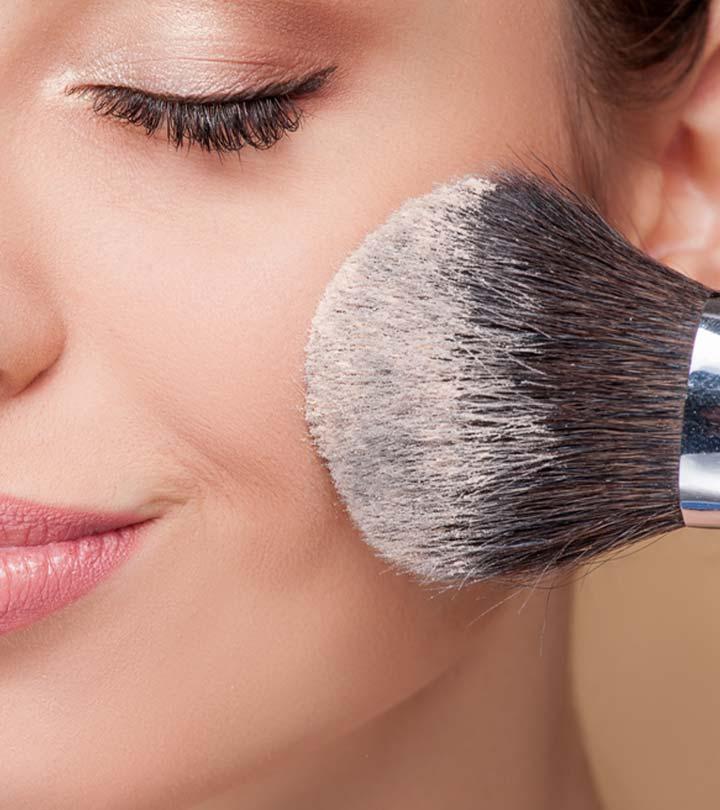 Blush does its magic by adding a youthful glow to your face and providing the illusion of a healthy complexion. It's a great way to get a radiant look that even bronzers or highlighters can't match. However, it's one of the trickiest cosmetics to master, and a basic cheek swirl won't do the trick. Whether you're having trouble keeping your blush in place, are anxious that you've picked the incorrect shade or formula, or aren't sure where to begin; we have the answers you're looking for. It is possible to get a lovely, long-lasting glow, regardless of whether your skin is oily, dry, or just sweating. Here are several clever ways to customize this universally attractive makeup product for your own features, complexion, and routine. Read on to know all about it!
Prepare Your Skin
Always cleanse and moisturize your face before applying blush if you want it to integrate into your complexion and last all day. Healthy, exfoliated, fresh and supple skin helps makeup to blend in nicely and last longer than on dry (or greasy) skin. Use a cosmetic primer, which smoothes out the face and creates a non-slip base, to extend the wear of your blush. Applying blush over the base or a tinted moisturizer will help it last longer and level out your skin tone without having to buy a separate base.
1.  Heart Shape Face
A heart-shaped face is characterized by a large forehead, full cheeks, and a pointed chin. The goal is to make your nose more oval by reducing the sharpness of its corners.
How To Do It
Use blush on your cheeks' outer edges. You can begin near your ears and work your way down to just below your lower eyelids.
Start blending the color at your temples and work your way toward the middle of your forehead. You may get a more pleasing facial proportion by doing this.
2. Square Shape Face
They have a prominent jaw and cheekbones and a forehead that is roughly the same size. The major focus for this face type should be to smooth down the sharp corners and extend the forehead.
How To Do It
First, make half moons with your blush. Beginning with the cheekbones, work your way up towards the temples.
Draw a sloppy 8 on the brush to mix the colors. A more unretouched appearance will result from doing so.
To find your cheekbones, smile and look at where your pupils dilate. You may use these as checkpoints to prevent getting blush on your nose.
3. Oval Shaped Face
An oval face often features wide cheekbones and a smaller chin than the forehead. The fact that it appears to be longer than it is wide is also notable. These characteristics dictate a style that shortens the appearance of a long face.
How To Do It
First, draw horizontal strokes with your blush.
Begin at the apples of your cheeks and blend outward towards your ears.
Although oval faces may pull off any blush application, it's best to avoid putting it just beneath the cheekbones where it could seem to be a windburn rather than a healthy flush.
4. Round Shape
The breadth and length of the face are similarly distinctive, making it simple to spot. The cheekbones and cheeks are also very pronounced. The objective here is to create the illusion of a more diminutive face.
How To Do It
Sucking in the cheeks will help you locate your face's natural indentation. Then, dab some blush on top of that area.
You may complete your appearance by coloring on your chin if you so like.
Avoid using pearlized or reflecting blush as it might give the impression of fuller cheeks.
5. Oblong Face Shape
Oval faces can sometimes look like square ones. This form, in contrast, is longer and narrower. The widths of the face, cheeks, and jaw are all very similar. If your skin tone calls for these qualities, try shortening your features.
How To Do It
Put some blush on your cheekbones and in the hollows of your eyes.
Use a good blending technique, ensuring the color stops at the bridge of your nose.
6. Diamond Face Shape
Its pointy chin is one of its most distinctive traits. However, it widens at the cheeks and tapers towards the jawline, emphasizing the prominence of the cheekbones. This is why it's a good idea to highlight your lower face.
How To Do It
Use blush only on your cheekbones, not the hollows below them.
Good color blending should go towards the ears.
Blush comes in a wide variety of colors, and you should pick the one that best compliments your skin tone. Instead of delivering you a pleasant, youthful glow, anything too dim or too brilliant might actually age you. Choosing a shade that is near to your natural blush is the key, and pinching your cheeks is the best method to determine this. If you're still unsure, read on for some guidance in selecting the ideal tone for your skin. Light pinks are a lovely way to add a little pop of color without overwhelming fair complexion. Formulas in soft pinks and lilacs provide a subtle wash of color that complements your fair skin without seeming gaudy. So what is your favorite blush for daywear? Let us know in the comments section!
The following two tabs change content below.