How To Choose A Perfect Saree For Your Body Type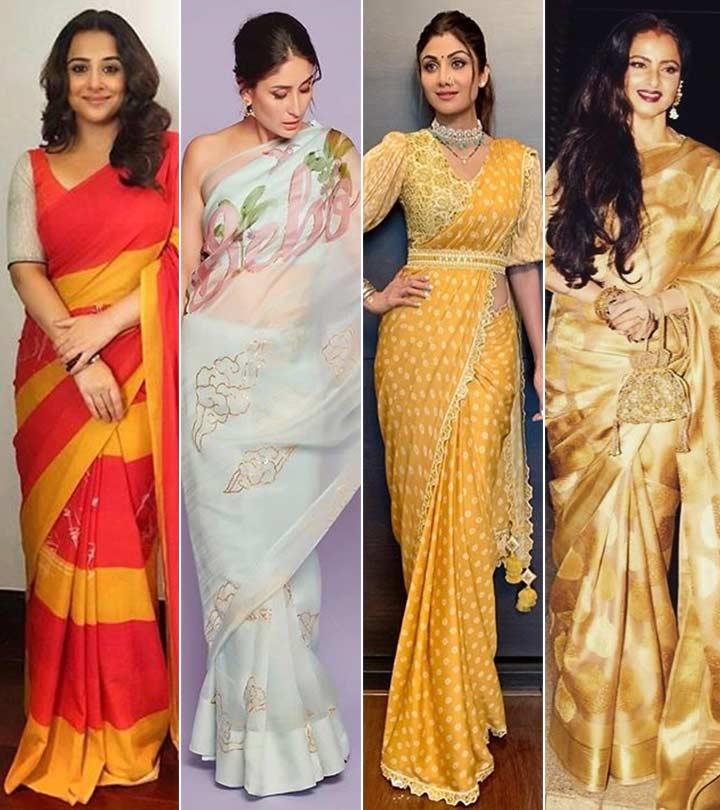 India is a land of vivid cultures and traditions. Every state and every region in it has its own unique beliefs and ways of living. But when it comes to talking about Indian traditional clothing, it is the saree that gets the quintessential tag. Saree is that garment which makes every woman look beautiful and attractive irrespective of the height, the weight, or even the age. It's true, isn't it? There's something about this single length piece of garment that dwells confidence in the person wearing it. Slowly, but steadily, the Indian saree is gaining popularity and momentum all over the world.
And looking good in a saree has got to do with the way you drape it and what saree material you choose. You need to pick the one that suits your body type. If you are naïve and want to know more about how to pick a saree appropriately for your body type, here's a low down on that. Read on.
#1 Apple-Shaped Body Type
If your body is heavy around the area of your stomach and bust, then your body falls into this category. If you want an example, we can give you the example of veteran Bollywood actress, Kirron Kher— hers is an apple-shaped body. Sarees with heavy embroidery borders are meant for you. Getting a longer blouse stitched will help you hide the fat around your stomach. Wrapping the saree upper waist level is also apt for such body types. Wearing silk sarees will make you look gorgeous. Stitch blouse of contrast colors to give a dramatic effect to your saree look.
#2 Pear-Shaped Body Type
Women with this body type have a slender upper body but a heavier lower body. For example, consider celebrity Chitragandha Singh. You should pick sarees made of georgette or chiffon to balance the difference between your upper and lower body. And when you drape a saree, always go for leaving you pallu in a seedha style. Don't make pleats with it.
#3 Voluptuous Figure Body Type
For people with this body type, sarees made of chiffon, georgette, and net will suit the best. These materials will make the saree look like it's giving you a snuggle hug, and this highlights those curves of your body. For example, consider the talented actress Vidya Balan. It's best to go for dark colors and never wear a saree that is heavily embroidered. Play with your blouse designs to take the attention away from your voluptuous figure if you are conscious about it.
#4 Overweight Body Type
Remember this: cotton and any fabric that is stiff are your worst enemies. Wearing sarees made of such fabrics will make you look huge. Wearing silk sarees or chiffon sarees will help you look slimmer. And the trick is to drape the saree in a manner that you look slim. Wear longer sleeve blouses to hide your flabs.
#5 Tall And Slim Body Type
If your body type is like Anushka Sharma, then you definitely fall into this body type. It's best advised for you to wear sarees with heavy embroideries. You can also go for sarees that have huge
prints on them. Different colors and prints are all you need to divert the attention of everybody from your height. Any material will suit your body type — now that's a pro point, isn't it?
#6 Slim Figure Body Type
We know that staying fit and slim takes a lot of hard work, then why spoil all the efforts by wearing the wrong saree, right? For example, see Kareen Kapoor Khan and Katrina Kaif, their slim figures get only accentuated even more when they are seen wearing sarees. For this type of body, women should opt for silk, cotton, and organza sarees. Opt for the ones with heavy work or the ones in light colors. Women with this body type look best with dramatic blouses like sleeveless, halter neck, backless, etc.
#7 Slim And Short Body Type
See Divya Dutta, she is slim and short. For women with these body types, picking the right saree is a huge task. We think that women with this kind of body need to opt for sarees which do not have heavy embroidery work, or heavy borders, or big bold prints. Such women need to go for sarees that have thin borders as it will make them look taller. Small prints on sarees can also be considered.
Apart from the above-mentioned help, there are a lot of other factors that play a role to look good in a saree, they are:
Pleating the saree the right way
Draping it the right way
Accessorizing it rightly
Stitching the blouse correctly
We hope now you know how to fix all of your saree problems. Do you have any tips to add on here? Let us know in the comments section below.
The following two tabs change content below.

Latest posts by Shivani K (see all)