How To Choose The Perfect Hair Dye For Indian Skin Tone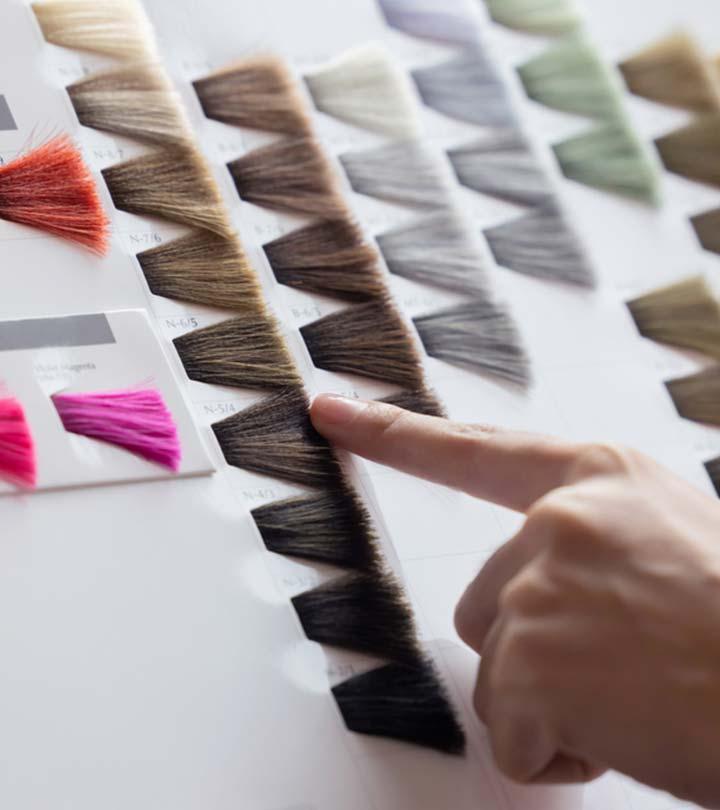 Have you ever spent hours staring at the hair color catalog, trying to spot the color that will suit you? Hair coloring holds a permanent place in everyone's bucket list, and if you are a beginner, you must have ransacked the internet for every piece of information you could get on what hair colors work best for your skin tone. While you might be highly impressed by blonde, pastel, or even rainbow highlights, they won't necessarily look good on you just because it suits the model. Here is some expert advice from hair dye enthusiasts to help you pick the color crafted especially for Indian skin tone.
Difference Between Hair Dye And Hair Color
Before we step into what hair dyes you need, let's make something clear, hair dye is not hair color. Yes, you read that right, and if you are not careful about picking the right bottle, you might end up having totally unexpected results.
Hair color works on the outer surface of your hair. It does not last very long, and a few washes take the color off completely. On the other hand, hair dyes do the permanent job of penetrating into the hair shaft and changing color from inside. Hence it stays way longer.
Types Of Hair Dye
The most popular kinds of hair dye are permanent hair dye, demi-permanent hair dye, semi-permanent hair dye, gradual hair dye, and temporary hair dye. Read on to more about each of them.
1. Permanent Hair Dye
As the name suggests, permanent hair dye does not wash away after a few washes. The chemical components include ammonia, hydrogen peroxide, PPD, and couplers.
2. Demi-Permanent Hair Dye
Demi-permanent hair dye is made with milder chemicals and does not contain ammonia. It does have PPD, and the color does not look as rich as the permanent hair dye.
3. Semi-Permanent Hair Dye
These dyes are free of hydrogen peroxide and ammonia and can be both from natural and chemical sources. The color molecules penetrate the cuticle and give a good color.
4. Gradual Hair Dye
Gradual hair dyes have metal that leaves a dark shade of sulfides and metal oxides on your hair. They need to be re-touched sooner and washed away easily with shampoo. You should not opt for straightening, curling, or perming your hair if you have gradual hair dye on.
5. Temporary Hair Dye
Temporary hair dyes are also called hair colors, as they come off with a single wash. They are ideal for glamming your one-time party look. They don't penetrate the cortex and sit on the surface itself.
Here are some hair colors to choose from that are ideal for Indian skin tone.
1. Burgundy
You might not consider brown as your go-to color, but deviating from the main shade gives you a variety of colors. The best part is burgundy works wonderfully on Indian skin tones. If you are warm-toned skin toned, colors like chocolate brown and ash compliment your skin. And if you are cool toned, chestnut and mahogany are the colors to go for.
2. Red
If you are in for something bright and daring, red is the color for you. There are many shades to go to, and you have to be very careful while choosing the right shade for yourself. You can try copper-red or light red if you are fair-skinned, depending on your skin tone. If your skin is more on the olive side, you can opt for blue-based red tones.
3. Funky Hair Colors
Indian skin tone allows you to play with many funky hair colors. Just because a shade is too light for you does not mean you can't enjoy playing streaks with it. You can choose all the purple, green, pink and blue you want, and sometimes, you can even do them all in one go!
Now that you know what colors to go for, nothing can stop you from having a gorgeous hair color. A few pointers to take care of are, if you have a warm tone, you can go for colors with a hint of copper, gold, and auburn. If you have cool tones, go for a darker red, honey, ash, and wheat shades.
As fun as hair coloring is, give your hair a break to recover from the harmful chemicals. Even though ammonia-free hair colors don't last long, they don't cause as much harm as chemical dyes. Another clear disadvantage of hair dye is it starts fading away after each wash, so eventually, you will be left with dull hair that you have to deal with till you trim it out. Those with sensitive skin should also be careful with the chemicals as they can make you have severe allergies.
So, do you have any favorite color in mind for the dream hair color? Let us know in the comments below!
The following two tabs change content below.