How To Deal With Postpartum Hair Loss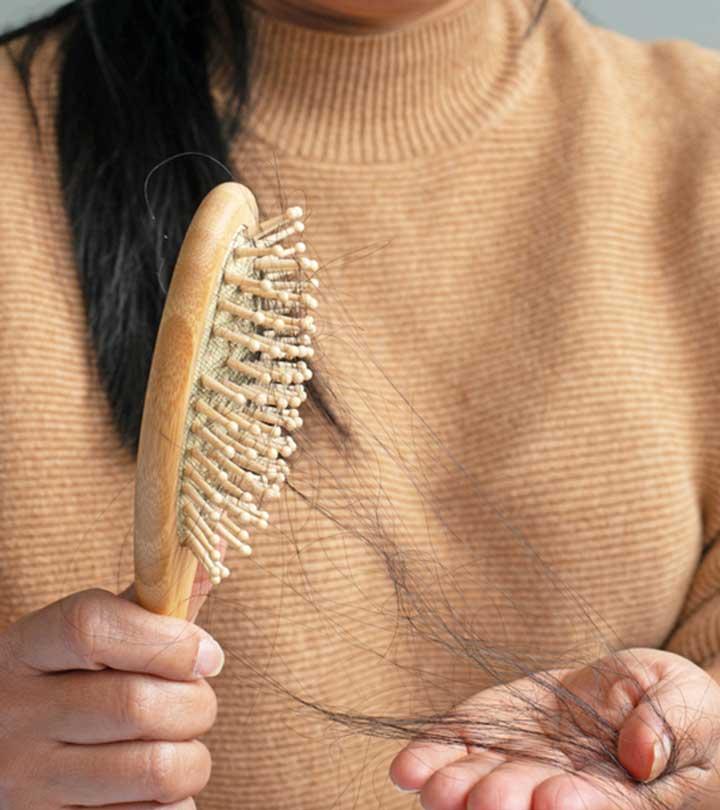 Having a baby is one of the most challenging and gratifying experiences of a woman's life. While there will be significant changes in your lifestyle, one thing that is true for all mothers is nothing will ever be the same! The sleepless nights, constant worrying, and hair fall! Yes, you will also have to deal with damaged hair falling off with a single gush of wind. While postpartum hair fall can feel heartbreaking, once you know why it happens and how to deal with it, you can get the hair growth balanced in no time.
Postpartum Hair Loss
Dealing with hair loss is never easy, especially now that you have surging hormones and the responsibility of a newborn on yourself. Here is everything you need to know about coping with it and reducing it till your hormones are back to normal.
Why Does It Cause Hair loss
The process of hair loss begins during your pregnancy. You must have noticed a thick and shiny change in your hair structure, and your hair mainly grew longer during this period. Well, we hope you clicked a lot of pictures with your hair as this won't stay after the term of nine months. This is caused due to hormonal fluctuations that increase your blood flow and slows your average hair fall. When you deliver your baby, there is a sudden stop in these hormones; hence there is a significant amount of hair fall.
When Does Hair Loss Happen?
Postpartum hair loss begins approximately 2 to 4 months after your child's birth. It takes about 6 months to restore it, but the hair fall occurs in chunks and sometimes even causes bald spots. It is your body's way of recalibrating. It also signals the growth patterns to go back to normal.
How To Protect Yourself From Hair Loss?
Hair loss is common in pregnancy, so you cannot really stop it. However, there are a few ways to prevent hair damage and help you replenish the hair strands. For starters, keep the hairstyling to a minimum. It will only aid the hair damage process and keep your hair falling off.
When it comes to diet, keep it a well-balanced diet and give time to your hormones to balance themselves. Include a lot of greens, healthy fats, and vitamins in your diet. You can even add supplements to nurture you and the baby growing inside you.
Go for natural homemade hair products like oil, shampoo, hair mask, and conditioners to keep your hair nourished. Also, add de-stressing elements like meditation, bath, and walks to your routine.
Hairstyles For Moms
Even though tying your hair is now the most relaxing and usual thing you do in a day, it becomes a luxury when you become a mom. When your baby sleeps, you have to make time for eating, bathing, changing, and even sleeping. So taking care of your hair is nearly impossible for a new mom. To help you manage your hair, here are some easy hairdos that are much appreciated by all moms who have to tie their hair up with one hand while holding the baby with another,
1. The Updo
This is the quickest hairstyle to do with your baby in hand. The best part is it does not have to be neat and tidy, and it still looks really cool when you pack it up in a cute updo. If you have wavy or curly hair, this is something you must give a try.
2. Hair Bun
Buns are convenient for moms who have long hair and want to keep it safe from falling in food. You need to roll it up and clutch it in a band. You can also try donut buns as they help you keep the bun in place even if you sleep on it.
3. Ponytail
There is nothing as sleek and effortless as a ponytail. All you need to do is comb your hair and tie it up with a comfortable big band. This takes less time and holds your hair for you while you nurse your baby. Make sure you change your hairstyle often, as it will lead to pulling your hairline backward if you keep the same hairstyle.
4. Add Hair Extensions
Hair growth is not a speedy process, and you may notice a little growth only in three months. If you feel your hair is coming in between you looking good, it's time to add hair extensions! Many brands have hair extensions that are so realistic that you can't differentiate them from natural hair. You can put it on till your natural hair grows out.
Managing your newborn and taking care of your skin and hair is never an easy task. The trick is to be prepared and not try to do everything by yourself. So now that all you need to do to take care of your hair when you have a baby, maintaining your cascade won't be a problem. Do you have any secrets to maintaining healthy hair after postpartum? Let us know in the comments section!
The following two tabs change content below.