How To Dress Like A Bollywood Bride On Your Wedding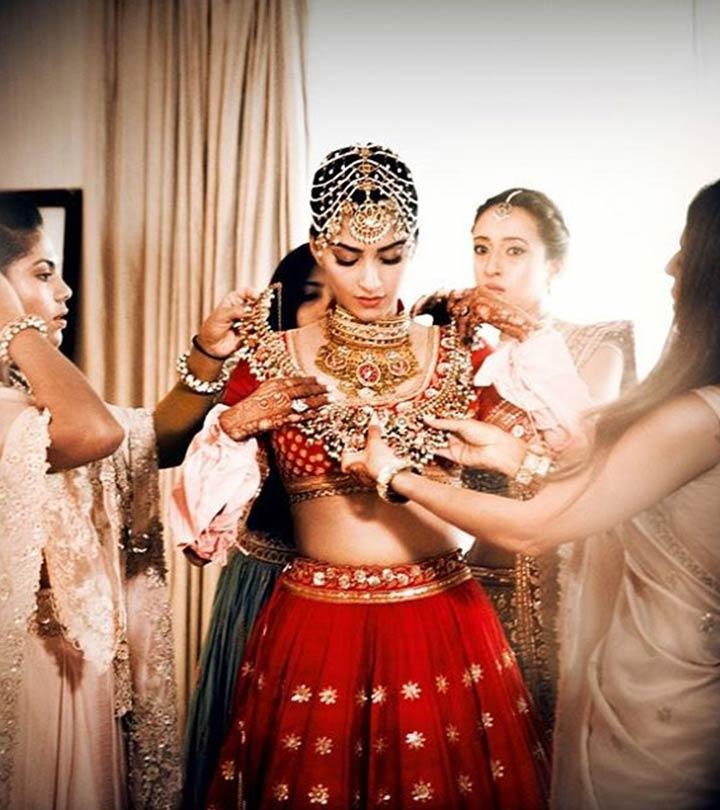 2018 has been the year of Bollywood weddings. Be it Deepika Padukone, Priyanka Chopra, Neha Dhupia, or Sonam Kapoor — all these Bollywood divas reigned the Internet with their amazing wedding pictures. Their bridal looks not only became the talk of the tinsel town, but they also became an inspiration for all the eager brides-to-be across the country. Each of these Bollywood divas looked like a dream on the day of their weddings.
In India, where weddings are nothing short of a festival for the families, the brides themselves have to achieve unachievable limits of perfection. And they often seek to achieve this by trying to incorporate the elements from their Bollywood counterparts' weddings as those have set the highest standard for weddings across the country. And of late, the trend of styling bridal outfits by taking inspiration from the B-town celebrities has
picked up steam. Right from designers to the local tailors, all the sartorial creators have given their creations Bollywood names like the Padmavati lehenga or the Nawabi suits, etc.
If you're looking to dress up like a Bollywood bride for your wedding, then here's the way you could do it. We've put together a quick guide for you to help you with your wedding dress woes and plan your wedding in a much calmer manner. Read this to find your way to the bridal-fashion heaven.
1. Pick Your Favorite Bollywood Bride
Almost every year, we come across Bollywood actresses getting married. And thanks to the hard work of the paparazzi, we are able to see their wedding outfits in great detail. So, do your research on the net. Dig out images of your favorite Bollywood divas in their wedding attire and get those pictures printed. Lay them out in front of you. You can even opt from Bollywood reel weddings too. From real to reel life bridal looks, Bollywood definitely has a wide array of options to offer. So, pick whatever you love. Pick whatever makes your heart skip a beat and say, "This is how I want to look on my wedding day."
2. Pick A Bollywood Theme For Your Wedding Dress
If the first option did not work for you, then we would advise you to consider a theme. Pick a wedding theme for yourself — retro, traditional, royal, contemporary, indo-western, etc. Once you've figured out the theme, you're likely to have a better idea about the kind of style you'd want for your wedding dress. Pick your favorite Bollywood celeb's look according to the theme, and then finalize. If you're looking for something royal, then check out Aishwarya's look in Jodha Akbar or Deepika's in Padmavat movie. If you need a contemporary look then check Kareena's look in Veere Di Wedding movie.
For a south Indian wedding look, you can take inspiration from Shilpa Shetty Kundra, Isha Deol, and many such Bollywood celebs who have their origins from South India.
3. Next Comes The Hairstyle Game
You cannot replicate the exact look of your favorite Bollywood diva, especially when it comes to your hairstyle. This is because your hair length might differ, or you might not be able to afford the same hairstylist and other such issues. That said, a way out of this would be if you pick an element from the hairstyle of your Bollywood diva, and incorporate it in your hairstyle. It could be as simple as using fresh flowers in your hairdo. If you think you can't plait your hair and add fresh flowers to it, you can tie your hair up in a bun, and cover it with fresh flowers instead. So, first pick the hairstyle — it could be a plait, free-flowing hair, bun, etc. and then decide if you want to accessorise it with flowers or jewelry.
4. The Fun Part — The Jewelry
The jewelry is an important element of the bridal outfit, in fact, it's the jewelry that pulls the look together. So, keep in mind your Bollywood theme, and your hairstyle while choosing the jewelry. Whether you are opting for layered jewelery or a simple choker, make sure you are comfortable wearing it. You don't want to go through the agony of pain to look like a dream. Accessorize your dress smartly. Even when it comes to mang tika or the nath, pick one which not only makes you look beautiful but is comfortable for you as well. You definitely need your stylist's or even better, your best friend's opinions here.
5. The Dress
Now that you've put together a vision of your perfect wedding ensemble all that remains is to convert it into reality, in keeping with your budget. For this, you will have to note the color, the material, the pattern, the embroidery, and the design of the dress and try to replicate it. Sit with your designer and figure out how you can make your wedding dress a reality.
When you know what you want, half the work is already done. It's your wedding look. Chalk out the steps and get on with it. Happy shopping!
Which Bollywood celeb do you want to look like on your wedding? Let us know in the comments below.
The following two tabs change content below.

Latest posts by Shivani K (see all)