How To Dry Your Hair Without A Blow Dryer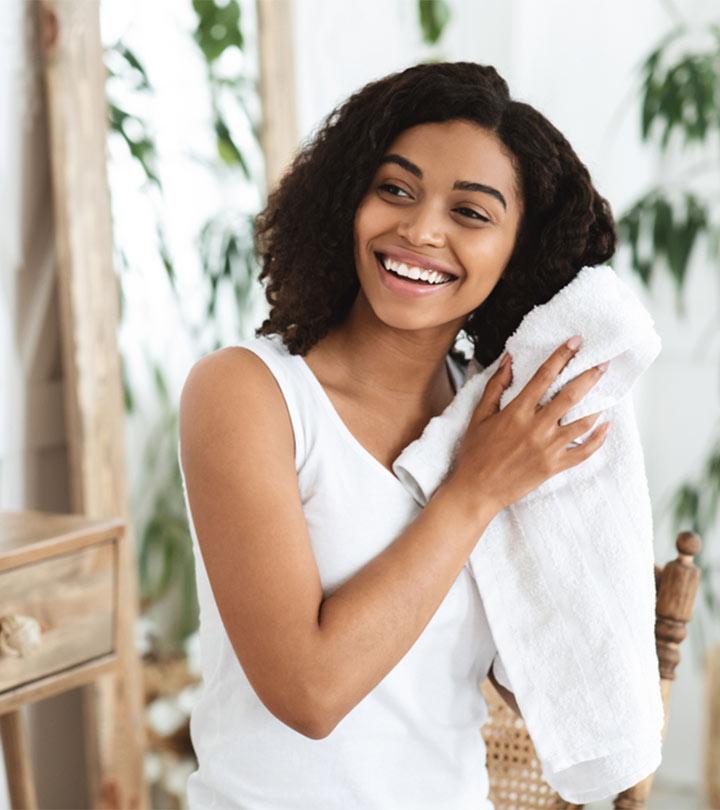 Ok, picture yourself getting ready for a party; you shampoo your hair, wrap it in a towel, and just when you plug in your hair dryer, it doesn't work! Nightmare, isn't it? And honestly, there are a hundred other things that can go wrong, like a power cut, misplaced hair dryer, and a malfunctioning one perhaps? So what do we do now? Going out with wet hair is not on the list because we all know what will happen once it dries off! Before you panic and cancel the outing, we want you to know that there are hacks out there to take care of this. We at Stylecraze present some expert ways of drying your hair without a hair dryer. What's more, it is all natural, quick and won't cause frizz or damage due to artificial heat!
1. Absorb The Excess Water With a T-Shirt
When I say T-shirt, I am not talking about a towel, turban, or any other cushioned cloth you wipe your body with. Cotton tees are way softer and absorb water much better than ordinary towels. The friction caused by the towel often leads to broken hair strands and split ends. Using a clean tee will quickly soak the excess water and help your hair dry out much faster than usual. Instead of buying towels for your hair, get a nice cotton kitchen cloth that will soak up water rapidly and not let your hair tangle in the towel grooves.
2. Condition And Comb It Out
You must have read in numerous articles that combing wet hair causes hair fall, and we don't deny it. Washing your hair loosens the hair root's grip and your hair could fall off with minor tugs. Washing also gets your hair heavy and tangled, so pulling on it with a comb will make it break off in clusters. That is where the work of a conditioner comes in. Applying a conditioner will moisturize your hair and detangle each strand so that when you use a wide-toothed comb, the water will drain out quickly and fasten the drying process. A conditioner also locks the smooth look and keeps hair fizzing at bay.
3. Shake It Off!
Do you remember the movie scenes where a girl in the towel dances with a hairbrush? They were probably trying to dry their hair out, and trust me, it works! Sometimes all you need to do is soak the excess water in a clean cotton cloth and shake the rest of the droplets off till it's dry! If you have short hair, this works fine. If you have Rapunzel length hair that touches your waist, you might want to be a little careful not to break things off while shaking the hair (No kidding!).
4. Begin With The Roots
Your hair roots need a bit more of your attention when drying because they come much less in contact with air. You must have noticed that even after you dry your hair at the tips, they get damp again after some time. This happens because the water seeps from the roots to the ends. The next time you wash your hair, push the excess water off with your bare hands and soak the hair in your clean cotton cloth, gently rubbing the roots. Part your hair into sections to absorb most of the water from your hair.
5. Use A Mousse
The alcohol present in mousse helps your hair dry quicker and keeps your hair free from frizzling. You can even experiment with natural curling with mousse. After drying your hair with a cotton cloth, divide your locks into four sections and tie them loosely. Once it dries completely, remove the buns and run your hands through your hair. It will give you long-lasting cute curls to flaunt all day!
6. Sea Salt
Another way to ditch the heat-conducting polymers and alcohol is to use sea salt spray. It does a fantastic job of keeping excess moisture away from your hair. Salt absorbs water and will reduce the hair drying time by half. All you have to do is spray the sea salt on your hair and comb it dry with your fingers! If you want to preserve a hairstyle, dipping your hair in sea salt water and letting it dry out naturally keeps the style intact much longer. It also increases the volume of your hair and is complexly safe for your hair.
7. Dry Shampoo
Now say you know all the tricks of getting your hair dry without a dryer, but got no time to wash it?! What do you do then? Well, that's easy! When going out with greasy hair is not an option, dry shampoo comes to the rescue. A single spray can absorb oil from your scalp and eliminate all kinds of foul odors so no one would know you're on your fourth no-shampoo day!
So these were all the tricks to get your hair bouncy dry without the need to plug in your dryer. Have you ever tried one of them? Let us know in the comments below! Have a happy hair day!
The following two tabs change content below.