How To Know The Perfect Pair Of Jeans For Every Body Shape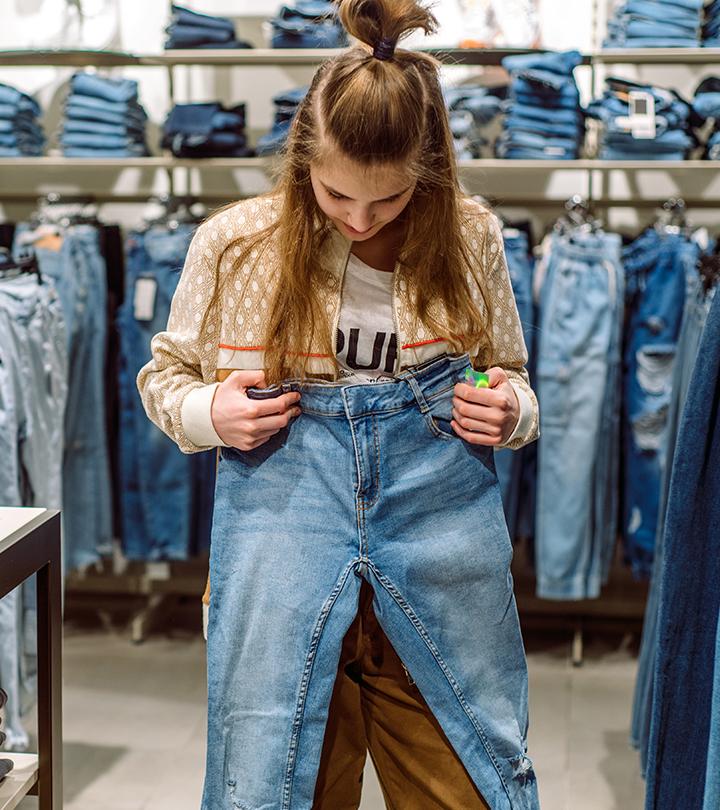 Have you ever noticed that out of all the pieces of clothing you own, your jeans are the one thing you wear the most and have never let you down? You can pair it with almost everything, and it never fails to make you look and feel perfect. However, as you might have realized by now, even with jeans, there is no such thing as one shape fits all. But there is a pair out there that is tailored to look perfect on your body type. In this article is all you need to know about your body shape and how to choose the correct denim according to the shape and fitting. So read on to find your perfect pair!
1. Triangular And Pear Shaped Body
Finding a pair of jeans that fit well and look good is a must. You should look for jeans with the following fits if you want to accentuate your shape and draw attention to your booty. With the extra material around the calves, a bootcut or flares will assist in maintaining your hips in proportion. Because of the extra length, you can even wear heels with your fit or bootcut jeans. The effect will be to make your legs appear longer and thinner. Jeans with a high rise are more proportional to most body types. Most women with broader hips have difficulty finding jeans that fit correctly in the waist and don't reveal too much skin at the back. If you've been blessed with that body, flaunt them by opting for a pair of pants or shorts with deep back pockets rather than those that are too narrow.
2. Hourglass And Curvy Body Shape
Your body type allows you to get away with just about anything while still looking fabulous. When it comes to jeans, they look best on hourglass figures. You have a nice balance of bust and hips, so flaunting your legs is a good idea. Higher rises are preferable since they draw attention away from the center of the body and emphasize the smallest area of the waist. If you want to draw attention to your butt, consider jeans with medium-sized rear pockets. If you wear flared jeans, find a pair that fits snugly up to the knee before flaring out slightly at the hem.
3. Apple And Round Shaped Body
This is for those having trouble finding jeans that fit correctly in the stomach area. The following are some things to keep an eye out for. First, wearing a loose, gypsy-inspired blouse with skinny jeans is a great way to disguise any areas you may be conscious of while still looking put together. If you have a fuller figure and are self-conscious about your tummy, high-rise jeans are the way to go. If your body is more apple-shaped, you may add curves by wearing lower-rise jeans. Finally, if you're looking to strike a balance, try a pair of fitted  jeans; the broader leg from the hip through the foot will make you look taller.
4. Rectangle Body Shape
Long inseams are ideal if you're going for a classy appearance because they make you look slim and well-groomed. If you want to see more on trend, use a cuff at the ankle with ankle boots. As a bonus, you'll appear fashionable while adding dimension to your figure. Skinny jeans are your best buddy since they flatter no matter your shape. Choose the pair that accentuates your booty and thigh area the most. If you'd like to emphasize your height, choose a high rise; if you desire to elongate your legs, opt for a low rise.
5. Square Body Shape
If you've worked to develop an athletic body type, you still have several denim options to choose from. Tight denim won't feel well on your muscular thighs, so you should choose a thicker, extra stretchy fabric like stretch denim. Denim with a lot of fabric is ideal for this purpose, as it will help you maintain a trim waist even when you cinch your thighs and buttocks. The trouser-style wide-leg jean may be the solution if you can't locate skinny jeans that fit your hips and buttocks. They are attractive and roomy enough to fit your growing belly.
So now that you know precisely what jeans you need to complement your body type, nothing can keep you from looking absolutely perfect. You can choose a color you like and even get more than a particular shape that looks ideal for your body type. So, what is your favorite kind of jeans? Let us know in the comments section!
The following two tabs change content below.