How To Remove Facial Hair Naturally (Easy And Painless!)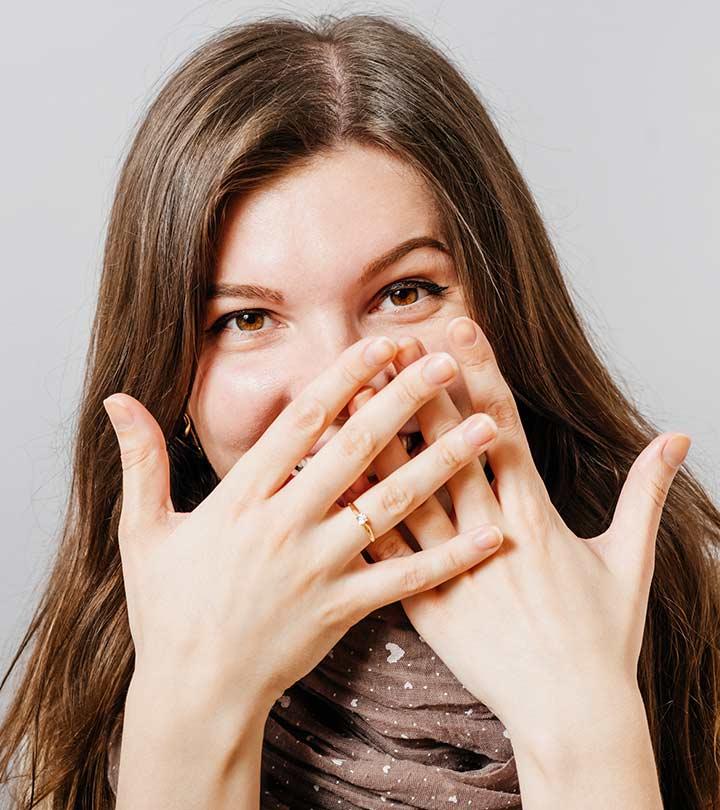 Are you extra conscious because of your facial hair? Worry not, you are not alone. According to the research conducted in 2000 by Bristol Meyers, a health and grooming products manufacturing company , about 20 million American women remove their facial hair at least once a week. Now, that should make you feel better, right?
But, guess what? After you read this article, you will feel even better. We have decided to let you in on a little secret recipe that will help get rid of your facial hair. So, ready for the surprise? Hop on as we take you through the why and what of facial hair before sharing that effective recipe with you.
Before we look into how to go about combating the problem, it is important to understand the underlying causes of the hair patch on your face.
Why do some women have excess facial hair?
If you are wondering why you and not your friend has more hair on her face, it's time you did a hormone test to check the testosterone levels in your body. Testosterone are male sex hormones androgens. But, a few women's bodies produce more than normal levels of these hormones. This is when you also earn a few male characteristics like excess hair on the face and chest (hirsutism), and sometimes, even a deep voice that sounds like a man. Sounds familiar? This article is just for you.
Besides, if your facial hair is accompanied by the following conditions, then it's time to consult a gynecologist.
Severe acne
Hypertension
Severe acne
Irregular periods
Overweight
What causes high androgen levels in women?
PCOS or Polycystic Ovarian Syndrome
Ovarian or adrenal gland tumors
Anabolic steroids use
Treatment of facial hair
We all love to go for beauty treatments. But getting our facial hair removed is not something that's pleasant. Agree? Most of you must be familiar with the following treatments for removing the hairy patch from your chin, upper lip, and face. We will tell you why these are not the best methods to adopt while we have a home remedy right in our hands.
Threading
A very common practice across the world to shape eyebrows. Threading is used to remove hair from face, chin, and upper lip too. And it does an excellent job of quickly removing the hair on your face, but only at a superficial level. And they grow back sooner than you think!
Waxing
One common method is the use of cold or hot wax applied on the hairy patches and removed with the help of a cloth or a polyethene strip. The second and widely used method in recent times is the use of what is called the katora wax (a harder version of wax that needs no heating). This pulls out the hair on its own. Although this method removes hair from its roots, it can cause rashes and irritation of the skin, making it red. This could also cause inflammation of the hair shaft. If the hair isn't properly removed, then the retained hair follicles can lead to ingrown hairs. Those with sensitive skin must never try this as it may cause pimples too.
Plucking
If there's one beauty equipment that is easy to carry, it is the tweezer. It comes handy and saves the day when you have a sudden date plan or that impromptu official dinner with your client. Beauticians say that tweezers are best for doing your eyebrows and chin to pluck out small hair.
Hair Removal Cream
If you want to remove the unwanted hair without any pain, your best bet would be the depilatory cream. But it's advisable to do a patch test before you go ahead with its use. Apply a small patch on the inside of your elbow and wait for a few hours to check for any allergies or adverse reactions. If all is well, you are good to go. There are several in the market, and you could take a mildly scented one. Just apply on your skin and leave it on for the stipulated time before washing it off. It's as simple as that. But the smooth skin that you get won't last beyond a few days. This means you have to go through the entire process again. This is because depilatory creams don't remove hair from its roots.
Epilation
If you have an epilator, then it's cost effective as you can use the machine multiple times. Also, epilation removes hair from its roots, which means, your hair takes some time to grow back. But for a few women, this might be painful besides being a time-consuming process. Like waxing, epilator too can cause rashes on your skin.
Shaving
Perhaps one of the easiest and quickest methods of hair removal. But wait, did you say face? Yes, shaving the face! As opposed to the common myth that hair grows back thicker, shaving offers the same benefits as the other hair removal methods. Always use a shaving gel or soap like men do so the hair comes out smoother. Also, apply an astringent or a moisturizer post shave, so there's no skin irritation caused by shaving. But again, the huge disadvantage of using this method is your skin could get cut if you are too harsh or repeatedly shave in a particular area with stubborn hair. Also, the hair isn't pulled out from the roots.
If you opt for laser hair removal or electrolysis, you visit a salon. But we are talking about methods used at home.
Now, what is it that we are recommending? Believe me, it's a very simple recipe that can be prepared within the confines of your home and is less time consuming too. This is a tried and tested natural method of treatment used by women in the Middle East. Curious? Read on…
Ingredients
Chickpea flour
Milk or yogurt
Turmeric
How to prepare
Add milk or yogurt (whatever is available) to a mixture of turmeric (haldi) and chickpea flour. Make a thick paste out of this. Apply it on the area in the direction of the hair growth. Keep it on for about 20 minutes or till it dries. Dip a cloth in lukewarm water and scrub this off.
What you will see: There may be red marks from scrubbing your face. But do not worry; it will soon subside.
Frequency of application: Repeat this procedure 3-4 times in a week. If you religiously follow this for a month, you will see visible results. The growth of hair reduces while they get thinner and lighter too. Eventually, they will disappear permanently.
Watch this video to learn about another facial hair removal method
Do you know of any other methods to permanently remove facial hair? Do share your beauty secrets in the comments section below for the benefit of our readers.