How To Repair Split Ends-And The Daily Habits That Might Be Causing Them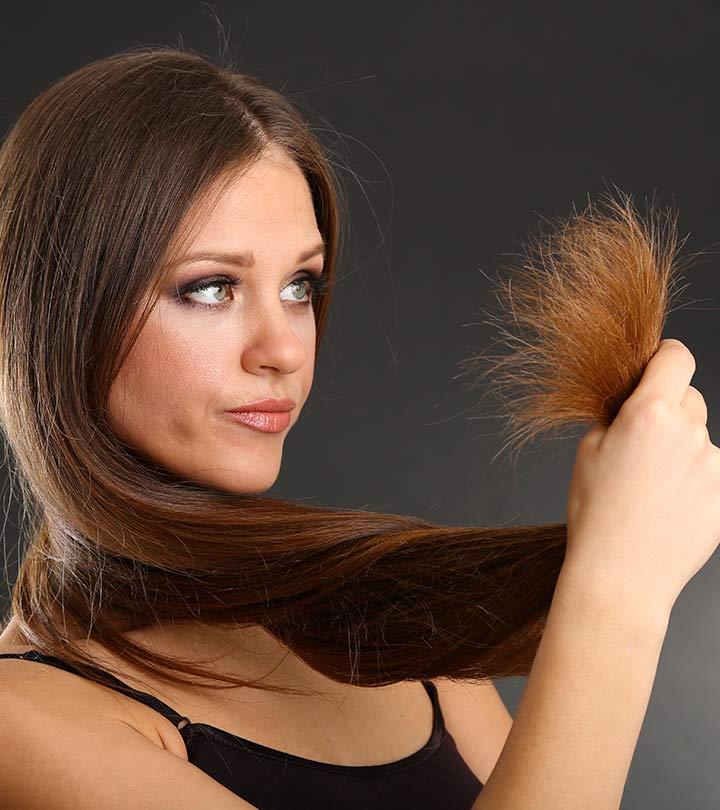 Are split ends getting in the way of your long, luscious, smooth and shiny locks that could have put even Olivia Culpo's hair to shame? Split ends are like the uninvited guests that show up at our homes and refuse to leave. These unwanted tiny strands of hair are messy, difficult to tame, and can hinder healthy hair growth. But, what causes them? You would be surprised to know that routine habits like heat styling, the way we dry our hair, the scrunchies that we use, the pillowcase we sleep on, etc., have a hand in giving birth to this unhealthy, unkempt mess.
If you have tried every DIY recipe, every salon treatment, and even your grandmother's nuskhas to treat the split ends and failed miserably, here's an article for you. We bring you a quick read on whys and hows of split ends, and how to treat them-
What Are Split Ends?
The fraying or splitting of hair strands into two or more fragments is precisely what split ends are. As the name suggests, due to the damage caused by environmental factors, heat styling tools, and chemical treatments, the hair tends to split at the ends of the length of your hair. And with time, if the split ends are not taken care of, these travel right from the ends till the roots, thereby damaging your hair further and leading to breakage. If you spot split ends, don't ignore them. They will not go away, rather they will deprive your hair of moisture, elasticity, luster, and make it more prone to hair fall.
How To Get Rid Of Them?
Prevention is better than cure, so if you've been ill-treating your hair, it's time you pull up your socks and take care of it. Do away with hard hairbrushes, reduce the exposure to heat styling tools, and ensure that you protect your hair with serums and anti-pollution protectors. A secret tip: Before stepping out in the sun, apply some serum, and ensure that the last rinse of your hair in the shower should be of cold water to seal the cuticle and protect it from damage. In addition to that, here's a list of things you need to be wary of to keep the pesky split ends at bay-
1. Re-Think The Way You Towel Dry Your Hair
Hair is most vulnerable when it's wet. That's precisely why the drying process is so important. When you rub your hair with a towel in brisk motions, you are allowing the split ends to split further. Even if you're in a hurry and you need to rush to office, don't give in to the temptation of rubbing your hair with a towel. Instead, squeeze out the water by gently pressing it against your hair. You can also use a t-shirt, it works better.
2. Be Mindful Of How You Blow Dry Your Hair
One of our vices when it comes to beauty and haircare is the habit of blasting wet hair with a dryer. While this might work wonders for those with fine and damage-free hair, for those with split ends, hairdryers spell disaster. Instead, allow your hair to air dry. In case, you have a party to rush to and you have to pick up the dryer, make sure that you use it in a cold setting, without the nozzle touching the hair.
3. Say No To High Heat On Straighteners
We know that thick and long hair takes a lot of time to be tamed with the help of straighteners or tongs, and that's why we tend to increase the temperature to the maximum with the presumption that it can quicken the process. Well, we are wrong. The more the heat, the more is the damage. Extreme heat leads to loss of keratin, which is important for healthy hair. So, tone it down, ladies!
4. Brushes? Put Them In The Bin
Always remember to start at the bottom of your hair and work your way upwards when combing. One of the most common mistakes we make is to brush hair with fancy hairbrushes right after a shower. The paddle brush that solemnly swears to add luster and shine to our hair really doesn't do it. Instead, it leads to breakage and splits in the hair. So, use a wide-toothed comb. Don't be vigorous with your combing technique.
5. Take Care Of Your Hair
Although we can't really repair split ends, we can always make them less visible. And for that, we need to take care of our hair as we do with our face. It needs hair masks, moisturizing spas, and lots of care. Nourish it well from within by eating lots of veggies.
How Can The Hairstylist Help You?
Besides taking care of our hair on our own, we can always seek some professional help. An appointment with the hairstylist for a keratin treatment that infuses our hair with keratin and makes it shiny, manageable, and smooth is a good idea. Or there's always the dreaded trim that's mandatory for split ends to vanish. Additionally, it's wise to use a shampoo and conditioner that's suitable for the hair rather than using something that's popular and fancy.
Pay attention to your hair, don't damage it with heat styling tools, hairdryers, etc. just for an evening. That could cost you a lifetime of healthy hair. Have you heard of any home remedies for split ends? How do you deal with them? Let us know in the comments below.
The following two tabs change content below.

Latest posts by Anjala Farahath (see all)

Anjala Farahath
Anjala Farahath is a 23-year-old tall mess under a hijab, trying to fit into the world of crop top while traveling nonstop, converting her passions into her job, and occasionally soaking in the raindrop. Do you think she needs to stop?