4 Simple Steps To Rock Parineeti Chopra's Fantastic Smokey Eye Look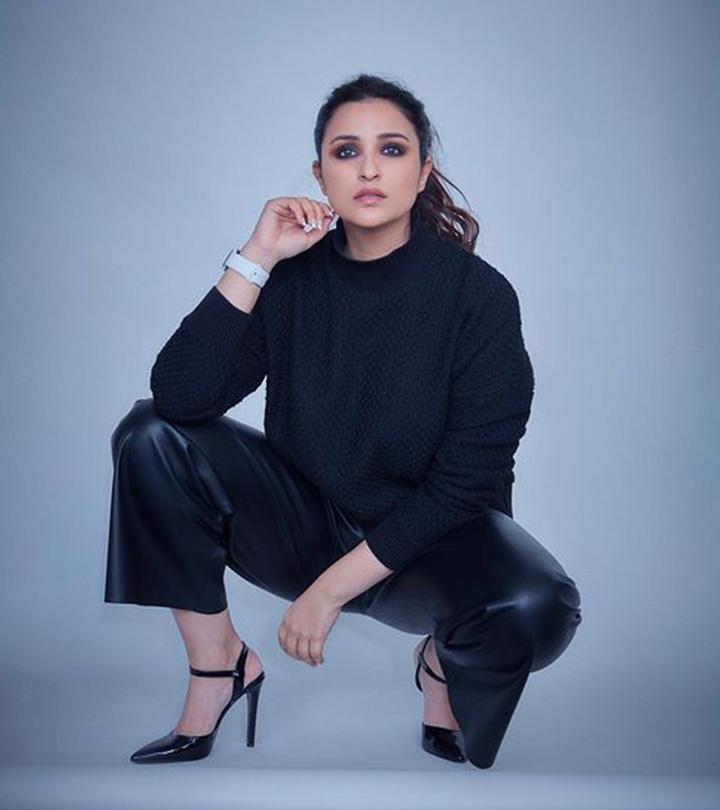 While Parineeti has often been called, "the other PC", she has branched out and struck a name of her own. Besides winning a Filmfare and a National Award, Parineeti is a humanitarian and also an amazing singer. Although she did not initially plan on working in the Indian entertainment industry, she has carved a niche for herself and has starred in a string of successful films. Besides being an actress and singer, Parineeti also holds a triple honors degree from Manchester Business School and has worked in PR. However, the one thing we absolutely adore about Parineeti is her incredible sense of style. We have to say that her sense of fashion is incredible and after the recent post she shared, we're even more impressed:
The Look
The stunning Ladies VS Ricky Bahl actress is all set to star in her first OTT release, The Girl on the Train. To promote the film, she posted a few pictures of herself looking sleek and svelte in an all black ensemble featuring a smokey eye look. Parineeti was truly the definition of the Bollywood vamp in her shots and gave us total style goals with the outfit. She rocked the outfit which is from a popular label and sported some classy black stilettos from luxury Portuguese shoemakers, Augustha.
Parineeti informed her followers that her film would be out in ten days time and until then she is going to busy herself by dressing up. We cannot wait to see the rest of her looks and we are sure that she will serve as great fashion inspiration for her 31 million plus followers on Instagram. So if you're wondering how you can achieve that coveted vamp-like smokey eye look, we can show you some simple steps that you can use to achieve the look you desire:
Step One: Prep Your Skin
It is absolutely crucial that you prepare your skin for the makeup process. You need to first wash your face and take off any residual makeup that you might be wearing. Once your face is spick and span you should apply a toner so that your pores shrink. This is an important step and you should definitely do this if you are someone who has oily skin and open pores. The next step is to moisturize your face. Make sure that you massage your face in a circular upward motion and be careful not to get moisturizer near your eye area. Once you have sufficiently massaged your face, use a primer to give your skin a matte base and cover up any open pores that may be visible. Make sure that you concentrate the primer in areas where your skin might get oily at a faster rate like your chin, T-zone and forehead.
Step Two: Focus On Your Eyes
If you want to avoid getting eyeshadow on your mascara, make sure that you apply it last. Firstly, you should apply an eyelid primer over your eyes. If you don't have eyelid primer, make use of a concealer instead. Once that is done, apply a brown colored eyeshadow in the crease of your eyelid. One trick to remember while applying eyeshadow is to pretend you are a car and it's raining. Use your brush like a windshield wiper and blend the color to give it a more natural look. Once you have finished that off, apply black colored eyeliner to your lid. Make sure you do it in a gradient with the lightest shade being close to your eyebrow and the darker shade being right above your lash line. The key to achieving a lasting smokey eye is to blend everything until it looks seamless.
Step Three: Apply Foundation
If your eyes are heavily made up, you really shouldn't skimp out on the foundation. To give your eyes the perfect base look, apply your foundation with a damp beauty blender and apply concealer to cover up any blemishes. You can also use concealer to hide any puffiness or dark circles that might be plaguing your skin. Once you are done with this process, make sure that you set all the products with a loose powder. Add a bronzer to get some definition and color in your face.
Step Four: Brows That Could Cut Through Steel
No make-up look is complete without the perfect eyebrows. And while you might not be able to achieve Cara Delevingne's level of brows, you can definitely boost your own eyebrow game. You can use an old mascara brush and some eyeliner pencil to fill in your brows and make them look thicker than they actually are.
Once you have finished off all these steps and added lipstick (we'd advise you to keep it simple), you are set to go and conquer the world! All it takes is a little bit of patience (and a lot of product) to achieve the smokey eye look of your dreams. Did you try out our steps? Let us know all of your thoughts on this article in the comment section below.
The following two tabs change content below.

Latest posts by Niharika Nayak (see all)

Niharika Nayak
Niharika has a passion for all things art, music and travel. During her spare time she likes experimenting in the kitchen, painting pop culture icons and chasing after random street cats. Her dream is to one day own an amusement park so she can ride roller coasters for free.