How To Choose The Ideal Brush For Your Hair Type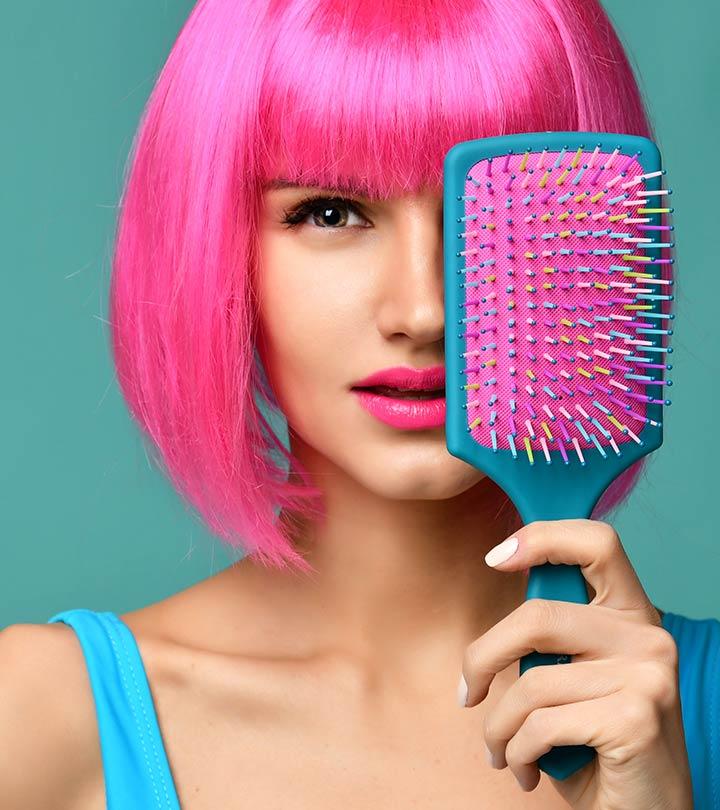 Whether it's long and straight hair, a short and wavy mane, or just noodle-like curls, hair is a distinct part of our appearance. We all try to go an extra mile and look for the best shampoo, hair mask, conditioner, serum etc. that will suit it. We don't even mind spending a few extra bucks on them. We are willing to do whatever it takes to keep our hair looking as ravishing as ever.
Did you know that there is a particular type of brush suited for each hair type? Most of us opt for wide toothed combs and brushes to be on the safer side. But, choosing the right brush is as critical as choosing the right hair oil. We've put together a hairbrush catalog for you all to understand which hair brush suits your hair better. Read on to make the right choice for your hair.
Common Brushes
• Wooden Brush
This brush can be used for any hair type. It helps to promote healthy hair growth. It also removes dirt easily. Its natural wooden bristles are able to penetrate into the hair easily. They also stimulate and massage the scalp. This brush can also be used to apply hair masks. It's the most natural hairbrush in the market.
• Silicone Brush
This brush is best suited for dry, damaged hair. It can be used to make a well-coiffed bouffant, as well as for dyeing your hair. Another pro of this brush is that it removes the static electricity from our hair (which is a major concern for all those who have dry hair) and it's easy to clean too.
• Plastic Brush
You need to use this brush as sparingly as possible. Of course, you can use it to comb your hair neatly or make dramatic hairstyles such as a bouffant. But at the end of the day, it's made of plastic, right? We don't really need to tell you how harmful plastic is. Anyway, we will still give you some pointers for this. Using this brush can contribute to split ends if you have been out and your hair is heated up because of the sun, using the comb can release harmful substances.
Comb Brushes
• Rattail Brush
This particular comb is flat, and its needles are very fine. As the name suggests, the tail of this comb is pointed and straight. Partitioning hair while styling it can be quite a lot to handle at times. But with the help of this brush, this problem is solved. You can use its tail to part your hair while you're straightening or curling it. It can also be used to smoothen out any cowlicks or bumps on your hair.
• Paddle Brush
This brush is considered to be ideal for long hair. It keeps your hair looking sleek, shiny, and straight. A paddle brush is usually large in size, it's wide and flat, and is basically made up of materials such as timber, ceramic or plastic.
• Looper Brush
This brush is ideal to maintain those lovely locks. It can also be used to comb hair extensions and wigs. This brush untangles your hair very delicately without pulling out any of it. It doesn't even scratch your scalp. The delicate nature of this brush makes it suitable to use on children's hair as well. The only con of this brush is that it can't be used to handle thick strands.
Brushes For Specific Purpose
• Tangle Teezer
This brush is mainly used for detangling purposes. It can be used on dry as well as wet hair. This brush has cone-shaped bristles which can detangle even the most rigid tangles in your hair, without damaging your hair. You just need to make sure that you are buying the right one as there are plenty of knockoffs available in the market.
• Round Brush
This brush is a savior when it comes to giving the perfect blowout to your hair. It can create great waves or curls too. And if you understand the technique of how this brush works, you can definitely be able to straighten your hair with this round brush. One advantage of this brush is that it's available in the market in various sizes. They say the smaller the circumference is of the round brush the tighter your curl will be.
• Laser Hair Brush
Yes, a brush like this exists. The laser light of this brush delivers nourishing light to the hair follicles at the cellular level. It reverses the thinning process of hair and promotes the growth of stronger, fuller hair. However, this brush is not supposed to be used on children and pregnant women. We would suggest you consult your doctor before using this.
We're sure you've got a heads up about the nature of brushes available in the nearest store around you. So the next time you want to care for your hair, take as much care to choose the right kind of hairbrush as you do with the hair oils and serums. Which brush do you think can suit all hair types? Leave your answers in the comments below.
The following two tabs change content below.