8 Important Questions That Every Bride Needs To Ask Her Makeup Artist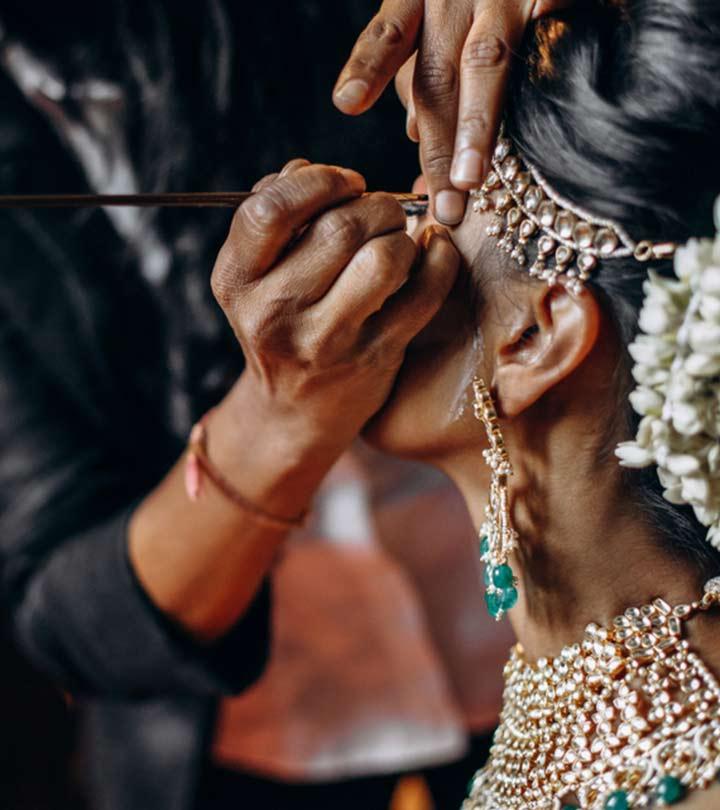 Preparing for your wedding can be quite the nightmare task. You need to be able to follow a schedule and fixed timings if you have to make it through the ceremony with your sanity intact. If you're making use of a professional makeup artist for the first time and are unsure about how to proceed, look no further. Hiring anybody to dress you up on your big day can be quite a difficult task, and we don't blame you for being hesitant or having a few doubts before you begin. So rather than frown and fret about a thing that may not be in your control, you can ask your friends or look up questions that are important for you to ask on the internet. Here are some of our own suggestions:

1. "Can We Do A Trial Run Before The Wedding?"
It's totally okay to want your makeup artist to do a trial run on you before you hire them for the wedding or before the big day itself. If you are a little unsure about your final look, we would advise you to ask your makeup artist to practice the look on you once, so that you can make any new changes before the big day.
2. "Do I Need To Bring The Flowers And Hair Jewelry Myself?"
You should ask your makeup artist beforehand if you should be arranging for all the hair accessories she will be using to pin up your hair. Rather than turn up at the location empty handed, contact your makeup artist and ask her if you should be carrying anything to the appointment beforehand.
3. "What Make-Up Brands Will You Be Using?"
You should let your make up artist know about any makeup brands that you may favor beforehand so that she can either get that product or find one that looks similar. If you have your own favored makeup, you can carry it along to your appointment and ask her to use it instead.
4. "Can You Use XYZ Celebrity Look As Inspiration?"
Don't feel embarrassed to pull out a picture of your favorite celebrity look and show it to your makeup artist as inspiration. There are tonnes of brides who take their favorite celebrity look to their makeup artist and ask them to emulate it and there is no shame in admitting that you want to look like Megan Markle or any other celebrity bride. Just make sure the results are attainable and within your budget.
5. "The Make-Up Will Not Bleed Or Crack During The Day, Right?"
You should also ensure that your makeup artist uses makeup that is long-lasting but not super drying. Many long lasting lipsticks will dry your lips and some can even cause cracks. Rather than face this, it's a good idea to speak to your makeup artist ahead of time and find out whether the makeup will require too much retouching. Even if there is a lot of retouching required, it's better than dealing with cakey, flaky and generally terrible looking makeup.
6. "How Much Time Will It Take Approximately?"
You'll have to plan your makeup in such a way that it doesn't take too long to reach completion. You don't want to delay on other important sessions while you're getting ready. Ask your makeup artist to give you an approximate amount of time it would take her to apply the makeup. Once she's done, add an extra 10-20 minutes to give yourself enough leeway and prep time to get to other parts of the ceremony.
7. "May I See Pictures Of Your Previous Clients?"
It's totally okay to ask your makeup artist to provide you with earlier references of her work or with pictures of other clients that have made use of her services. If your makeup artist has an Instagram page or any other reference material like a website that she can show you, that would be great. Since this is your big day, you want to be sure about who you're choosing and it's probably a good idea to get references from everyone whose services you are making use of.
8. "Will You Be Available For An Emergency Make-up Situation?"
There may be a time where your makeup is just refusing to behave and because of this, you will need some emergency help with your makeup. Maybe you can find out if your makeup artist has an emergency number you can reach, in case there is a change of plan or any other emergency that may pop up out of nowhere.
In the end, you want your big day to be as grand and perfect as you've been dreaming of since you were a child. So it's totally okay to be a little unsure about certain small things. However, just don't get so crazy that you go "Bridezella". Do let us know what your thoughts are in the comment section below!
The following two tabs change content below.

Latest posts by Niharika Nayak (see all)

Niharika Nayak
Niharika has a passion for all things art, music and travel. During her spare time she likes experimenting in the kitchen, painting pop culture icons and chasing after random street cats. Her dream is to one day own an amusement park so she can ride roller coasters for free.