Kajol Opens Up About Her Relationship With Her Mother And How She Coped With Her Parents' Separation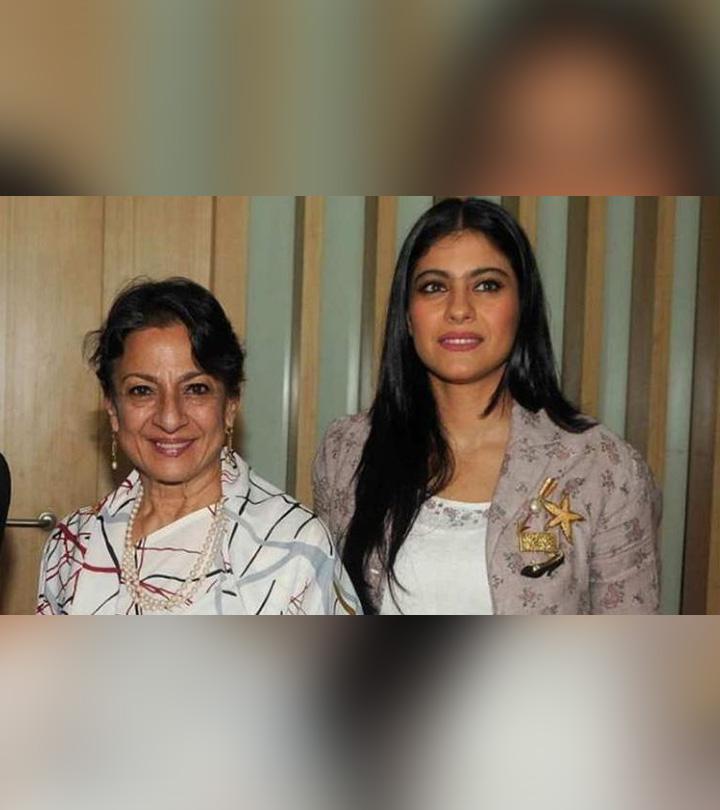 Kajol is set to make her digital streaming debut in Tribhanga- Tedhi Medhi Crazy. The Kuch Kuch Hota Hai actress was a 90s sweetheart once upon a time and made some checkered appearances in films in the 2000s. She is now set to make her digital debut in a heartwarming film about familial ties, complexities of life and the film also features Tanvi Azmi and Mithila Palkar. The story is supposed to showcase life through the perspective of a mother and a daughter and explore intergenerational differences. In an interview with a leading daily, Kajol dusted the memories of her unconventional childhood. Daughter of famed Bengali filmmaker, Shomu Mukherjee and actress, Tanuja, Kajol was born into the filmy world. However, her childhood was anything but glitz and glam. Let's see what Kajol's life was like growing up under the watchful eyes of her talented mother:
"Never Had To Rebel"
Oftentimes, we find it hard to connect with our parents due to generational differences and feel like they don't quite understand us. However, some of us are lucky enough to have parents who are open with us and treat us like adults rather than children. Kajol is one of those lucky ones. Kajol opened up about how she never really had a rebellious phase because her mother and her shared an incredible relationship. She spoke about how her mother treated her like a grown up and always explained the decisions she would make in an appropriate manner.
As her parents both worked, Kajol got to see firsthand what it meant to be a working mother. She spoke about how her mother sat her down and explained to her that her father and her had decided to separate. Kajol said that she appreciated that her mother spoke to her like she was a grown up and explained everything to her in proper details. The actress also added that she learned a lot about parenting and raising her children from her mother. She added that Tanuja taught her some extremely important life lessons and values and stated that she is grateful for the way her mother brought her up. Kajol feels like she is a better adult and a better mother to her own two children because of her mother. The Bengali beauty shares her teenage daughter Nysa Devgn and young son Yug Devgn with her husband Ajay Devgn.
On Relationship With Her Sister
Kajol also has a younger sister, actress Tanisha. Kajol recently shared a really cute image of her sister and her from the 90s wearing dungarees on her Instagram page. She shared the image on the occasion of Tanisha's Birthday and wished her well. Tanisha had recently participated in Bigg Boss, and Kajol revealed how her family reacted to Tanisha when she came back. Kajol stated that they were shocked at how much weight Tanisha had dropped and that they kept pushing her to eat more paratha at home.
When discussing her own upbringing, Kajol had revealed, "I was raised in a pure female household where there had been no male at all. There was my mother, my mother's mother, and my mother's mother's mother who used to take care of me. And there was my younger sister. Even my maternal uncle had two daughters." Kajol had spoken about how there wasn't a lot of male influence in her household but with her husband's household, there is an equal balance of power.
Trolled Unnecessarily
Raising a family in the limelight of Bollywood is no easy task. Like many other star kids, Kajol's children too are dragged and trolled by the media. Recently, her daughter Nysa was trolled for visiting a parlor a few days after her grandfather passed away. The trolling got so bad that Kajol's husband, Ajay, actually had to address the trolls and defend his daughter. Ajay spoke about how she was extremely upset and crying over her grandfather's death and added that it was him who encouraged her to go to the parlor. He stated that there were a lot of people in their house and he could see that it was affecting her mental health and hence wanted her to get out of the house. Moreso, even if she wanted to visit the parlor for fun, why is that a problem? Everyone has a different grieving process and we are nobody to cast judgement on what others do.
Another time, people trolled Nysa for wearing shorts underneath a really long shirt and spoke about how she was "dressing indecently". Once again, Ajay had to come to his daughter's defense and address the trolling. He spoke about how his 14-year-old daughter (yes, you heard that right, she was 14 years old) was wearing a long shirt and hence her shorts were not very visible. It's so sad that we live in a world where little girls are trolled for choosing to wear regular attire. Whatever your take on star kids is, it is not okay to bully someone over the way they choose to express themselves or how they choose to live.
It's wonderful to see the wholesome and positive relationship that Kajol shares with her mother and how open and frank they are with one another. Strong women are often a reflection of their mothers and we know where Kajol got it from. The same way, Nysa also definitely has it in her. Do you like Kajol? What's your favorite Kajol movie? Do let us know all of your thoughts on this article in the comments section below!
The following two tabs change content below.

Latest posts by Niharika Nayak (see all)

Niharika Nayak
Niharika has a passion for all things art, music and travel. During her spare time she likes experimenting in the kitchen, painting pop culture icons and chasing after random street cats. Her dream is to one day own an amusement park so she can ride roller coasters for free.