Karisma And Kareena Celebrate A Holdiay Dinner With Crepes And Spaghetti. A Yummy Cheat Meal Indeed!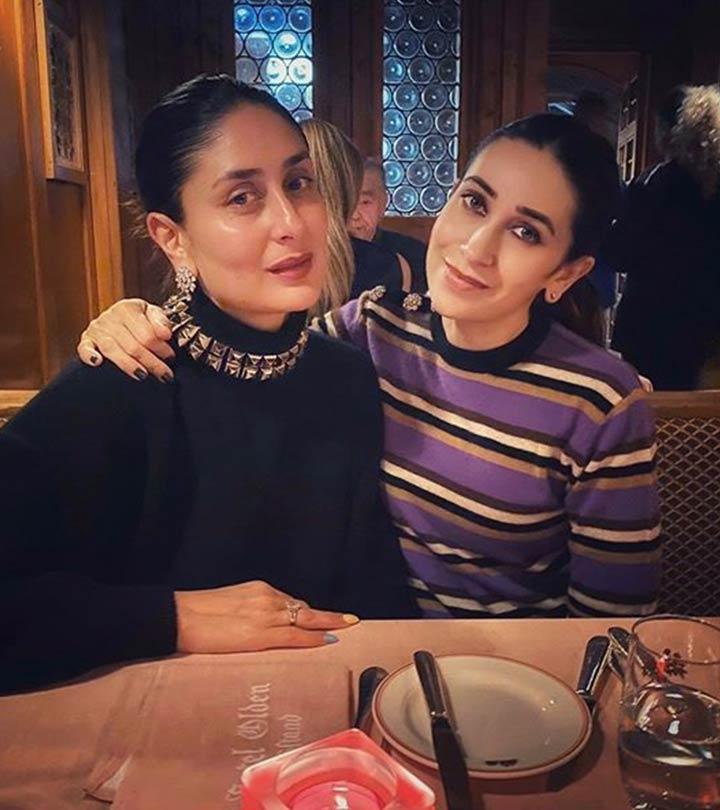 The mark of the end of December rings in the spirit of holiday for everybody, isn't it? The school and college children get their winter holiday leaves and are seen spending more time with their family and close ones. With the Christmas gone by and the New Year being awaited which also happens to be the start of a new decade altogether — everybody seems to have made plans to enjoy the holidays!
While most of us drool over #travelgoals on Instagram and other social media channels, our beloved Bollywood celebrities also leave no stone unturned to show us where they're off to this holiday season. And while we scanned the many celebrities out there for our perfect Bollywood travel dosage, our eyes got fixed on the powerful sister duo of the Kapoor khandan. Any guesses? Well, of course, we're talking about the much-loved Kapoor sisters— Kareena Kapoor Khan and Karisma Kapoor! Continue to read to know more.
The Kapoor Sisters Getaway!
With the New Year's Eve speeding in glory towards our lives, the Kapoor sisters are currently seen holidaying in the picturesque lands of Switzerland. How do we know? Well, the elder sister, Karisma Kapoor's Instagram account stands proof of that! The sister posted quite a few pictures of their holiday in the Swiss valleys.
What caught our attention was the latest Instagram stories and post that she has put up just yesterday. The sisters who give us fitness goals are seen having a lavish, indulging holiday meal ditching their diets. The stories of Karisma show us how the duo sisters are saying cheers with their wines.
Another story of Karisma gave us an understanding about the love for food that the two sisters share so lovingly! Karisma took to her stories to post a picture of a spaghetti dish and some crepes as well. Karisma even posted a picture of herself with her younger sister Kareena from the dinner night. She captioned the picture as, "Sisters 💜#cozydinners  #family #holidayseason #onlylove." In the picture, we see Karisma wearing a striped sweater with purple, beige, black, and brown colored stripes whereas Kareena is seen wearing what looks something like a black top with some drama sleeves. Her metallic accessories have added drama to her entire look according to us. Don't you think so too? For those who missed out on seeing Karisma's drooling Instagram stories, click here.
Kareena's Diet World
Watching Kareena indulge in such scrumptious food alongside her elder sister Karisma makes us wonder how does Kareena manage to stay so fit, isn't it? We mean, it's no hidden secret that Kareena has always been in the news for taking to extreme diets and practicing power yoga to maintain her figure and most importantly, the clear skin that we all think she is gifted with.
In most of her interviews, Kareena is always asked about her secret diet that makes her look so gorgeous. And guess what, there are no secrets nor any fad diet that our beloved Kareena follows. In fact, all that she follows is sticking to healthy, nutritious home-cooked meals.
On one of her live interactive social media sessions with nutritionist Rujuta Diwekar, Kareena added that she cannot do without eating rice. She just cannot skip it. She loves her home-cooked khichdi the most (1). Now, isn't that a myth-breaker dear readers? And she also told that she always make sure to follow eating healthy food, exercising regularly, and sleeping on time — these three are the secrets to her fit, healthy body, and glowing skin.
And Karisma Kapoor's gastronomy stories are proof that Kareena loves to indulge during holidays. There's always a time to eat hearty and eat healthy is what can be understood by this sister duo.
More About The Holiday
If you're thinking that it's just the sisters celebrating and enjoying their holidays, you're wrong! Karisma recently had also shared a picture where Saif along with son Taimur are seen with this Kapoor sister duo. The social media has always been proof of the extravagant holidays that the Kapoor and Pataudi family indulge in every once in a while. Not only are they giving us travel goals, but they are also teaching us about how important it is to spend quality time with your friends and family.
So, where have you headed to this holiday season? Going on a holiday and indulging in some sinful foods like the Kapoor sisters surely is a good way to end the year with a bang, don't you think so? Here's us wishing you all a very happy holiday season and may this new decade, and this new year bring lots of love, good health, and good times for you. Happy New Year in advance peeps!
The following two tabs change content below.

Latest posts by Shivani K (see all)