5 Benefits Of Lemon And Honey For Beauty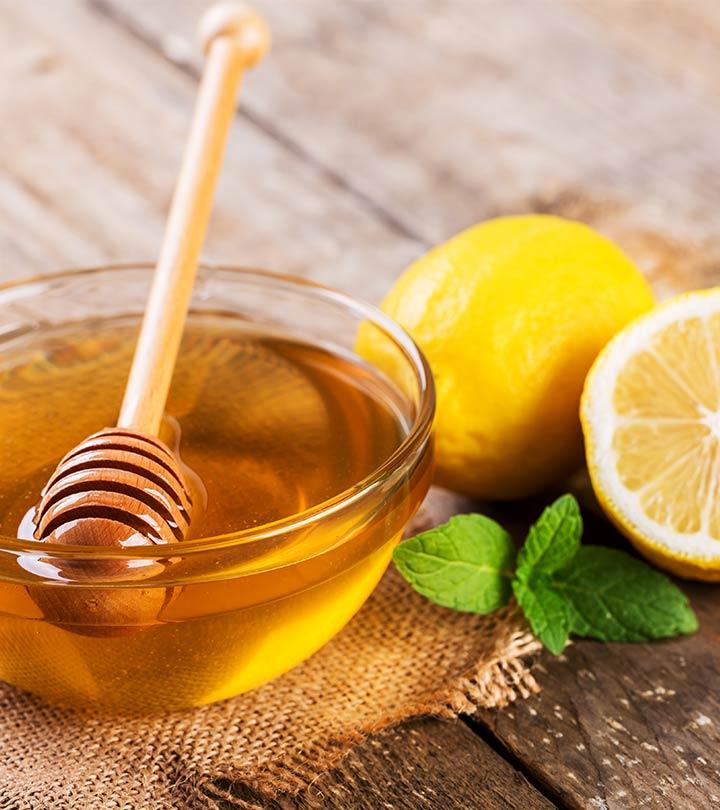 Most of us have the misconception that to achieve beautiful, flawless skin we need to take the expensive route and buy ourselves those high-end beauty products. Well, let us tell you that we don't really have to spend a leg and an arm to attain skin goals. Duly noted that people opt for expensive beauty products or treatments because they guarantee quality. But hey, quality products can also come at an affordable price as well, right? You'll be amazed to know that some of them lay in the humble food abode of our house — the kitchen!
When we enter the kitchen we always cook and eat food in pairs, for example, we eat a combination of bread and peanut butter, pancakes and maple syrup, pita and hummus, etc. Food pairings, though made by us, seem like they too were made in heaven just like us and our partners. Similarly, there are food couples that benefit our overall beauty as well. We're talking about two basic household ingredients here — honey and lemon. These two are the must-haves for clear, glowing skin; trust us on this! We've laid down 5 such beauty benefits of using lemon and honey for y'all. Give it a read and start using this food couple from your kitchen right away!
1. Lemon + Honey Can Help You Get Rid Of The Unwanted Facial Hair
No matter how thin or thick your upper lip hair is, it always leads to embarrassment. Stop looking for hair removal creams or laser procedures, for lemon and honey has come to your rescue now. All you have to do is apply a mixture of lemon and honey on your upper lip skin. Let it sit for 15-20 minutes. Then, soak a soft cotton cloth in warm water. Squeeze out the excess water and wipe off the lemon-honey mixture from your upper lip with it and rinse your face.
The honey acts like wax to remove the hair from their follicles (1). The vitamin C present in lemon bleaches any minute hair that remains making it too light to be noticeable.
2. Lemon + Honey Helps In Minimizing Pores
The existence of large pores on your skin can undermine your beauty. It makes one look older than their age as well. If you suffer from large pores then consider applying a mixture of lemon and honey after you've washed your face. Do this once a day, for at least a week to see your pore size shrink naturally. Honey deep cleanses the skin and helps shrink the pore size. And when it's combined with lemon, it also acts as a natural skin-brightening mask. Look young and radiant by using lemon and honey to solve your problem of large pores.
3. Lemon + Honey Improves Skin's Overall Health
Lemon is a rich source of vitamin C. It is known to prevent and fight skin damage which can be caused by free radicals (2). It boosts healthy collagen production which will leave you with softer, supple skin without any use of chemically-loaded skin creams or potions.
Raw honey, on the other hand, deep cleanses the skin and also provides it with much-needed moisture. Honey also has antibacterial and anti-inflammatory properties which suck up the deadly bacteria right from the pores and eradicate them. Occasionally, apply a lemon-honey mask on your face. Let it sit for ten minutes and rinse with warm water. This will leave you with healthy, glowing skin in no time.
4. Lemon + Honey Helps In Relieving Insect Bites
Summer or winter, bug bites are a constant problem, especially if you have mischievous kids who love playing in all nooks and corners. The easiest remedy to treat insect bites is lemon and honey. Mix these two up in equal proportions and apply them over the infected area. The sugar present in honey will kill the microorganisms whereas the lemon will prevent any bacteria from growing. It will also reduce the swelling and keep the problem of itching at bay.
5. Lemon + Honey Helps Get Rid Of Stretch Marks
Stretch marks are a serious problem with anyone who undergoes bodily changes like pregnancy, weight loss or weight gain. The presence of stretch marks always restricts us from wearing certain types of clothing as we don't want others to notice these marks. While there are several products that promise us to erase these marks, we think that the most natural remedy of using lemon and honey should be your first preference to fight your stretch marks.
Simply mix honey and lemon and apply a thin layer of this mixture over your stretch marks before hitting the bed at night. Lemon's acidic nature helps to tone down the visibility of stretch marks while honey will moisturize the skin. Lemon also acts as a cleaning compound and honey helps balance the skin's pH level.
Please Note: Some skins are very sensitive and might react negatively on the application of lemon juice. Therefore, always do a patch test and then go ahead.
Simple and easily available ingredients like honey and lemon can benefit us in ways we never thought it could, right? Always keep a lookout for natural ways to keep yourself safe from chemicals. Do you know of any other such food duo which is beneficial for our beauty? Let us know in the comments section below.
The following two tabs change content below.

Latest posts by Shivani K (see all)