13 Lipstick Tricks To Will Help You Achieve The Perfect Lip Color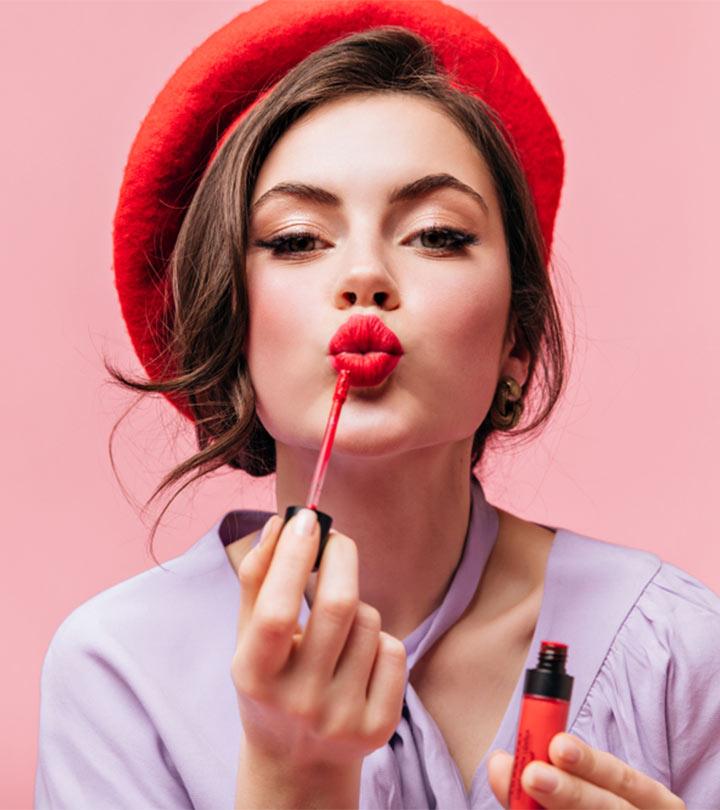 Lipsticks hold a very special place among all the makeup products we own. You can never have too many of them, and each lip color will help unleash a different personality. For example, you might like a subtle shade of pink like roasted almond for your everyday look, but when you party on the weekends, you need to try something unconventional like pink peonies or black cherry! There is no saying how much a simple slide of lip color can contribute to your makeup look. If you want to know how to ace the perfect lip color, we are here to help. Here are some expert tips to make your lipstick long-lasting, smudge-proof, and perfectly drawn. Read on to know them all!
1. Keep Your Expectations In Check
We are often guilty of lining our lips to make them appear more prominent, but doing so incorrectly can give the pouts a "clown" appearance. We advise keeping your lip line as they are and accentuating your best features with the help of texture and color.
2. Don't Overdo It
Keep the rest of your makeup simple when your lip color is intense. A face that is a mishmash of many colors is never attractive. It will seem untidy if you draw attention to your lips along with all other features. Therefore, focus on the lips, and let the eyeshadow be simple.
3. Avoid Sparkles
Unlike their ultra-glossy predecessors, lipsticks with a simple matte or cream finish are popular these days. Subtle shimmers can still be worn, but bold glitters and pigments are strictly off-limits. The only thing that will come out wrong with your makeup is if you have metallic pigments stuck to your lips or all over your face.
4. Use The Right Tint
You will find several beautiful and complementary lipstick tones available for purchase. But when you put it on, it may not match your expectations. Your lipstick color should complement your skin tone. And to do that, you need to discover which lipstick works best with your skin tone.
5. Apply Primer
The lip color you just applied won't fade as quickly if you follow this additional step. If you want your lip color, gloss, or lipstick to last all day, use a high-quality primer beforehand. It also aids in preparing a smooth surface on the lips for optimal application. You can still use a small amount of powder or foundation without a primer.
6. Use A Brush
You need a lip brush to get that defined look at the Cupid's bow and the corners of your lips. Lip wrinkles can be controlled with the use of a brush as well.
7. Smooth Out The Rough Spots
Applying lipstick should be done with care, but it doesn't have to be done too precisely. To get a well-defined look without making your lips appear glued to your face, smudge their outer edges slightly.
8. Just Don't Go To Extremes
Since the matte look of most lipsticks is too overpowering for our tastes, we may get away with only swiping some across our bottom lips and squeezing our lips together to distribute the product. Apply the lipstick evenly around your lips with your finger. Even a bold lip color won't appear too garish when done this way.
9. Avoid Lip Liners
Since lipsticks don't smudge anymore, lip liners are becoming obsolete. A lip liner in a shade similar to your natural lip color is preferable over lipstick if you wish to emphasize your Cupid's bow, create symmetry, or define your lip line.
10. Blotting
You may make the color of your lips look darker by patting them with a tissue. This will give your lips a matte finish and a lasting tint.
11. Nude Shades
Your skin tone should be either slightly lighter or darker than the nude color you choose so that you stand out. Look for hues that have pink undertones if you're on the paler side. People with darker skin tone should try beige and other neutral colors with brown undertones.
12. Ditch The Vampire Effect
Many people prefer darker lipstick colors to lighter ones due to the color of their lips and complexion, but, colors with blue or black tones can seem quite harsh. If you must use darker colors, select those with berry or red undertones, like browns, deep reds, and even certain hues of purple.
13. Scrub And Rinse
Lips should be cared for in the same way as the face. Take off your lipstick and put it away for the night. Exfoliate your lips and follow up with some moisturizing lip balm. After this procedure, your lips will be soft and luscious.
So, now that you know all the tricks to make your lipstick flawless, there is no turning back from looking ravishing all day. Make sure you follow a proper lip care routine and keep them hydrated. Would you like to add something to our expert tips? Let us know in the comments section. Keep pouting!
The following two tabs change content below.