Madhur Jaffrey – The First Lady Of Indian Cuisine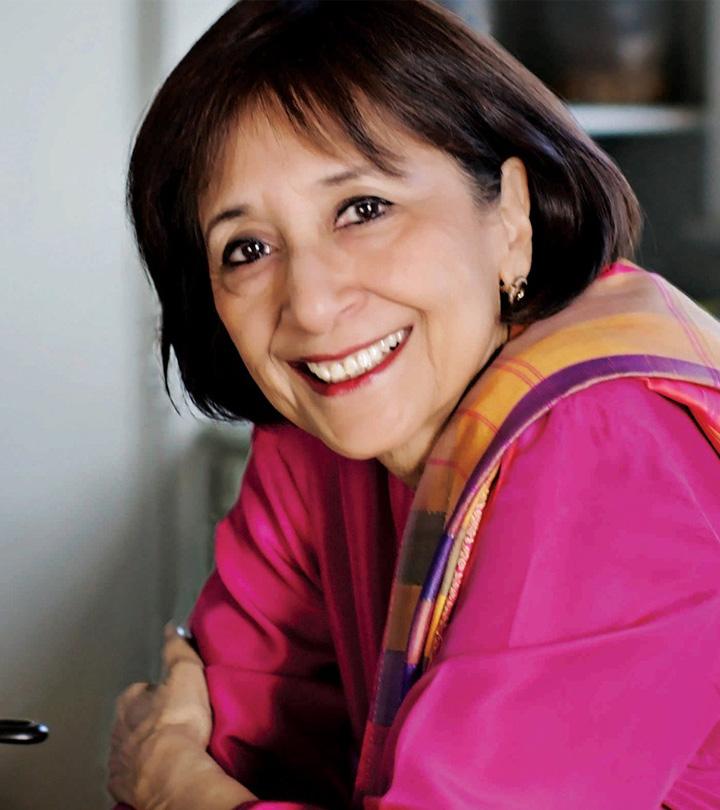 You must have recently stumbled upon the name Madhur Jaffrey on your social media. She is popularly known as the First Lady of Global Indian Cuisine and is credited for popularizingIndian cuisines to the rest of the world. Her name became famous in Twitter threads, and it is unfair to leave her story untold. From being a person who didn't know how to cook to becoming a Padma Bhushan awardee for her pivotal contribution to culinary arts, her journey is inspirational to those who haven't yet stepped into the kitchen. Here in this article, we have shared her life history and how her contribution has changed the culinary world in India. Read on to know it all.
Her Life History
Madhur Jaffrey was born on 13th August 1933 and started her career as an Indian-American actress, a television personality, and a food and travel writer. The debut cookbook she wrote, An Invitation to Indian Cooking in 1973, was what helped the western world know about Indian cuisines and how to prepare them. It was inducted into the James Beard Foundation's Cookbook Hall of Fame in 2006. She has written a dozen recipe books after her first book, and she even appeared on various television programs and cooking shows. One of the most notable ones that premiered in the UK was Madhur Jaffrey's Indian Cookery in 1982. She was also a consultant at Dawat, one of the finest choices among food critics in New York City.
Her Film Career
Madhur Jaffrey was instrumental in bringing the filmmakers Ismail Merchant and James Ivory together and even acted in their films like Shakespeare Wallah (1965), which secured her the Silver Bear for the Best Actress award at the 15th Berlin International Film Festival. However, her talent was not restricted to movies alone; she also participated on stage, on radio, and on television. She was honored with the title Commander of the Order of the British Empire (CBE) in 2004 and was recognized for her services to developing cultural relations between India, the UK, and the USA through her television programs.
What makes it even more bewildering is that Jaffrey never stepped out of her cooking career. She carefully traced her passion for performing as an actor when she came to the UK. She even has 48 credits on her name on IMDb.
Her Childhood
Madhur Jaffrey's childhood mainly witnessed the last few years of the British Raj, which she mentioned in her memoir, Climbing The Mango Trees, published in 2006. She said that if your comfort food was the desi dal-roti, learning cookery from a foreign food channel while you were abroad could be a considerable challenge. Madhur, back then, was among those people who had never stepped into the kitchen even to make a decent salad. She actually did not begin to cook professionally till she was 20. As a child, she hated taking cooking lessons in her school, which were a part of her extracurricular activities. She even failed most of the cookery exams. But her relationship with cooking improved when she went to study at the Royal Academy of Dramatic Arts (Rada) in London in the 1950s. Some people just beat the odds, and Madhur Jaffrey was among those who made a difference.
How Did She Choose Cooking As A Career
At an interview at Jaipur Literature Festival in 2020, she finally spilled the beans on how much she detested British food. Each day she was served bland food on her table, she missed the desi dishes like hing zeere ka aloo and khade masale ka gosht prepared by her mother back in Delhi. Her mother coaxed her into experimenting with cooking, which led to her becoming an icon for South Asian Cuisine and one of the most famous chefs of all time.
In an online interview, Jaffrey said that there is something about Indian cuisine that is very different from every other cuisine in the world. She even said that she finds it the greatest in the world, but she also favors other popular cuisines like Malaysian, Italian, Korean, Chinese, and French.
Her Present Life
Madhur Jaffrey, now at 86, still radiates glamor and charm. You can easily recognize the steel personality under the genial, smiling, and diminutive look. She always speaks in crisp sentences, her accent is clipped, and her thoughts are very carefully articulated. She has an affinity for precision, which is probably a tool that helped her become what she is.
Her contribution to introducing the authentic taste of Indian Cuisine to the rest of the world is remarkable. All thanks to her, people all over the world follow her recipes and are able to recreate the authentic desi dishes in their homes. So, now that you know all about Madhur Jaffrey and her contribution to the food world, which part of her life do you think inspires you the most? Let us know in the comments section!
The following two tabs change content below.