19 Makeup Mistakes That Are Dangerously Aging Your Look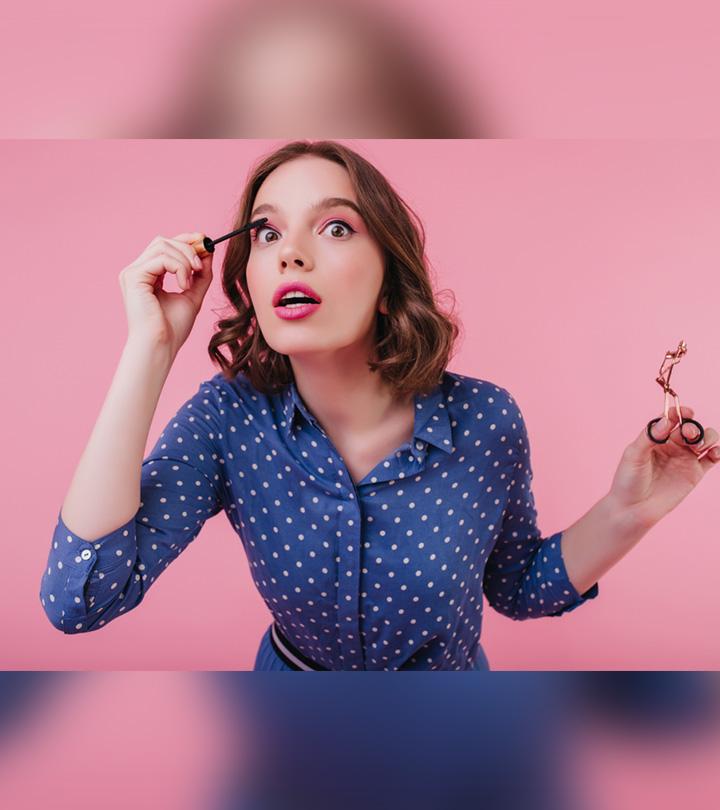 What is the purpose of doing makeup? While there are various answers to this question, the most direct one would be to accentuate our facial features and feel confident inside and outside. Makeup can mean different things to different people. For some, it's a mere habit, for some it's a passion, and for some, it's to hide their insecure spots. But what if we tell you that your makeup is actually making you look old? Very often, our makeup practices can have a negative effect on our looks. We may not really recognize how a small error can make such a drastic change in our appearance and that's okay too; not everyone can be a professional makeup artist. But now you have an option to recognize those mistakes and follow what's best for you. We've got your back pretty ladies! Read on to know some of the most common makeup mistakes that reverse your efforts to look young and flawless:
1. Your Skin Isn't Healthy In The First Place
Good makeup is like creating art in itself and it's impossible for something to look flawless when the canvas itself is extremely damaged. While skin imperfections are something each one of us own, those that are a result of ignorance are something that you should definitely work on. When it comes to good makeup, it's vital that you clean your face thoroughly and moisturize it well. This is a step that's a must even before you think "makeup". Work on solving your acne and pimple problems, dark spots, and braised skin before deciding whether you want a full face of glossy makeup or opt for a nude look.
2. You Don't Use A Good Primer
Thank god primers exist! And they exist for a very good reason. First of all, your primer becomes a protective layer between your skin and your chemical-filled makeup. It covers your pores and builds a strong base for your makeup to set in. If you do not use a good primer, your makeup will look washed out and you will look older and tired by the end of the day. Make sure to make it a priority before you begin makeup.
3. You Are Using The Wrong Foundation
You know what they say, if the foundation isn't strong enough, there's no point in building up on it. Choosing the right foundation is very important whatever be your age. If you already have dry skin, powder foundation can get cakey and make you look older by highlighting your lines and pores. And since your skin is bound to get thinner and drier as you age, it's a good idea to opt for a liquid or cream foundation.
4. You Use A Heavy Concealer
Did you know that the skin under your eyes is about 7 times thinner than the skin on the rest of your face? So, a concealer that's meant to hide spots and blemishes on your cheeks may not be the right one to be used under your eyes. Pick a concealer that's of your skin tone with a yellow undertone (for purple dark circles) or an orange undertone (for black dark circles). Apply a bit only in the inner corner and blend outwards. To cover redness or acne marks, use a concealer corrector with a green tone. If you use the wrong concealer in the wrong areas, you will be emphasizing more flaws than concealing them, and this can level up the age of your appearance.
5. The Risky Game Of Contouring And Highlighting
Thanks to the Kardashians, contouring is almost a household name in the world of makeup now. Contouring and highlighting is an art— the one that sculpts your facial features. When done right, contouring and highlighting can make you look youthful but if it goes wrong, you will be highlighting areas that are better off concealed. Haven't you already seen pre-teen kids putting on makeup and looking like they're 25 on social media? Well, that's what happens if you don't do it right. And when it comes to highlighting, skip the outdated shimmery highlighter on your brow bone step. Try not to apply the highlighter on crepey areas like the crease of your eyes or your smile lines and stick to taut areas like the cheekbones.
6. You Go Overboard When It Comes To Matte And Powder Products
If you have visible lines and open pores, matte makeup and powder products can make you look older by defining these signs of aging. Like we said before, dry skin and matte/ powdery products don't go well together. Using makeup with nourishing ingredients on the other hand can make your skin look young and plump. Also, let go of the setting powder after a particular age and buy a good setting spray.
7. Trying To Look Too Young
Makeup is to make you look youthful and not to make those 16th birthday party pictures come alive. If you force yourself to look too young, it will only backfire and make you look old and pretentious. You don't want to look like a made-up wannabe, right? Mostly, applying glossy makeup and other beauty accessories might feel like they are helping you keep up with makeup trends, but the reality is that overuse will cost the health of your skin, making it look aged.
8. You Ditch Your Eyebrows
As we age, our eyebrows naturally become thinner. They fall out gradually and make you look older. Start with using a good brow powder or pencil and if necessary you can seek the help of an eyebrow artist to reinvent good, thick, and arched eyebrows that can make you look much younger. One of the vital things that you need to remember while dealing with eyebrows is that if you go overboard with it, it will look artificial and can ruin your makeup.
9. Lash Care And Mascara Are Almost Non-existent
Just like your eyebrows, your eyelashes are also bound to become thinner and sparse as you age. This is why taking care of your lashes using a good lash oil is important. Remember to use mascara that is nourishing and flake-proof. If your mascara drops or bleeds, it will settle in the lines under your eyes and highlight them. Also, you may look like a panda by the end of the day if you use too much mascara especially on your lower lashes and use good-quality glue if you wanna get fake lashes.
10. You Love Lining Your Water Line Too Much
The smokey eye look is of course something to die for. However, if you want to look a few years younger on a particular occasion, choose a brighter look than a look that will need you to kohl your waterline. You can use a white or lighter color to line the area since it will make your eyes look bigger. Darker or black-colored kohl can make your eyes look smaller, older, and no matter how much you try, it will smudge at least a little bit, making you look worn out. It will also make your complexion dull.
11. Your Eyeliner Game Is Wrong
When you don't wear eyeliner, people ask you if you're sick and tired, right ladies? Well, this is not always true. Your eye makeup can make you look lively and bright without eyeliner. Dark black eyeliners can in fact make your eyes look tired by the end of the day and older in the long run as the skin around your eyes start to get crepey. Line it lightly to avoid smudging.
12. Never Updating Your Makeup Look
Nobody likes to leave their comfort zone. We know you have one or a few makeup looks that you have mastered and that goes with all outfits. However, if you don't update yourself at all, you will look like you belong to an older era. The key is to find a balance between staying classy and trendy without overdoing it. Look at a few youtube tutorials or your fave influencers to update your makeup routine with simple tricks.
13. You Don't Care About Your Natural Features
Makeup is about enhancing your features and not changing them. A lot of people often forget this fact and apply tonnes of makeup to change their skin tone, nose shape, and eye shape. And let's face it— that may look good on a runway but not in real life. While it's okay to highlight your features in order to make them look sharper, you don't want to be an entirely different person. When you make this mistake, you're forgetting the fact that you look extremely artificial and older.
14. You're Too Loyal To Your Dark Lipsticks
While dark lipsticks light up your face, they also make your smile lines and crepey lip skin highlighted. They also can bleed and make your lips look old and wrinkly. This doesn't mean you should sacrifice your red lipstick altogether. But try to keep your mind open and use lighter shades as well.
15. Going Too Shimmery or Glittery
Too much glitter may sound like something that the young and restless go for. But if you aren't in your teens or early twenties, try to go with subtle glitter instead of blinding ones (unless you're going to a Lady Gaga concert). Glitter particles that are not so fine can highlight your lines and wrinkles and give you the opposite effect of looking youthful.
16. Blindly Following The Fads
We live in the era of TikTok and Instagram influencers and while some of them give out very useful makeup tips and tricks, sometimes they also end up creating trends or fads that are not great for everyone. So, make sure you can pull off a look or a trend before you blindly decide to paint daisies on your eyelids. It will only end up looking like a total mismatch or a complete disaster.
17. You Ignore Your Décolletage Area
Just like with skincare, people always shower love on their face and totally ignore their neck and chest area when it comes to makeup. This makes your face stand out and look artificial. If your neck looks crepey and the makeup isn't done well in this area as well, you will be giving away your age or worse, looking older than you actually are.
18. Using The Wrong Tools
Using the wrong brushes or the wrong sized/ shaped makeup sponge can mess up your entire look. If the foundation or concealer isn't properly set onto your skin, it can look flaky and uneven. The same goes for eye makeup and lips that aren't done within the lines. Use fine brushes and replace your old brushes with new ones instead of using them to the point of accumulating germs.
19. You Really Don't Care About Your Makeup Removal Process
Last but not least, here's a very important mistake that can age you badly. If you do not remove your makeup right and religiously, it will hurt your skin, and the next round of makeup will turn out extremely bad. Scrubbing and abusing your skin while you're at it will worsen things. Hence, it's important to invest in a good makeup remover.
Here! These are some of the many makeup mistakes people make that age their look immediately or in the long run. Have you been making any of these mistakes all this while? Which one of these shocked you the most? You can follow your heart and try the latest beauty trend, but experiment only if your skin and your makeup skills are in great shape. Tell us what you feel in the comments below and share this article with all your makeup-loving friends to alert them.
The following two tabs change content below.