Masaba Gupta Opens Up About The Colorism She Faced Growing Up In India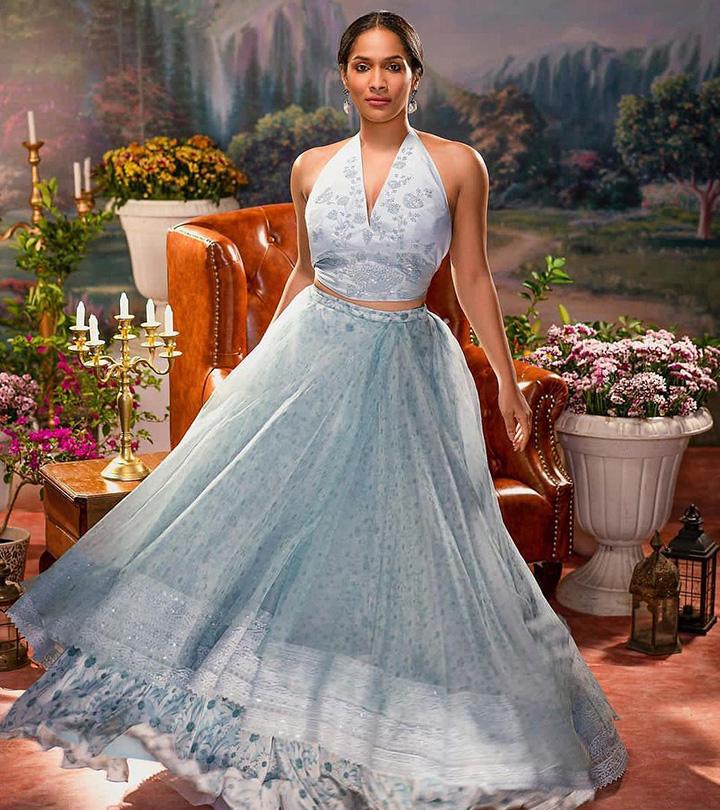 The unfortunate reality is that most Indians are completely obsessed with fair skin. Especially when that fair skin is that of a woman. We guarantee that at least 90% of the "dusky toned" women reading this article have been asked to give fairness creams a try. Like many other dark-skinned women, Masaba Gupta is no stranger to being bullied over the color of her skin. The stunning fashion designer turned actress and daughter of the legendary National Award winning actress Neena Gupta, didn't have it easy in life growing up. She faced a lot of bullying and harshness as she was born out of wedlock and for the Indian society, a single mother is like the plague (rolls eyes). Here is what Masaba had to say during an interview:
"Is It Black Inside From The Color Of Your Skin?"
Bullying is rampant in most Indian schools and it's no secret. Although times have gotten better, we're pretty sure that a majority of students who attended school faced a lot of bullying while they were growing up. Despite the fact that Masaba came from a much more privileged background (financially at least) than a lot of us, she too received the pokey end of the proverbial stick. During an interview with famed journalist Barkha Dutt, Masaba recounted how she would often get made fun of and mocked for not just the color of her skin but her Indo-Carribbean heritage as well.
Masaba spoke about how she had one school friend who would always bring up the color of her skin and brought it up unnecessarily over topics that didn't even matter. This friend would bring up the color of her skin when Masaba asked her what she wanted to study or what she wanted to wear. Masaba added that she found it bizarre as it came from a close friend. She brought up a rather traumatizing event— "I played professional tennis in school and I was permitted to come late to the class as I was playing for the state. The boys in the class will open my bag, take out my underwear and toss it around. They would make fun of my shorts because I was a bigger girl. They would be like 'is it all black inside from the colour of her skin."
We cannot begin to imagine how mortifying such an incident can be for someone who is just trying to do what they love and how much it can affect a child's self-esteem. Masaba mentioned that even her parents' marital status was not spared. She spoke about how her classmates addressed her with horrible slurs and racist comments in regards to her father being of African heritage. Although her father Sir Vivian Richards is an incredibly talented and capable cricket player, for her classmates, the only thing that mattered was that her parents weren't together.
On Her Relationship Dynamic With Her Mother
Masaba always found a friend in Neena Gupta. Neena brought Masaba up in such a way that she always thought for herself and knew what she wanted to do in life. When she was younger, her mother used to tell her that "Koi kaam chota nahi hota hai" (no job is less important). Neena Gupta wanted to raise her daughter in such a way that she wasn't afraid to go against the norm and defy tradition. In fact, the mother and daughter duo share such a friendly bond that they are each other's close friends and confidants.
When Neena wanted to tie the knot with her then boyfriend, Vivek Mehra, it was Masaba she told first. Neena once recounted the time when she revealed her intentions of marrying Vivek Mehra to Masaba. Neena spoke about how she didn't really need to introduce Vivek to her daughter and that her daughter was pretty accepting of it from the get go. Neena had been dating Vivek for a good eight to ten years and that they had even been to each other's houses in Mumbai and Delhi multiple times. Masaba was around 19 years old when Neena decided to get married in 2008. When Masaba had asked her mother why she wanted to get married, Neena gave her a bitter pill to swallow. Neena spoke about how nobody in society respects you if you don't get married.
Neena spoke about how Masaba understood her and that she would do literally anything for her happiness. She said that she did feel a little awkward bringing up the marriage with Masaba but the pair got over it pretty quick. All is well between Masaba, her mother and her stepfather and she often shares snaps of the happy couple posing with one another. Masaba had even shared a hilarious picture of her at her mother's wedding holding up an umbrella for the happy couple.
Neena is a doting mother and we adore the relationship that Masaba and her share. The only way to prevent young children from facing issues of colorism and racism is to address the issues at home and make sure that the child understands if something is wrong. Have you ever faced bullying while you were in school? Do let us know all of your thoughts on this article in the comment section below.
The following two tabs change content below.

Latest posts by Niharika Nayak (see all)

Niharika Nayak
Niharika has a passion for all things art, music and travel. During her spare time she likes experimenting in the kitchen, painting pop culture icons and chasing after random street cats. Her dream is to one day own an amusement park so she can ride roller coasters for free.