Ladies, Here Are 5 Morning Habits That Are Causing You to Gain Weight (You MUST Avoid Them!)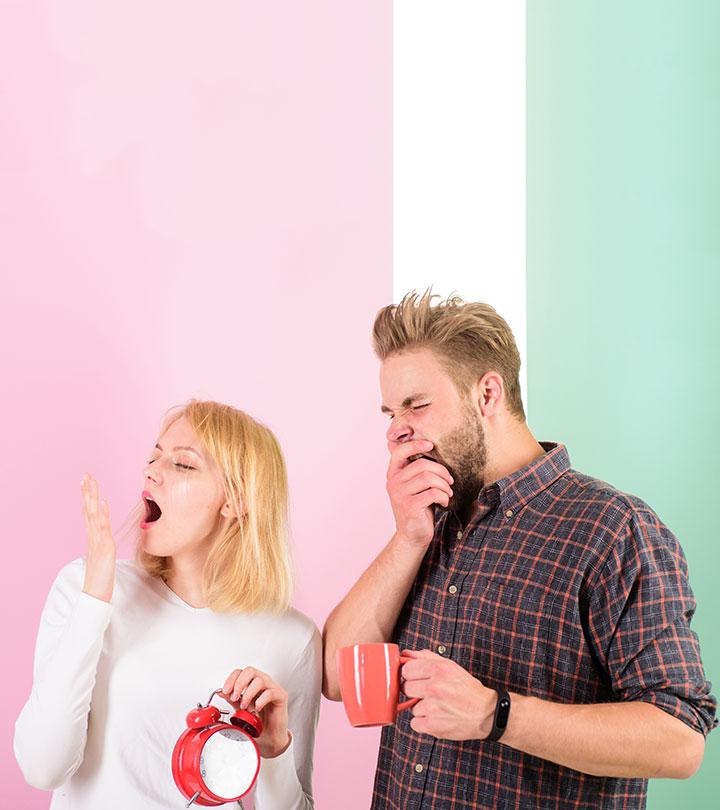 We've all been doing it — we commit ourselves to shed some extra kilos, but these extra kilos seem to be committed in a serious manner to you (puppy face). We're sure most of us have blacklisted these obvious culprits of weight gain — happy hours, oversized food portions, and also our favorite fast food. Still, we aren't anywhere near our fitness goals. So, what's the problem here?
Most of the women out there know that you need to follow a healthy diet and be punctual with your exercise regime to be in shape. But turns out that our weight gain problems are a result of more than just these two factors. One of the biggest factors is the way women start their days. The time you wake up and how you wake up also impacts the choices that you'll make for the rest of the day (1).
Womenfolk need to take care of themselves, and therefore we've put together a list below for our beautiful women readers to help you determine which of your morning habits cause weight gain. Read on and make it a point to avoid them.
1. You're Oversleeping
Yes, we've all been told about how not sleeping enough can lead to weight gain. But, we ignored the fact that oversleeping can cause weight gain too. Studies have shown that a person who oversleeps, say for example ten hours, has a risk of higher BMI (body mass index) when compared to people who sleep for six to seven hours a day (2). Therefore, from now on, follow the rules of "early to bed and early to rise." Hit the sleep's sweet spot for not more than eight hours and keep your weight under control.
2. You're Getting Ready In Darkness
You need to develop a habit of reaching out to the blinds and opening them as soon as you wake up in the morning. It's always a good idea to let the natural sun's rays lighten up your room. It fills your room with some natural positivity and your body too can reap the natural benefits of the early rays of the sun. Getting some sun as soon as you wake up makes your body work on its internal clock and you're good to go for the rest of the day.
3. You're Not Making Your Bed
For you to make sure you wake up on time in the morning and not oversleep, you will have to have a peaceful sleep in the night. And according to a poll conducted by National Sleep Foundation, those who made their bed were likely to enjoy a good night's sleep by 19 percent more than the rest (3). Making your bed before sleeping and after waking up is also considered as an act of discipline. And if you don't want to agree with any of these facts, we'll still give you another one — making your bed helps you burn calories too. Because you know it's some work and therefore you're avoiding right? (wink wink) Therefore, inculcate the habit of making your bed and burn some calories.
4. You're Not Weighing Yourself Regularly
According to research conducted by Cornell University, men and women who did not weigh themselves every day were more overweight. Those who weighed themselves every day were very successful in maintaining good health. Even science has revealed that the best time to weigh yourself is in the morning as soon as you wake up (4). This is because your body weight measure is more accurate in the morning as a result of the previous night's metabolism (which basically means that as a result of metabolism, you will be carrying less water weight). Therefore, if you're not keeping a track of your morning weight yet, we suggest you start doing it.
5. You're Skimping At Breakfast
We agree that you need to watch what you eat, but when it's breakfast time, don't eat like a pauper. Breakfast is meant to be feasted on. A research by Tel Aviv University revealed that those who ate a full, well-balanced breakfast of 600 calories of carbs, proteins, and fiber were less hungry in comparison to those who ate a 300 calorie breakfast (5). Therefore, we suggest that you try to satisfy your food cravings first thing in the morning instead of feeling deprived and deciding to binge eat the rest of the day.
There's no point in waking up at 10 am and hitting the gym with the thought of losing a few pounds. We need to lose weight the smart way. And nothing can beat practicing early morning good habits; it will boost your weight loss journey. Therefore, keep in mind the above morning mistakes and lead a healthy, happy life, peeps. Do you know of any other early morning bad habits? Let us know in the comments below.
The following two tabs change content below.