5 Amazing Ways Muskmelon Is A Blessing For Your Skin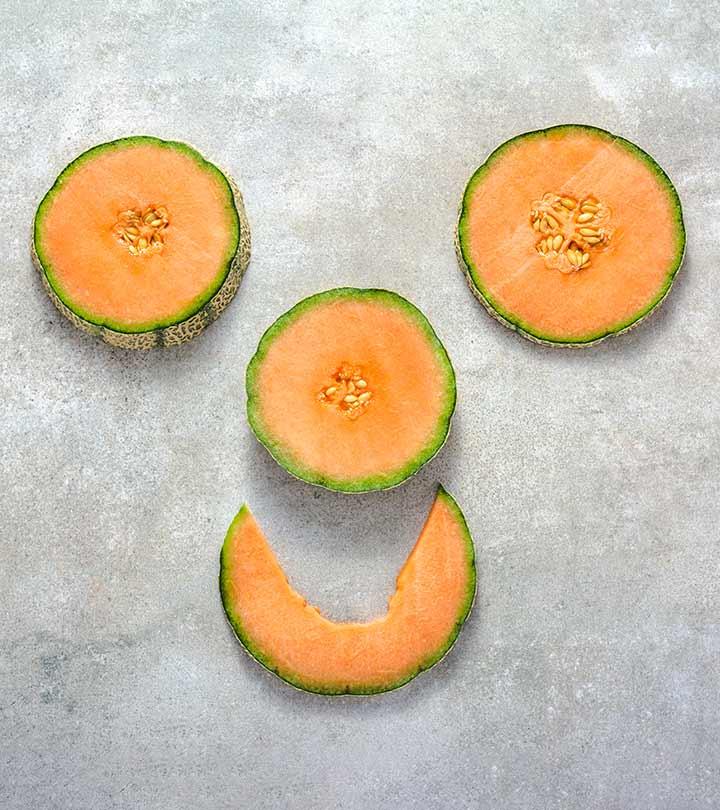 Flawless, dewy, and radiant skin is the dream of many. There is no denying the fact that men and women alike would love to flaunt their healthy skin, irrespective of their age. While the lucky ones amongst us are blessed with radiant looking and flawless skin, there are some of us who would go the extra mile to achieve a healthy skin that's devoid of open pores, skin tags, fine lines, dark spots, skin rashes, etc. Unhealthy lifestyle and dietary habits, in addition to the ever-growing pollution, takes a toll on the skin. It becomes dull, lifeless and tired. No matter how many makeup products you use, your natural skin starts to lose its charm.
So what do you do? Go to the nearest skincare shop and get yourself a couple of pricey products and use dollops of those on yourself, right? Wrong. While there are copious products in the market that can help one deal with skin issues, there's nothing more benefitting than products derived from Mother Nature.
Fruits are one of the most under-appreciated foods that aid in good health of the skin. Muskmelon is one such fruit that's laden with some essential vitamins and minerals, like magnesium, potassium, folate, vitamin K, B6, niacin, etc. You can definitely derive a host of benefits from muskmelon if you're a lover of home-remedies and all things natural. So, apart from directly eating the refreshingly juicy fruit, there are a couple of ways you can use muskmelon to get the skin you've always yearned to have. Here are a couple of quick DIYs that you can whip up from the comfort of your home:
1. Muskmelon Toner To Keep The Skin Hydrated
We all use toners to even out our skin and balance the oils after washing it. How about a toner that's not only yummy for your skin, but also for you? The juice of muskmelon can be straightway used on the skin without any additional ingredient. All you have to do is dip a cotton pad in the juice and apply it over your face. Leave it on until it dries and then wash off with cold water. It will leave you looking rejuvenated.
You'll need:
2 tablespoons of muskmelon juice
2. Muskmelon Scrub For Healthy And Clean Skin
Scrubbing is a vital part of the skincare regimen. It requires you to get rid of all dust and grime, dead skin cells, and dry skin by gently exfoliating. The easiest and low-cost exfoliator can be made with muskmelon and oatmeal.
You'll need:
2 tablespoons of muskmelon pulp
1 tablespoon of oatmeal
1/4 tablespoon of turmeric powder
Mix the ingredients well and gently massage it on your face with your fingertips. Massage for 5-minutes in circular motions and then let it stay for 1-2 minutes. Rinse off with cold water. Repeat this twice a week for healthy and clean skin.
3. Muskmelon Mask For Dry Skin
Dry skin doesn't just leave our skin looking flaky, it also makes it hard to apply makeup or maintain a fresh look. If you're someone who has dry skin, here's a fix for you:
You'll need:
2 tablespoons of muskmelon pulp
1 tablespoon of milk
Mix the paste well and apply it on your face. Leave it on for 9-10 minutes and then wash it off with cold water. Pat dry and apply a mild moisturizer. Regular application of this muskmelon-milk paste will give you the desired results.
4. Muskmelon Mask For Oily Skin
Imagine buying the same cream for dry skin and oily skin. Such a cream possibly doesn't exist, right? However, you can always use muskmelon for both the skin types. It's like killing two birds with one stone. Here's how you can control the oil on your skin:
You'll need:
1 tablespoon of gram flour or besan
2 tablespoons of muskmelon pulp
1/2 tablespoon of freshly squeezed lemon juice
Mix the paste well and apply it on your face. Let it sit for a minute. Then with wet hands, gently rub the paste off your skin. Wash the paste by rubbing it off, and then pat dry. Follow it up with an application of aloe vera gel to maximize the benefits.
5. Muskmelon For Hair
Now that we have dealt with tackling the basic skin issues with musk melon, let's give our tresses some importance. You can quickly nourish and condition your hair with muskmelon. It is a rich source of inositol that promotes hair growth and prevents hair loss.
Here's how you can use muskmelon for your hair:
You'll need:
Rosewater
Muskmelon juice
Mix equal proportions of rose water and muskmelon juice and apply it on wet hair. Let these ingredients work its magic on your tresses. Leave it on for 10 minutes. Rinse well with normal water and you'll see the luster in your hair bounce back.
Muskmelon is rich in vitamin C and other elements that enable it to fix a myriad of skin problems. It helps your skin to stay healthy, hydrated, and radiant. As tasty as it is to eat, it does you well when externally used too. So, just in case there's a muskmelon that's too ripe to slice up in pretty shapes, you know what you can do with them.
Have you tried applying muskmelon to your face? How did you like it? Let us know in the comments below.
The following two tabs change content below.

Latest posts by Anjala Farahath (see all)

Anjala Farahath
Anjala Farahath is a 23-year-old tall mess under a hijab, trying to fit into the world of crop top while traveling nonstop, converting her passions into her job, and occasionally soaking in the raindrop. Do you think she needs to stop?