7 Myths That Girls With Curly Hair Should Stop Believing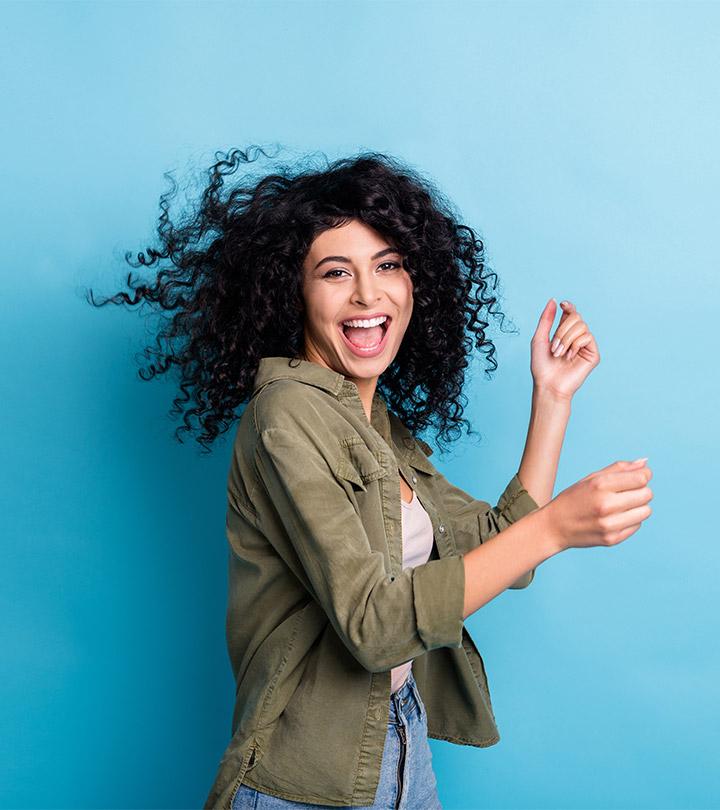 If you are born with naturally curly hair, we bet you can relate to all the "diva" moments as well as your "homeless girl" moments. The looks with curls are versatile but maintenance of your curls are equally important. You do need the right products, but most importantly, learn to love your hair as it is. Acceptance is the first step to self-care when it comes to a feature that is unique about you. As compared to the majority of straight and wavy-haired girls.
For the longest time, the beauty industry did not include curls in its umbrella of focus. It's heartbreaking that girls who were naturally blessed with bouncy curls had to resort to hair straightening tools just to fit into the beauty standards. Thankfully, those days are gone, and women with gorgeous ringlets now flaunt their hair in all its natural glory. But did you know that several myths hover around curly hair? Some sound so real that they may even fool you into believing in them! We have decided to debunk the popular curl myths so you can pamper your curls the right way.
Myth 1: You Don't Have To Detangle Before Shampooing Your Hair
Washing hair is not a simple process when it comes to curly hair. It requires way more effort than straight hair. As any girl with curly hair will tell you, waves and curls tend to get intertwined very easily. Hence it needs to be properly brushed with a wide-toothed comb before shampooing. If your curls are dense, you can even use a serum or hair oil to get them detangled. Gently massage your scalp with the hair oil and slowly spread the oil to your hair tips. Let it soak for some time, and then part it into two sections and start brushing from the ends. Once both the sections are raked out smoothly, wash your hair and apply shampoo to your scalp to remove the dirt and excess oil. Lather it to your entire hair and wash it off gently. When it's completely clean, you can apply a conditioner to ensure it does not detangle again.
Myth 2: You Should Not Brush Your Curls Too Often
It might sound absurd, but it's true! People honestly believed brushing your curls would make them straight. Imagine the kind of mess they made with their hair without combing them! We know brushing curly hair is not a cakewalk, and not all brushes work fine with curls either. But certain brushes are made just to tend to curls. Using the right products, like hair paste, mousse, and the right wide-toothed comb, will make your combing tons easier, and you can bounce your well-brushed mane every day. Don't tug at your curls while brushing. Use wide combs to smoothly glide through your strands and not spoil your texture.
Myth 3: You Should Not Use A Leave-In Conditioner
So, the common belief goes that a leave-in conditioner weighs your curls down and will make them straight. Honestly, even if you tie a rock to your hair tips, it won't get them straight again! Leave-in conditioners are a blessing and help nourish and moisten the curls. If you still feel conditioners are making your hair sloppy, you can go for a lightweight formula that keeps the bounce of your hair intact. Make sure that you apply the right amount instead of spreading heaps of the product on your hair.
Myth 4: Curly Hair Grows Slowly
People with curly hair often worry that their hair has stopped growing or is much slower than other textures of hair. But that is simply because their hair growth is following a spiral path rather than a straight path. We know straight hair is easy to manage and sleek, but nothing matches the hair density of curly hair when you flaunt your lush mane. Even if it seems like the length of your hair is not growing, the volume and density are adding to that look for sure.
Pro Tip: if you want to keep track of your hair growth, simply pick the longest strand of curl and pull it straight to its entire length. Measure it, and do the same in three months. You will understand at what length your hair has grown.
Myth 5: You Have To Apply Oil On Your Wet Hair For Your Curls To Shine
Curly hair needs way more moisturizing than straight hair, and if you forget to oil them a single day, it may get all dry and brittle. But oiling wet hair has nothing to do with maintaining the moisture. In fact, to make sure your hair absorbs all the moisture, make sure your hair is bone dry after washing it. You can use hot massage oil and gently apply it on your hair roots and pull the excess oil to your tips. You will know when it's done once your hair starts getting its shine back.
Myth 6: Heat And Color-Free Curls Means No Damage
It feels good to assume that if we never straightened or colored our curls, then there is no way our hair could be damaged, right? *sigh!* When it sounds too good to be true, it is too good to be true. The truth lies that damage can come in many forms. Even over-manipulation, brushing vigorously, washing your hair daily, and using products that are not safe to use can take a toll on your hair. It is okay to use heat tools for a small change from time to time, but make sure you use the right products to compensate. Your haircare routine has to be on point. Go for organic or natural products for softer hair. It will be much easier to manage.
Myth 7: Split Ends Can Be Repaired
This might come off as tricky as you would jump at a product that promises to get rid of split ends but think twice before doing that. The bane of good hair needs to be eliminated, but something that does not further destroy the follicle. Certain products minimize the appearance of the split ends by binding the hair together, but it also travels up the shaft and causes hair damage. The best cure is to go for hair trims every three months.
So these were the myths that, sadly, a vast population with curly hair is made to believe. It might look like a big responsibility to tame your curls, but all you need is a set routine, the right products, and a proper routine for smooth-sailing care and beautiful hair. Do you know someone who has lovely natural curls? Help them understand the actual facts so they can enjoy their beautiful curls as they should. Do you have some secrets to keeping curls soft and pretty? Let us know in the comment section!
The following two tabs change content below.