9 Humorous Web Shows That Will Send You Into Fits Of Laughter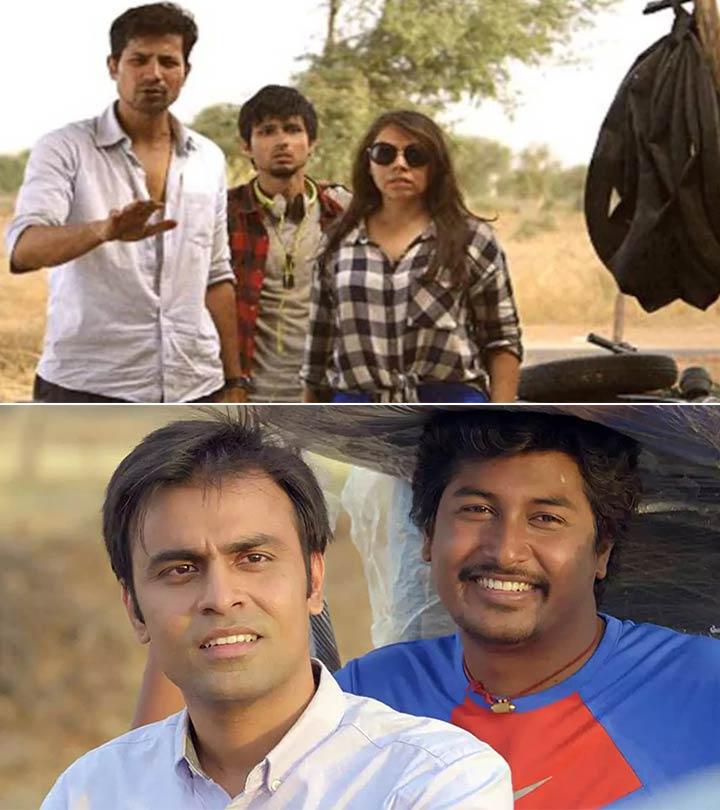 Banner image Source: India Today/Source: Times Of India
Since comedy is one of the most enjoyed and loved genres of all time, it's no surprise that so many streaming platforms are now investing in making some genuinely hilarious and heartwarming web series. The best part of watching a comedy series is that you can binge them at any time and they will always be super fun to behold. If you're looking to sit back, take a break, relax, and watch a show, we have a comprehensive list of bone-tickling and hilarious shows for you to watch. Here are nine of our favorites:
1. Tripling
Siblings— you either love em' or you hate em'. There is rarely a middle ground. If you're someone who loves traveling and exploring, then Tripling is definitely the show for you. It follows the story of three siblings who find themselves feeling disconnected from one another and then decide to take an impromptu road trip together. The siblings, Chanchal (played by Maanvi Gagroo of 4 More Shots, Please fame), Chandan and Chitwan embark on a journey filled with misfortunes and hilarious comic timing.
2. Metro Park
While we might all love to make fun of NRIs for the way they behave when they live abroad versus the way they behave in India, this show showcases how Indian families adapt to American culture. It follows the story of a Gujarati family referred to as the Patel family and how they settle in the United States. Featuring Ranveer Shorey as the lead, this hilarious show will send you into fits of laughter and make you want to be a part of the cast.
3. Kota Factory
The show Kota Factory follows the practice of how students move to Kota to build a good future for themselves by studying in IIT coaching academies. However, the rat race of getting into a good college and university takes a pretty big toll on the minds of the students. This show gives us an in depth look into the life of students and the various successes, failures, ordeals and struggles they face in a realistic yet humorous manner.
4. Panchayat
This hilarious show follows the story of a well educated engineering graduate named Jitendra and how he ends up landing a job as the secretary of a Panchayat head. Needless to say, Jitendra is not happy with his job and feels very overqualified for the role. Due to this, Jitendra wants to quit his job and crack CAT so he can get into a good college and pursue his dream of studying for an MBA. However, things don't always go according to plan now, do they?
5. Pitchers
Pitchers is a hilarious show about four friends who decide to quit their jobs and start their own company. It follows the challenges and insane adversity that they have to face in a highly competitive world that does its best to stifle their creativity. The protagonists in the show often look upto tech legends like Steve Jobs, Steve Wozniak, and more for inspiration and the hilarious dialogues will ease your evening frustration for sure.
6. Permanent Roommates
Permanent Roommates follows a couple that is unsure about whether they are ready to commit to the next step (marriage) in their relationship. Both pairs are extremely dedicated to their careers and go through several ups and downs together. The show is really cute and has plenty of hilarious moments to keep you entertained.
7. Shaitaan Haveli
Shaitaan Haveli is a hilariously funny dark comedy/horror series that often borders on ridiculous. Featuring many popular horror cliches and the hilarious stand-up comedian Varun Thakur in the lead role, this show is bound to send you into fits of laughter.
8. Flames
Flames is a sweet web series that follows puppy love, the story of two teenagers and the innocence of falling in love at a young age. This adorable and magical romance will put a smile on your face and crack you up during moments where you least expect it.
9. Untag
Untag is the story of two best friends and their fight to get rid of the labels that society has thrown at them. It's a humorous and interesting show and it throws light on the hypocrisy of the society and how no matter what we do, people will still feel the need to judge us. The show is hilarious yet also super empowering.
As they say, laughter is the best medicine and what better way to laugh than with some hilarious TV shows to binge watch. We hope these suggestions tickle your funny bones as much as they did ours. Which one are you excited to watch the most? Let us know all of your thoughts on this article in the comment section below.
The following two tabs change content below.

Latest posts by Niharika Nayak (see all)

Niharika Nayak
Niharika has a passion for all things art, music and travel. During her spare time she likes experimenting in the kitchen, painting pop culture icons and chasing after random street cats. Her dream is to one day own an amusement park so she can ride roller coasters for free.