11 Off-The-Runway Celeb Styles That We're Bookmarking For The Summer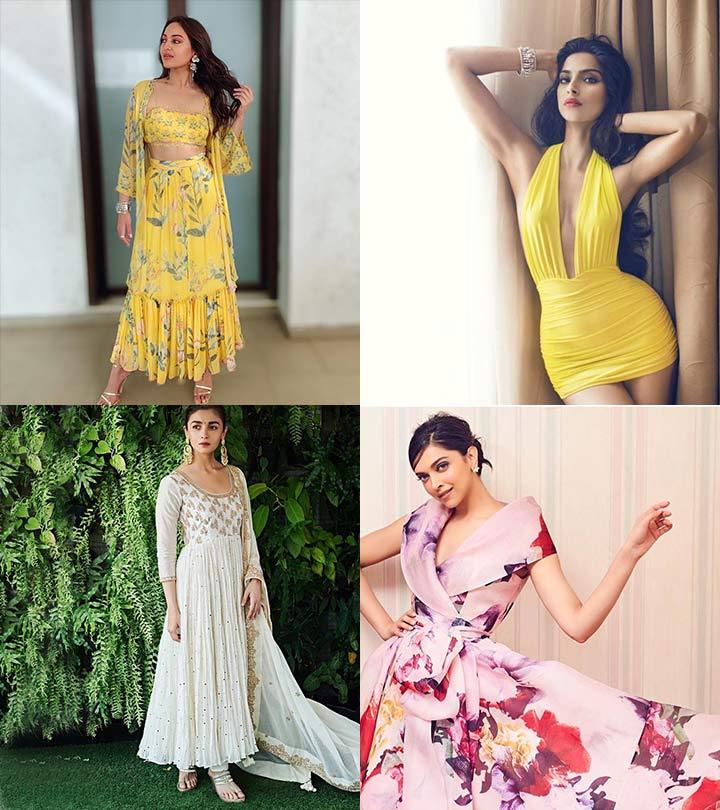 Yes, that's right, we are back with the daily dose of fashion inspiration for the season. Usually, whatever trend or fad we update you about, is the result of the trickle-down effect of fashion forecasts from runways and fashion weeks held across the world. However, for this article, we decided to take the road less traveled.
You see, the fashion tastes of the general populace are as much a result of the dictates of the fashion pundit as they are the result of the huge influence of celebrities. For the most part, people in our country learn more about new trends by looking at their favorite celebs than by dog-earing pages of a fashion glossy. So, keeping this fact in mind, I decided to look around on the Insta profiles of some of our most stylish celebs to give you the best of off-the-runway styles. These are the who's who of our summer fashion hotlist who have been the trailblazers in summer fashion:
1. Alia Bhatt's Vision-In-White Anarkali
This ivory-hued Anarkali is the perfect pick for a summer wedding. The bronze work on the bodice of the Anarkali adds a quiet grace to the outfit without making it too gaudy. It would be the perfect ethnic addition to your summer wardrobe.
2. Radhika Apte's Throwback To The 90s
If ethnic is not your cup of tea, then you should have a look at this gangsta look pulled by Radhika with great panache. The combo of a red camisole with flared jeans gives a very relaxed, chilled-out vibe making it the perfect outfit for a summer brunch or a movie outing. Friday casuals, anyone?
3. Sonakshi Sinha's Tropical Avatar
Whether it's a friend's Mehendi ceremony or a beach party, this outfit will stand you in good stead in both places without making you feel overdressed. What makes it perfect for summer? The tropical color-combo, the whimsical print, and its breezy feel. In our opinion, you must have something like this layered outfit in your summer wardrobe.
4. Anushka Sharma's Relaxed Vibe
A perfect summer garment is one which allows your skin to breathe, and is minimalist yet, stylish. Anushka's empire-waisted sun dress checks all the boxes. The straw hat and the round sunnies add the just the spunk needed to lift the plain jane outfit. If you are in agreement with Anushka's less is more philosophy, this would make a very nice addition to your summer wardrobes.
5. Sara Ali Khan's Blue Mood
What if you want to sail on two boats at the same time? Sara's indo-western combo of palazzo pants and a crop top shows you how to do that effortlessly. The heavy floral work of the crop top is offset by the simple checks on the Palazzo. And the royal blue color of the outfit really makes it pop.
6. Katrina Kaif's Breezy Lehenga
If you are at a loss as to what you'll wear in that upcoming summer wedding, let Katrina show you the way. She looks simply out of this world in this printed lehenga-choli. The whole color scheme of the outfit is also very different from the usual pinks and oranges. If you want to do ethnic, we suggest you follow Katrina's suit.
7. Yami Gautam's Formal Summer Dress
Yami's short, wavy bob coupled with this delicate dress, checks off all the right boxes. A perfect option for a cocktail evening or an office party. You should definitely have this in your wardrobe as a back-up when everything else fails.
8. Kareena Kapoor Khan's Sunny Hues
What better way to beat the summer than by dressing up in sunny hues yourself, right? Kareena pulls of this yellow-on-yellow look with great élan, being the diva that she is. If you want something bold and beautiful in your summer wardrobe, then this outfit is a must.
9. Sonam Kapoor Ahuja's Pinup Swimwear
It's a dress… it's a romper…No! it's a pinup-style vintage swimsuit, showcased to perfection by Sonam's statuesque frame. If you have to have a celeb-inspired swimwear in your wardrobe, it has to be this glam piece!
10. Kangana Ranaut's Classy Nine Yards
No one does everyday sarees better than Kangana. This check-patterned linen sari which she pairs with leather mojaris is the perfect example of saree done right. If you are wondering whether you should include the nine yards in your wardrobe, then I am sure this ethnic avatar of Kangana's must have convinced you to do so.
11. Deepika Padukone's Old Hollywood-Esque Charm
Deepika's floral dress just sets the mood for a fun summer with its old Hollywood charm. Though not an everyday piece of apparel, you can certainly keep it as an option for a glam evening out with your beau.
So different and so inspiring, our celebs time and again prove that they certainly know a thing or two about fashion. So go ahead, get inspired by these glam looks and incorporate them in your summer wardrobe. Which of these looks did you like the best? Share your opinions in the comments section.
The following two tabs change content below.

Latest posts by Saumya Gaur (see all)