7 Online Shopping Moments Every Shopping Addict Can Relate To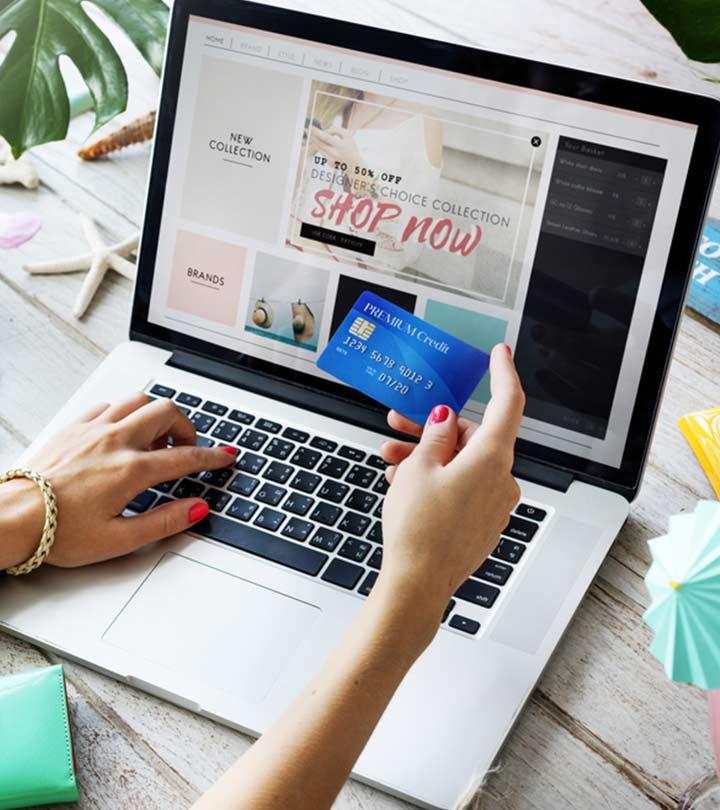 T'is the season of sales and festive discounts. If you're someone who lives and loves to shop, this time of the year is probably the best time for you to indulge in it. Unfortunately, online shopping really is a gamble and sometimes you end up with products that don't quite hit your tempo. No matter how sure you are about not making the same mistakes over and over again, you still end up making the same mistakes. But hey, you're not alone. There are tonnes of people out there who live for online shopping, and we're here to show you some funny online shopping moments that would probably hit you really hard:
1. Accidentally Picking The Wrong Size
Sure, you've checked the sizing charts that come with the dress a million times but you might still end up with the wrong size. What's medium in one brand might be a size small in another and vice versa. When it comes to shopping for clothes online, most clothing resellers have a replacement guarantee if it doesn't fit your size. However, during online shopping season, it might be difficult to find your size if you're a medium or a large as those sell out really quickly.
2. Not Being Able To Feel The Fabric
We've all been there. You're scrounging through online shopping pages and you come across a deal that is too good to be true. So what do you do? Well, you take the risk and buy it of course. And when it finally does show up, don't be surprised if the product does not match what was showcased on the website. When you shop at a retail store you can actually feel the fabric and see if it is up to your standards before you decide to buy it.
3. The Dread Of Getting A Damaged/Missing Product
If there's one universal fear all shoppers have, whether they shop for gadgets or clothes, it's the fear of purchasing a product that might turn out to be damaged or worse, missing! What's worse than the feeling of opening up a pretty package and finding a tear at the seams of that gorgeous dress you spent half your salary on? Not getting the product in the first place probably takes the cake for being the most disastrous online shopping incident one can imagine.
4. Being Spoiled For Choice
One of the biggest advantages (and sometimes disadvantages) of online shopping is that you're always spoiled for choice. You have tonnes of options to choose from in various price ranges and from multiple shopping websites. During the festive season, it's almost silly to not compare prices on various websites before you make a purchase. Just as you would visit multiple stores during the sale season before you bought something, you might as well do the same for online shopping. And what's more? You can also have access to products on the global market and can purchase products that you might not necessarily find in your own city.
5. You Get To Skip Check Out Lines
The ease related to online shopping is one of its biggest advantages. You don't need to spend hours in the checkout line waiting for the people ahead of you to finish. If you're an impatient and impulsive shopper then you know the pain of standing behind someone with 30 items to check out. There's also clear pricing and no hidden costs when it comes to checking out your online shopping clothes versus having to pay insane amounts of taxes at the offline store.
6. Sending Gifts To Others Is Easier
Don't you hate when someone sends you an item of clothing that you cannot fit into? Or when someone buys you something that is totally not your style? Well, now that we have the option of purchasing things online, we can actually send the link to our friends and ask them for their opinion before giving it to them. Or we can take things up a notch and just give people gift cards and vouchers and let them buy whatever they would like. In fact, that's the best way to keep everyone happy.
7. Delayed Shipping
Ah, the anxiety! Shipping delays are no fun! Many websites will even ask you to pay for a membership (cough Prime cough) so you can get priority shipping and avoid facing delays. It's important to remember that even delivery personnel are regular humans just like us and there can be delays due to the ongoing pandemic and bad weather conditions. Always remember to be kind to those who take the time out to help you and deliver the products you need.
At the end of the day, online shopping has its perks and downsides. There are bound to be certain things that are out of your control and expected. Enjoy the festive season and buy whatever makes you feel happy. Retail therapy might not always be the solution to eternal happiness, but that does not mean it doesn't help occasionally (wink wink). Do let us know your thoughts on this article in the comment section below!
The following two tabs change content below.

Latest posts by Niharika Nayak (see all)

Niharika Nayak
Niharika has a passion for all things art, music and travel. During her spare time she likes experimenting in the kitchen, painting pop culture icons and chasing after random street cats. Her dream is to one day own an amusement park so she can ride roller coasters for free.