6 Places In India That Are Safe For Female Solo Travellers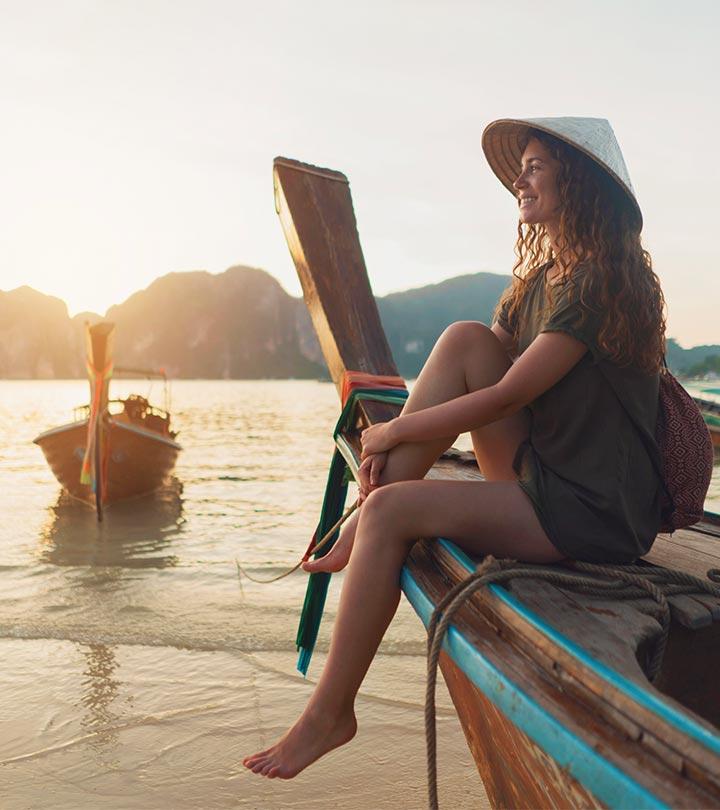 Just admit it, dear ladies! Every once in a while we crave to just shun all our daily routines, all our responsibilities, be it as a daughter, a mother, a sister, a best friend and just escape (read run) from all the bonds and ties we're connected to in this life of ours and have some me-time. Yes, we may have the best humans in our lives as our partners, yet, we would be more than happy to get some me-time. We just want to fall in love with ourselves. And for this, there's no better way than to set off on a solo trip. Irrespective of your age group, just know that you're never too old and can never get be old to venture on a solo trip.
Traveling solo is like a therapy in itself. However, there are quite a good number of considerations that we women need to take into account if we want to travel solo. We know that the moment one discloses their plans of solo trips, family and friends are bound to make you crazy with questions and doubts, insecurities and fears.
We understand that most of the stats still make India look like a country that is precarious for female solo travelers. This can be moderately true but it doesn't state that all places in India are unsafe or all the Indian men find happiness in eve-teasing. India is an exceptionally beautiful land for every traveler, the key here is to research about its places well in advance and then travel to it. Right now India boasts of an escalation in the solo female traveler category. From committed communities to committed apps, all of them are striving hard to make India a safe place for solo women travelers. Here's a list of few places which are safe for women solo travelers. Read and add them to your bucket list.
Shimla
Dear ladies, it's Shimla that's topping this chart, the capital of Himachal Pradesh. It's one of the most beautiful hill stations in India. It's best for solo female travelers as it's a place which is trifling in size and the community of people here is close knit. The picturesque beauty of this place and the soothing climate during summer, and snowfalls in winters — oh my, what more does a solo traveler want, right?
Plenty of lodging and hostel options and cafes that offer magnificent views of the hills is all you need to calm down the hustle bustle within you.
March-June is the ideal time to visit here.
Udaipur
If you have a thing for royalty and culture, then Udaipur falls in your travel kitty. It is one of the evidently safe cities for women in the country. The folks here are friendly and the ability to explore without restrictions makes it ideal for a safe-travel destination. The city's architecture, the appetizing cuisines, the traditional music, and art forms — all of it will make any female traveler go gaga.
September-March is the ideal time to visit Udaipur
Hampi
The fact that Hampi is a UNESCO World Heritage Site instantly puts it in the bucket list of travelers worldwide. If you're a traveler who loves to ramble around, then Hampi is the place you want to be in. The lodges are every economic, you'll find solo travelers from various countries here and all this seemingly makes you feel safe. Bask in the glory of the history of the forgotten empire of Vijayanagara and learn the way the royalty lived back in the 13th century.
October-March is the ideal time to visit Hampi
Pondicherry
Pondy, as it's fondly called, is a self -effacing place with a friendly environment and amiable people who are considered best for female solo travelers. Its serene beaches, the French architecture, the amazing bakeries are all you need or want to indulge in on a solo getaway! It is considered as a Pacific heaven, find your refuge here!
October-February is the ideal time to visit Pondicherry.
Kasol
Over the past few years, Kasol, a small town in Himachal Pradesh is gaining limelight as a popular traveler destination. The unspoiled natural beauty and the breathtaking mountain views that it offers is what makes it an ideal choice for all those solo travelers who seek to bust their stress out. Camping on the banks of the river Ganges, trekking through the mountains, the lush green beauty of the Parvathi valley, the hot water springs — it's a natural indulgence which is going to detoxify your heart and mind.
October-June is the ideal time to visit Kasol.
Varanasi
We definitely agree whenever we hear someone say that Varanasi isn't just a place, it's an experience that every traveler must go through. Varanasi is a holy town and there's no way it's unsafe for female travelers. Visiting this place in Uttar Pradesh is like embarking on a journey to understand the religious culture of India. And the beauty of the river Ganges and its ghats only add on to this experience. The Vedic chants, the twinkling of diyas floating on the river, the prayers, it's like a festival all throughout the year in Varanasi. You've got to experience it, dear ladies, if you love traveling alone.
October-March is the ideal time to visit Varanasi.
These were our top picks for you to travel solo. If you're still skeptical about travelling alone, do a quick search on the internet and you will see tens and hundreds of women coming forward and sharing their unique travel experiences, tricks, and advice with other solo travelers. So, which one made it to your solo travel list this year? Let us know in the comments section below.
The following two tabs change content below.

Latest posts by Shivani K (see all)