9 Popular Brands You Thought Were Of Indian Origin But Actually Aren't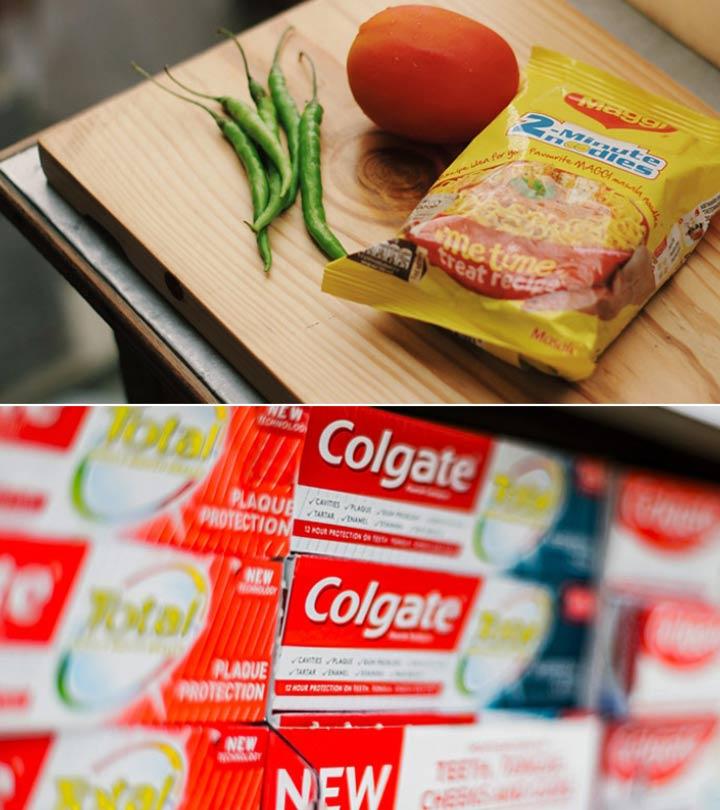 There are some brands that are almost synonymous with Indian households. You've probably heard every single one of the names on this list but have been unaware of their true origin story. Many of us probably assumed that these brands are popular because they are from India and hence are tried and tested, but this is not the case. If you're a fan of brands and live for advertisement jingles, then this is the list for you. So stay tuned and find out which nine brands loved by Indian households don't actually originate from India:
1. Maggi
Whether you live in Kashmir or Kanyakumari, there is one thing that is definitely present in your kitchen, and that is Maggi's two-minute noodles! The food is a staple supper for plenty of Indians and can be found in every Indian household. It's known for its yummy tastemaker and for being the favorite comfort food for thousands and thousands of homes. Due to this, you may probably believe that Maggi originated in India, right? Well, that's where you're wrong. Maggi is actually an international brand of instant noodles, soups, and seasonings. Like Swiss cheese, it too originated in Switzerland in the late 1800s. The Maggi company was later acquired by the brand Nestle in 1947.
2. BATA
If you went to school in India, you know that BATA is a trusted footwear brand and has established itself all across the country. As a child, everything from your rain shoes to your canvas shoes and sports shoes was probably purchased from this famous brand, and they actually gave you a good run (no pun intended) while they lasted. However, BATA is not an Indian brand but, in fact, originated from a place called Moravia (located in the modern-day Czech Republic). It is manufactured in the town of Lausanne in Switzerland.
3. Hindustan Unilever
Hindustan Unilever may sound misleading, but the brand produces everything from teas, soaps, detergents, shampoos, water purifiers, frozen desserts, and even ice creams. However, Hindustan Unilever is actually an Indian subsidiary of the Dutch-British company, Unilever.
4. Colgate
If there is one toothpaste brand that is trusted across all Indian households, it's Colgate. It is a leading brand and trusted in Indian families across the globe when it comes to dental care and hygiene. However, Colgate is not a brand of Indian origin and is actually an aggregate of the American company, Colgate-Palmolive.
5. Indian Motorcycles
Although you might think the brand is Indian simply because it's called Indian motorcycles, this is not the case. The "Indian" in the brand actually refers to native Americans and not Indians originating from India. We only have Christoper Columbus to blame for this misunderstanding!
6. Bose Speakers
Although Bose Speakers probably sounds like your regular Bengali last name, it is actually an American brand and is manufactured in a place called Framingham in Massachusetts. The brand is named after its founder, Amar Bose, who is an American citizen of Indian descent. It was established in the year 1964 and is much loved by both Indian and international consumers across the globe.
7. Boost
"Boost is the secret of our energy"; if you've heard this line, then you definitely grew up in India. Nearly every Indian child would have tried Boost at some point. Although you may think that Boost is an Indian brand because their brand ambassador was Sachin Tendulkar, the brand actually originates from Switzerland and is manufactured by Nestle.
8. Bisleri
Although Bisleri is now Indian, as Parle acquired it, it was first created by an Italian company by the name of Signor Felice Bisleri. In the year 1965, it was presented in the city of Mumbai in two variants – still and bubbly. In 1969 Bisleri was purchased by the brand Parle.
9. Lifebuoy
Lifebuoy is a brand that is one of the most readily available and well-trusted brands in the Indian market. The brand has body soaps, hand soaps, sanitizers, and hand washes, all available in the market. Lifebuoy was founded in The U.K. It was later claimed by the consumer goods corporation, Procter and Gamble and introduced to more international markets.
There are plenty of brands out there that have established themselves in the hearts of Indians around the globe to the point where many may even think that the brands are Indian, but these have to be our favorites. Did any of the names on this list come as a surprise to you? Let us know all of your thoughts on this list in the comment section below!
The following two tabs change content below.

Niharika has a passion for all things art, music and travel. During her spare time she likes experimenting in the kitchen, painting pop culture icons and chasing after random street cats. Her dream is to one day own an amusement park so she can ride roller coasters for free.