8 Pre-Bridal Hair Care Tips To Have Gorgeous Hair On Your Wedding Day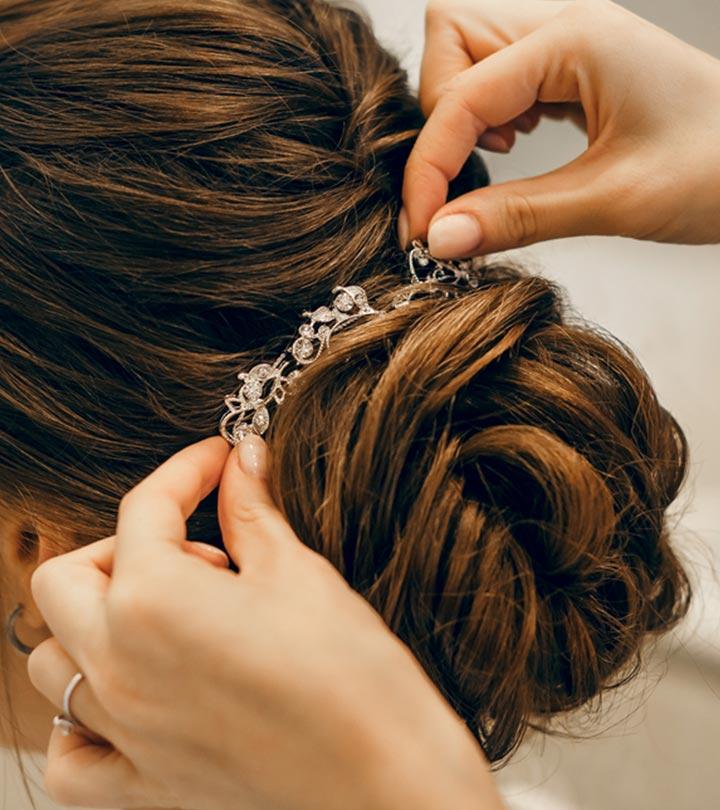 Waking up to a bad hair day can kill your mood instantly, but not being able to tame your hair on your wedding day is every bride's nightmare. Good hair is the result of months of care and nurture, and the biggest mistake we all make is to ignore our hair and then expect the hair stylist to come up with a miracle hairdo. Even if your hair looks good as a result of creativity from the end of your stylist, it won't have your back for all the ceremonies you need to pose for. So gorgeous hair needs months of care, and even if it sounds like a monumental task, it is actually quite simple. Here is a list of dos and don'ts with your hair care that will help you achieve gorgeous natural hair on the big day. Read on to know them all.
1. Tame Your Frizzy Hair
Hair frizz is not uncommon, and it may haunt you to imagine your hair flying static at your wedding. However, the path to getting hair that behaves is actually easy. Ingredients like honey, almond oil, coconut milk, and egg yolks can hydrate your hair from within and minimize the fraying of your hair. In addition, incorporating a good hair care routine a few months before the wedding will help you enjoy beautiful hair on every occasion.
2. Keep Your Hair Clean
Hair accumulates a lot of buildups and needs to be cleaned thoroughly to help your scalp receive proper treatment. The buildup often results in jammed follicles and causes hair fall. This is why it is essential to exfoliate your scalp and condition your hair regularly.
3. Do A Hair Spa At Home
Yes, you want to look perfect for all your wedding ceremonies, but that does not mean you have to get it done from a hair spa alone. There are great recipes with home ingredients that will help your hair shine naturally. Make sure you stick to natural elements and pamper your hair thoroughly to make it shine for the big day.
4. Don't Run Your Comb On Wet Hair
Waiting for long hours till your hair dries naturally might seem overwhelming, but that is no excuse to run your comb over your semi-dry hair. Wet hair loosens the grip of your hair root and can make it fall off in clusters. So if you want to flaunt voluminous hair at your wedding, you must eliminate the bad habit.
5. Choose The Right Shampoo
Most of us settle for shampooing in the name of a good hair care routine. But, even if you do that, your shampoo selection has a lot to contribute to how your hair will shine on the D day. The first step is to determine the texture of your hair and scalp. Once you have that figured, you need to choose a shampoo made to serve those needs. You also must consider factors like climatic conditions, pollution and scalp infections while looking for shampoo.
6. Avoid Heating Tools
You must have selected a particular hairdo for the big day, and to do that, you might need the help of heating tools like a blower, straightener, or curler. But besides the big day, you must keep the heat application on your hair to a minimum. The more heat your hair gets, the more it will lose its natural moisture and feel rough.
7. Try Hot Oil Treatment Once A Week
Massaging your scalp with hot oil does wonders to your scalp and hair health. No matter how busy your schedule is, keep 30 minutes to yourself where you can devote to a hot oil massage. First, heat the hair oil of your choice and massage it thoroughly on your scalp. Next, wrap your hair up in a shower cap and let it rest for an hour. Then you can use a shampoo of your choice to remove the excess oil from your scalp and hair shaft.
8. Eat Healthy
It is not just about what you put in your hair; you must also maintain a diet full of proteins and vitamins to make your hair shine. The more greens you consume, the better your hair will look for your wedding. You can also include healthy nuts and juices in your meals to give the additional nutrients for maintaining shiny hair.
The perfect hair day at your wedding results from months of effort. It might seem overwhelming sometimes to concentrate on your hair when you have so much left to plan and arrange, but your hair and skin should always be your priority. Also, make sure you plan your wedding-look ahead, and talk to your hairstylist about it. For example, if you want to color your hair or shorten it, this needs to be communicated with your stylist, who will have to arrange for extensions and other tools before your big day. So, what look would you want on your wedding day? Let us know in the comments section!
The following two tabs change content below.