Round Up Of The 15 Prettiest Almond Nails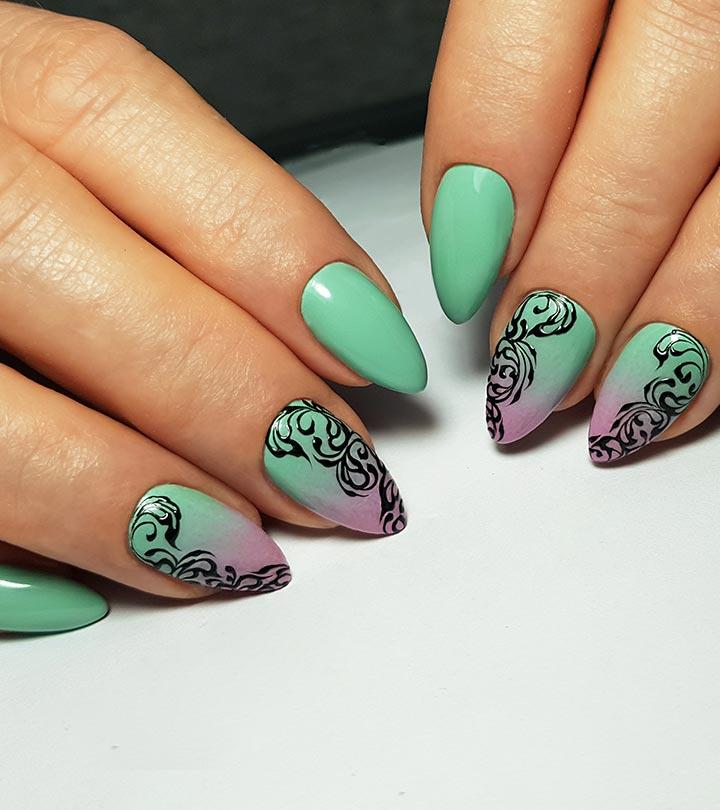 Even if you are a beauty enthusiast, I am pretty sure that you invest in your mani-pedi as an afterthought. Most of us tend to concentrate on big-ticket items such as facials targeting specific skin concerns, or the latest waxing special that promises almost painless depilation. But your hands and feet take the most beating when it comes to your day-to-day life, and they too, deserve a little bit of pampering. And we've come up with just the perfect idea for that. Almond nails! Alicia Keys has them and so does Kesha. Now, you can have them too!
They are the latest in the world of pretty nails. Inspired by the healthy snack, this new nail trend has people molding their nails after their favorite trail snack. The nails are tapered and pointed towards the end, and wider at the base. But this new trend is not just about shaping the nails after the almonds, it also has other unique innovations. To give you your daily dose of latest fashion trends, we have compiled the best of these trends here, have a look:
1. This One Which Is Totally Mint For You
Not only will this summery hue provide you with a bit of respite in this fiery and hot summer, but it also makes for a very pretty piece of abstract nail art. If you are looking for something with a bit of twist, go for this one. It has all the elements in place – glitter, cool pastel color, and a geometric design.
2. Do Them Up In Fiery Red
Forget the vanilla red, that is passé. This is a new twist on an old favorite. The rhinestones and the skin-and-red combo give a unique edge to this nail art. If you are looking for a classic with a twist, go for this one.
3. This Vision In Pink
Again, a unique combo that makes use of pastel color. The soft pink color gives your nails a healthy pinkish glow, and the gold foil design gives it a glam edge. A perfect choice for those who don't want anything too flamboyant.
4. Bring In The Summer With These
If this bright-hued design reminded you of summer and carnival, then the nail artist definitely succeeded in his job. The pop of color provided by this quirky piece of nail art can be just what you need on a sultry, summer day.
5. For Those Who Dare To Dream
To be honest, not much is needed to be said about this gorgeous piece of art. It has glitter, and it has a rainbow, what else do you need? Flaunt them to own the diva that you are.
6. This One In Case You Are Feeling A Little Blue
This unique combo of pastel blue with chromatic navy will up the glam quotient of your nails by a lot. If you are looking for something simple yet unique, this is for you.
7. This Marble-Inspired Nail Art
Marble-inspired accessories such as phone and laptop covers have been in vogue in the last couple of years, but now is the time for marble-inspired nail art.
8. This One Which Will Definitely Make Your Friends Go "Green" With Envy
By now, you must've gotten the hidden theme behind our inspiration. Of course, it's summer. A perfect summer is lounging on the beach, sipping on Mai Tais, being surrounded by palm and coconut trees, and this is captured by this leafy nail art.
9. These Nails Which Are Just What A Royalty Like You Needs
Who needs to wear jewelry, when you carry the jewels on your nails, right? This is the idea behind this nail art, and we must say it makes a rather bold statement. Perfect for those who need rockstar nails.
10. This Matte Neon Inspiration
Since neon colors are all the rage amongst the fashionable populace of the world, we had to include this neon color palette in our inspo-sheet. So here you go, though we must warn you this funky nail art is certainly not for those who are faint of heart.
11. This Lemon-y Geometric Design
Continuing with the neon trend, this unique piece of nail art is a perfect amalgamation of the popular nail trends such as glitter, geometric nail art, and neon colors. Go for it if you want to jazz up your outfit a little.
12. This Chromatic Effect
Chrome nails is a trend that is blowing up on social media. This can be the perfect segue into his new trend, if you are looking to test the waters before committing to it.
13. For The Brand Lover
Uber cool – check; sophisticated – check. This Burberry inspired nail art is just the thing for the brand lover in your life. It would make for an impressive birthday gift for a loved one who is besotted with the British luxury brand's signature checks.
14. The Only Floral You Will Need
This is the only floral you need in your bouquet of nail art. Period. Plus, the unique combo of grey and red really sets apart this floral art.
15. This Stylish Combo For Those Who Seek A Sophisticated Style
The minimalists' dream. This geometric design is perfect for those whose personal style is all about minimalism and simplicity.
So, what do you think? Have we convinced you to join the almond nails bandwagon? Tell us which of these unique artworks inspired you to get them for yourselves and why. Share your views with us in the comments section.
The following two tabs change content below.

Latest posts by Saumya Gaur (see all)