Netizens Troll Formerly Estranged Couple Charu Asopa And Rajeev Sen For Celebrating Their Anniversary Months After Their Actual One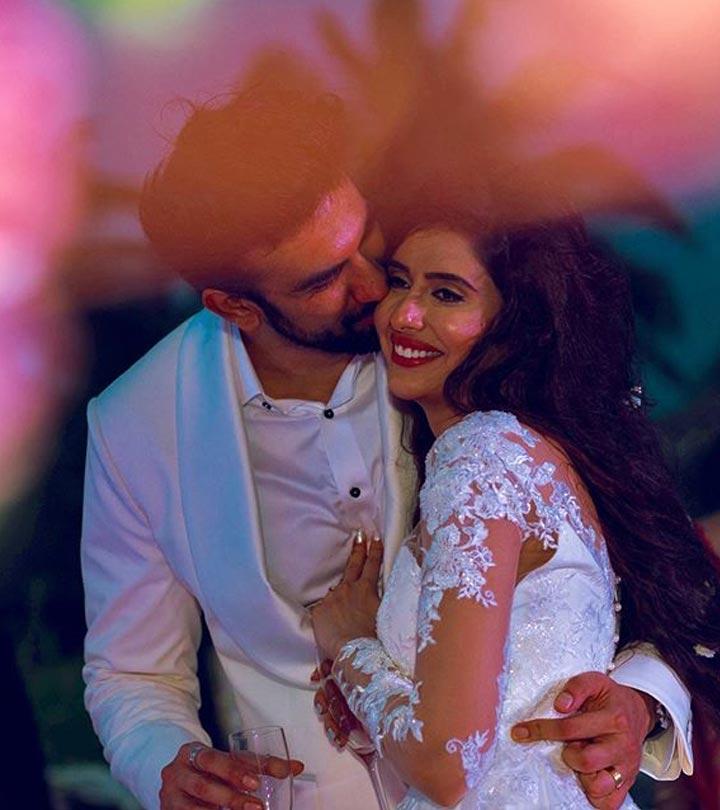 Celebrities often end up being the topic of controversy even when they do not intend to be. And like many actresses before her, TV actress Charu Asopa wasn't spared from social media ire either. Recently news reports surfaced that there was trouble in paradise for Charu and her husband Rajeev Sen. Rajeev is Bollywood actress, Sushmita Sen's younger brother, and the family is extremely close-knit. The pair were rumored to be heading to splitsville after it was reported that Rajeev had moved to Dubai, and Charu was living alone in their Mumbai apartment. So let's take a look at why trolls decided to attack the pair:
Celebrating Their "First" Wedding Anniversary
The pair seemed to have reunited a couple of weeks ago, and Charu started sharing glimpses into their seemingly blissful life. She even put up a video of him with the caption, "Mr. Perfect," and he was even seen passing her a flying kiss. The pair decided to celebrate their anniversary four days ago in September when their actual anniversary was in June. However, unfortunately for the couple, fans were quick to jump onto the hate brigade and attack them for "showing off" and trying to paint a "false narrative."
Charu and Rajeev were dressed in matching white outfits and posed together in each other's embrace in the picture. Rajeev had written, "We celebrated our First Wedding Anniversary & all you beautiful people are invited to be a part of this celebration." One user trolled the pair by writing, "Inke anniversary to kab k ja chuki hai aur tab ye duno alag rahte the, aaj naye se anniversary. Fake people only show off." The pair seemed to receive a lot of backlash on their posts, and tonnes of people left hate comments for them to see. When news of their split made rounds across the media, the couple had been flooded with queries related to their seemingly estranged relationship.
What The Couple Had To Say
The pair had given individual interviews to certain news outlets. During an interview with a news outlet earlier, Charu had expressed that she left the faith of her marriage up to her God. She had stated that she was aware that people knew that the pair were not living under the same roof but that she didn't want to say anything and left it in the hands of her God. She had also expressed that the pair hadn't decided or planned out on a concrete future yet. The couple had dated each other for four months before they decided to tie the knot and settle down with one another.
At some point during their estrangement, Charu had taken her husband's last name— Sen, from her social media handles. The couple was reported to not be living together since May. Sources that were close to the couple had revealed that the pair had been suffering from compatibility issues since they first got together but things seem to have reached a breaking point at some time. Rajeev had refused to comment on the matter and stated that he was just staying in Delhi and enjoying some peaceful time.
A Grand Wedding
The pair had tied the knot in the traditional customs of both their communities. They had a dual-wedding where they had Rajasthani customs as well as Bengali wedding customs in Goa. In a throwback interview, Charu had revealed how excited she was to begin her new journey with her partner. She spoke about adjusting and compromising and how marriage had been a rollercoaster ride for her. She even revealed that the pair were discovering new things about each other every day and occasionally fighting over chores like every other married couple. She added that she missed the dinner dates they used to go on frequently before they tied the knot.
Charu had spoken about how she had taken a break from acting after getting married but was ready to get back into action. Unfortunately for Charu, the government announced the lockdown and stay-at-home orders and she could not get back to work. The pair have not been spared by trolls in the past either. They were earlier trolled for posting seemingly intimate pictures of each other on social media.
Charu had revealed that due to the trolling they had faced, she didn't want Rajeev to post any private pictures on social media. Eventually, however, Charu revealed that they had stopped reacting to trolls and didn't care about what anybody else would say about them. During the interview, she added that she believes ignorance is bliss and understands that there is no point in giving trolls attention by reacting to them. It's fantastic to see that Charu and Rajeev don't care what trolls think of their relationship. As long as the pair are happy together and not harming anybody else, whether they celebrate their first wedding anniversary a few months late or early doesn't matter. In the end, their relationship is their business and their social media accounts are their personal property.
If someone finds their posts annoying, they can simply mute them or not pay attention to them. Trolling celebrities unnecessarily seems to be the favorite pastime hobby of many people out there. Do tell us what you think of this article in the comment section down below.
The following two tabs change content below.

Latest posts by Niharika Nayak (see all)

Niharika Nayak
Niharika has a passion for all things art, music and travel. During her spare time she likes experimenting in the kitchen, painting pop culture icons and chasing after random street cats. Her dream is to one day own an amusement park so she can ride roller coasters for free.