Deepika Padukone Thinks Ranveer Singh Will Be THIS Kind of Husband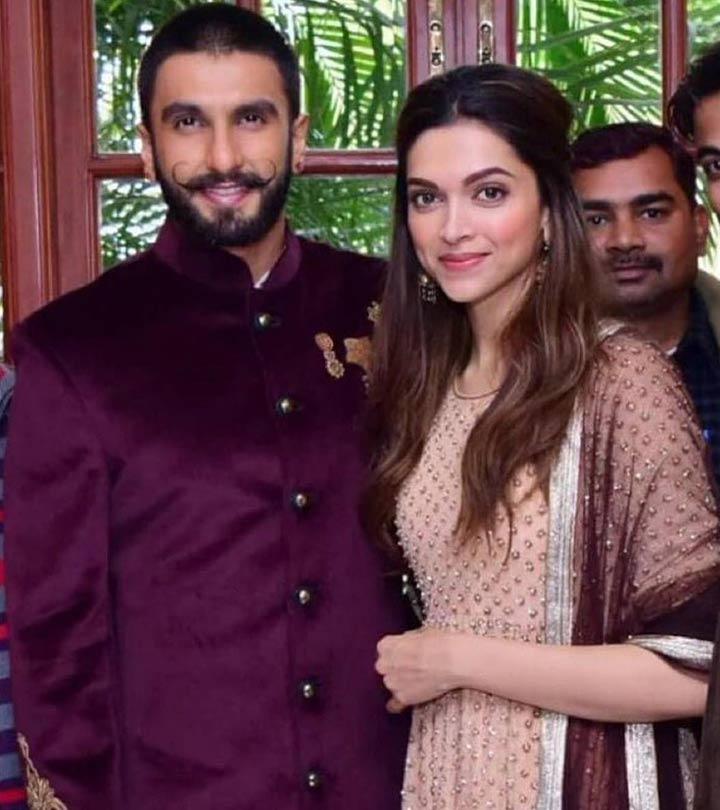 So there's a new power couple in town, yes you are right, we are talking about the Bollywood Queen and our Bollywoood in-house prankster, Deepika Padukone and Ranveer Singh. Their love story began with their first film together, Goliyon Ki Raasleela Ram-Leela, which was released in 2013. While fans were getting enchanted by their feisty onscreen chemistry, a real love story was beginning to take shape behind the screen.
Having kept this relationship under wraps for almost six years, the couple has still managed to express their love for each other through cute gestures on various social media websites. Now, as they declare their love for each other to the world by taking the holy vows of matrimony, let's take a look at some cute snippets of their relationship (since we can't afford to go, Lake Como, let's satisfy our #DeepVeer cravings this way).
The Early Beginnings
It all began with the filming of the movie Goliyon Ki Raasleela Ram-Leela, as revealed by castmate Gulshan Devaiah, who recently opened up about the couple's relationship. He claimed that on the first day of the shoot the team found them sitting together in close proximity. He even went on to say that on a particular shoot schedule of the film in Udaipur, he saw Deepika sitting on Ranveer's lap, which he said was very unlike her (1). Though the couple's scintillating chemistry was apparent in the movie, during its subsequent promotions they maintained a dignified silence about their (now confirmed) love affair. However, their playful equation and banter during the same promotions led people to quip that there is no smoke without a fire. Needless to say, the couple managed to hoodwink the world during this time by being on a Kabhi haan kabhi naa mode.
The Budding Romance
Over the years, the couple allowed the world to glimpse into their lover's paradise by posting cute comments on each other's pictures. Though, still keen to keep their private world private and away from prying eyes they never accepted that they were actually a couple. Even then, Ranveer couldn't stop himself from beaming with pride when he congratulated Deepika on her foundation 'Live Love Laugh', which is aimed at spreading awareness about mental health. He supported her cause by posting a heartfelt note on his official account, asking his fans to support the cause as well. He sure makes for a dreamboat boyfriend. Deepika too on her part said that Ranveer was an extremely important part of her life and that was a fact that was never going to change. Coming from someone who had difficult relationships in her past, this statement carried a lot of weight.
View this post on Instagram
Apart from this, we also got to witness their adoration and affection for each other on a number of occasions. Be it him calling her "Deepu" just to tease her or her gleeful chopping of his moustache, you couldn't help but smile at the antics of these lovebirds. They even went on to do two more movies together, which again displayed their amazing chemistry. However, the gossip mongers still were going much ado about nothing as neither of them gave an inkling as to what was their relationship status.
The Big Reveal
After years of build-up, we finally were surprised by Deepika's big reveal when she straight-up posted her wedding invite on Twitter on Oct 21, 2018. This development seemed to confirm the rumors which had been in the air for a while now. This was followed by a bare all interview that Deepika had with Karan Johar, when she came on his show Koffee with Karan. It was here that we saw Deepika spilling the beans on her relationship status for the first time. Though still holding back a little (the episode was filmed some time before the official announcement), she confirmed that she had eyes only for her beau when she corrected Karan about the length of relationship (yes, finally we got to know that this love affair had been simmering for 6 long years).
View this post on Instagram
While on the show, she was also asked what type of a husband she thought Ranveer would be. She promptly chose "a momma's boy" among the options given by Karan. Surprising, no? However, in the same show, she acknowledged that she loved him for his emotional capabilities, hated his lifestyle i.e his sleeping patterns and tolerated his fashion sense! What a couple, right? Their love story captures the essence of a true modern-day, fairy-tale romance where the guy and girl are completely, madly in love with each other and accept them for who they are.
As they enter this next stage in their relationship, we hope that Deepika gets to see other sides of her husband as well and she finds true happiness in her marriage. We have already seen Ranveer in his mushy, lovey-dovey boyfriend avatar and now we can't wait to see what he has in store for the next stage in his life. The only thing we can say with a 100 percent certainty is that whatever avatars these two adopt, they are sure going to be the toast of the town! Are you a fan of the couple too? What is that you like about them? Share your thoughts in the comments.
The following two tabs change content below.

Latest posts by Saumya Gaur (see all)