5 Reasons Why Sheet Masks Should Be Part Of Your Skincare Regimen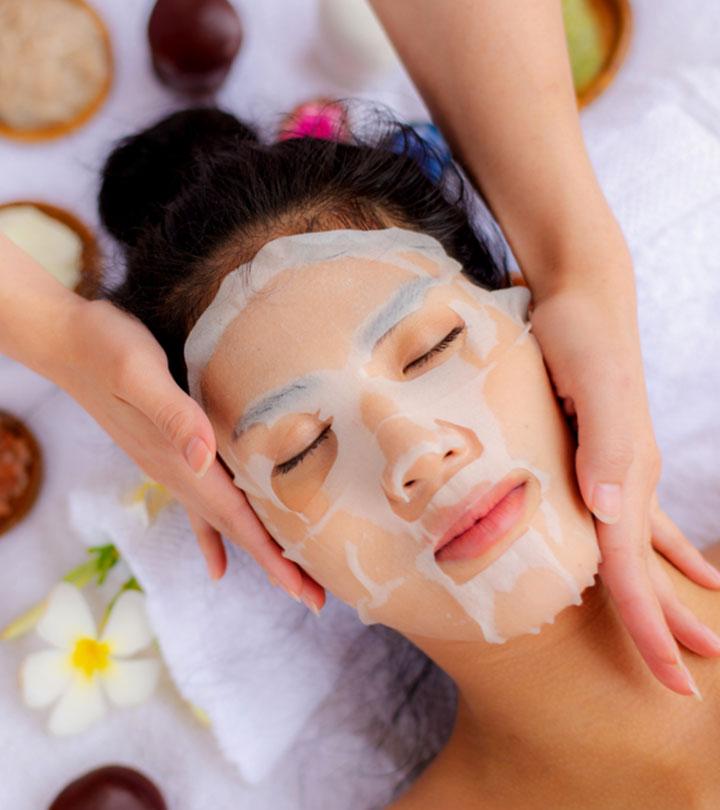 There was a time when sheet masks were reserved for so called "special occasions," or for use after an exclusive evening bath. Now face masks have become more of a standard practice in the world of skincare. You can choose from an array of masks. Their function is to increase the penetration of active chemicals into the skin. Some of them are sheet masks, cream face masks, clay masks, fluid masks, exfoliating face masks, charcoal masks, and sleep masks. Sheet masks offer benefits that aren't seen in other forms of face masks. Here is everything you need to know about sheet masks and why you should add one to your routine right away.
What Is A Sheet Mask?
Sheet masks are pre-cut pieces of thin fabric (often made of rayon, cotton, gel, or foil) that have been soaked in an active chemical and then packaged for use. The mask is applied by positioning the cutouts over the eyes and mouth before smoothing it over the rest of the face. Wearing them for longer than 10 to 20 minutes, however, may cause the skin to become dry and irritated. The mask will start striving to reclaim the moisture it generously gave to your skin as soon as it dries up. Water is the base component in any sheet mask, but other moisturizing and/or active substances are often added to help deliver the mask's promised benefits to the skin.
Sheet masks provide several time-saving, skin-improving, and mind-calming effects in addition to the evident zen moment they generate.
1. They Are A Great Source Of Hydration
When applied to the face, a sheet mask seals in the moisture by conforming to the shape of your face, limiting the evaporation of the mask's moisturizing contents. Phospholipids are the primary moisturizing components since they restore the skin's moisture barrier and shield it from external aggressors that might dry it out. The mask's active components, such as Vitamin C Ester & copper tripeptide, are better absorbed by the skin, thanks to their presence.
2. They Give Instant And Permanent Effects
When you remove a sheet mask, your skin will look and feel refreshed and revitalized because it has absorbed so much of the ingredient. The masks have a high concentration of citrus ester, a more powerful, stable, and absorbable form of vitamin C. This mask's Vitamin C Ester not only lightens dark spots and fine wrinkles but also fades discoloration. Copper tripeptide, a naturally occurring combination of three amino acids, helps the skin seem more toned and smooth, thanks to its inclusion in the mask.
3. They Are Very Convenient
You can put one in your carry-on to use throughout the journey to keep your skin from drying out. Enjoy some self-care while working remotely (with the Zoom camera switched off, of course!). The sheet mask's two-piece design and form-fitting design make it a breeze to put on and keep in place. Because of this, you may undertake nearly any activity while wearing it without fearing that it will come off in the process. Before you open the sachet, give the outside a light massage to help the formula spread out over the mask. Take the mask out of the packet and unfold it by separating the top half from the bottom half. After washing your face and removing any makeup, apply each mask and let it sit for 20 minutes. After removing the mask, if there is any formula left, massage it into the skin for an added glow. There's no need to wash it or tidy it up.
4. There's No Need To Touch Your Skin While Applying The Mask
Touching your face frequently might transmit bacteria from your hands. Avoid touching your face as much as possible. Keeping your skincare regimen as neat as possible is a top priority, which is why sheet masks are packaged in single-use packets to prevent the spread of bacteria.
5. They Are Very Relaxing
Last but not least, using a sheet mask is a luxurious way to treat yourself. The soft, 100% cotton fabric is a treat to the touch, and the healing chemicals are instantly absorbed into your skin. Sheet masks have the added benefit of allowing your skin to relax as it soaks up the beneficial substances. Put on a mask and relax with a nice book, some meditation, making supper, or your favorite podcast as you take care of yourself.
How Often Should You Use A Face Mask?
Sheet masks are extremely versatile because of their small size, portability, and simple application. Most sheet mask sets include six individual packets to be applied over six consecutive days to dramatically enhance skin's moisture, texture, and tone.
After cleaning, the sheet mask should be the first step in your skincare routine. You may forgo using serum, moisturizer, & eye cream after using a sheet mask because the mask already has all the beneficial ingredients your skin needs. The mask can be used whenever you like on freshly cleansed skin. Put one on if your skin seems dry and dull, and you'll be amazed at the difference it makes. So, what is your secret to beautiful skin? Let us know in the comments section.
The following two tabs change content below.