5 Recipes For Homemade Deodorants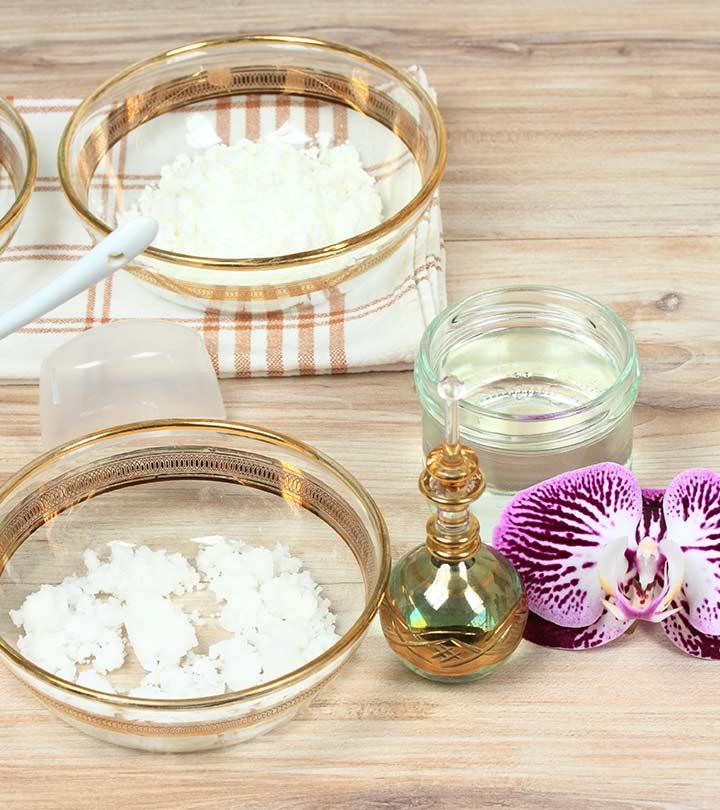 Ok, be honest when you answer this. Have you ever kept your arms down just in fear of how you might smell? Well, you are not alone. Deodorants are a must for people who are conscious about their smell when they sweat. Sweating is a natural process of regulating temperature and eliminating impurities from your body. However, the stench is the doing of bacterial growth in your sweat. Many renowned brands have produced deodorants to keep you smelling good, but if you have used them, you will know that it's not something you would want to use in the long term. There is nothing natural about them, starting from harmful chemicals to the pungent stench. Wish you could make them yourself? Well, now you can! Here are some recipes to make yourself a homemade long-lasting deodorant!
1. Lavender Deodorant
This homemade lavender deodorant uses natural ingredients and protects your skin with antimicrobial, anti-inflammatory, and moisturizing properties. Baking soda is a common ingredient you will find in almost every deodorant. It is commonly used for cleaning, cooking. It also does the job of absorbing odor and helping you smell fresh and odor-free longer.
Pro Tip: The shortcomings of baking soda are that it soaks moisture from your skin and can make your underarm feel dry and sensitive. Several other ingredients can be used, like witch hazel, vinegar, and cornstarch.
Ingredients
3 tablespoons baking soda
1/4 cup shea butter
3 tablespoons beeswax pellets
2 tablespoons coconut oil
20 drops lavender essential oil
2 spoons arrowroot flour
10 drops tea tree oil
Procedure
Fill 1/4th of a double boiler with water and boil it over medium heat. Add the shea butter and coconut oil to the water and stir it. Once they have melted, add beeswax to it and ensure no solid particles are left behind. Remove the bowl from heat and add arrowroot flour and baking soda. Add the essential oils and stir well till it forms a paste. Pour it in the container you want, preferably something in which your hands will easily reach. It will solidify as soon as it cools.
How To Use
Take a small scoop and rub it on your fingers. Once it melts, put it in your underarm.
2. Rosewater Deodorant
The rosewater deodorant allows your skin to breathe and provides control against strong odor.
Ingredients
6 drops lime essential oil
1/4 spoon Himalayan salt
2 spoons rosewater
1 drop geranium essential oil
4 tablespoons pure witch hazel
2 tablespoons grain alcohol
Procedure
Mix the essential oils and salt into a spray bottle and shake it to form a solution. Add the alcohol, rosewater, and witch hazel and stir it well.
How To Use
Spray it on clean armpits and let it dry before putting on clothes. Keep it in a cool and dry place, and you can use it for up to 6 months.
Stored in a cool, dry place, the deodorant spray will last six months.
3. Coconut Oil Deodorant
The coconut oil deodorant is baking soda free and helps to nourish your skin. It is ideal for those with sensitive skin.
Ingredients
1 spoon coconut oil
5 drops vitamin E oil
1 spoon shea butter
3 drops sage essential oil
8 drops grapefruit essential oil
Procedure
Place a double boiler on the stove with water in the bottom, and let it boil on medium heat. Add coconut oil and shea butter to the top boiler and let it melt completely. Take the container out of the heat, add vitamin E oil and essential oils, and pour it into a reusable jar.
How To Use
You can take a small scoop out and apply it to your underarm. Wait for it to soak and then wear your clothes.
4. Candelilla Wax And Cocoa Butter Deodorant
Cocoa butter, coconut oil, and olive oil are the most moisturizing elements. Arrowroot powder reduces wetness and fights off odor for a long time. Candelilla wax substitutes beeswax as it stays firmer and glides easily. You can add a blend of essential oils to add a pleasant scent.
Ingredients
1 spoon candelilla wax
1/2 cup coconut oil
1 spoon cocoa butter
1/2 spoon olive oil
2 spoon baking soda
1 cup arrowroot powder
6 drops tea tree essential oil
Procedure
Set a double boiler and add cocoa butter, candelilla wax, olive oil, and coconut oil to melt. Once it is molten, add the baking soda and arrowroot powder and mix it well. Take it away from the heat and add the essential oils. Once it cools down, pour it into a reusable jar.
How To Use
Take a small scoop of the deodorant and rub it on your underarm. Once it soaks in, wear your clothes.
5. Lemongrass Deodorant
This deodorant spray combines the properties of essential oils with apple cider vinegar. It kills bacteria leaving you smelling fresh all day.
Ingredients
1/4 cup apple cider vinegar
30 drops lemongrass oil
5 drops tea tree oil
1/4 cup distilled water
15 drops lavender oil
Procedure
Fill a spray bottle with essential oil and apple cider vinegar and add the distilled water. Shake well and store it in a cool, dry place.
How To Use
Simply spray it on your clean and dry underarm and let it dry. Once it soaks in your skin, wear your clothes.
Many people are skeptical about using deodorants in the sensitive parts of their skin. As long as you are not allergic to the ingredients and it is homemade, the chances of going wrong are minimal. Deodorants merely conceal the odor and do not prevent you from sweating. So do you have any favorite ingredients you would want to add to your deodorant? Let us know in the comments below!
The following two tabs change content below.