Recreate Priyanka Chopra's Towering Top Knot Bun With These Easy Steps!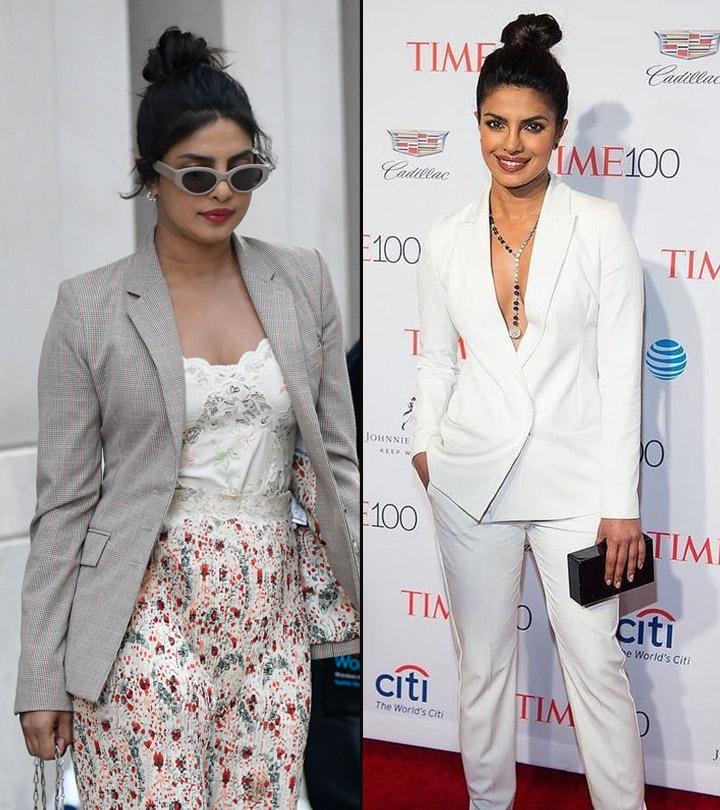 Whenever in doubt, just try a top knot! As cool as high buns are, there are plenty of reasons why we totally dig them. For starters, your hair can be as greasy, mismanaged, and frizzy as you like; once you gather it all and twirl it above your head, you stand tall and beautiful. Top knot is also our favorite because it goes perfectly with both Indian and western outfits. Now for the main reason why we totally drool over this hairstyle, Priyanka Chopra owns it like a diva! We have always been inspired by celebrity appearances and recreated their looks with minor modifications, but this look needs no alterations at all! Can't wait to try it on your own? Here is how you can get your fuss-free look with minimum effort and styling tools!
Step 1: Prepare Your Hair
Your hairstyle looks best when your hair is not washed. Yes, you read that right! No, we are not saying that if you already have washed hair, wait for it to get dirty! What we mean to say is that the top knot is one of the most natural hairstyles you could ever wear. It does not need much fuss while washing, drying, moisturizing, and brushing. Dry and nice-smelling hair is all it takes!
Step 2: Boost The Volume
The only thing that you absolutely need for a top knot is volume. So even if you keep the conditioner and serum aside, you will need a dry shampoo to puff your hair up. If you are already late for the outing and can't afford to take a shower, just grab your dry shampoo and massage your scalp with it. Once it blends in, you will find that your hair puffs up naturally and looks voluminous in your hair bun.
Step 3: Face-Framing Tendrils
Priyanka always has beautiful fringes left out of her bun falling perfectly on her face, so if you want to recreate this look, here is what you need to do. Take all of your hair in a ponytail grip and tie it loosely on the top of your hair. Take two hair tendrils of your preferred size on either side of your face and leave it out of the main hair. The remainder will be over your crown with an up-do. You can rearrange the hair, and this time comb it to make sure no hair is left out.
Step 4: Wrap It Up
Once you have separated your fringes and worked on the whole volume, it's time to tie the knot. Apply dry shampoo to the strands of your ponytail and wrap the sections over the band in the form of a knot. The knot should be secured using Bobby pins placed at the base of the ponytail. If you feel your bun is not firm enough, you can get a tighter hairband and fix it with the help of pins at the base of the bun. Just make sure they are not seen!
Step 5: Seal The Deal
Once you've recreated the hairstyle flawlessly, you need to seal the hairstyle with hairspray. Spray hairspray with a strong hold over your top hair knot. Do not apply it to the tendrils on your face, as it will get stiff and look peculiar. You can use a treatment serum on the tendrils to create a smoother and more natural look.
Now that you have secured an Instagram click-worthy bun, here are some ways to keep your hair healthy so that your hair bun is always top-notch.
• Egg Treatment
If you have dry hair, you can use egg whites to condition your strands. Apply 1/2 cup of egg whites on your clean, dry hair. Allow it to sit for 20 minutes, and then rinse off using cool water.
• Keep Your Hair Clean
The main reason behind hair fall is dandruff and an itchy scalp. To ensure a big fluffy bun, you need to keep the hair intact and strong.
• Beware Of Hot Water
Do not shower with hot water. Higher temperature water can cause your hair to become dry and fragile as it removes protective oils from your hair. Choose temperatures that are just slightly warmer than the body temperature for rinsing your hair.
• Baking Soda Therapy
One of the best beauty hair tips is baking soda therapy. Mix 3 tablespoons of baking soda with some water and rinse your hair using this. Set it for a minimum of 5 minutes before your final rinse. This treatment will help eliminate the excess hair product and styling shampoo from your hair.
• Apple Cider Vinegar
Apply a solution of apple cider vinegar with warm water on your hair. Rinse it off thoroughly within 5 minutes to rid your hair off the apple cider scent.
So now that you know to make a PCJ knot and maintain your hair correctly, nothing can stop you! Get your dry shampoo and hair bands right away and make a high bun. Not only does it look amazing, but it also gives you an elevated image making you look taller! So which of Priyanka's hairdos do you absolutely love? Let us know in the comments below!
The following two tabs change content below.