12 Royal Wedding Gowns That Has Spectacular Details Hidden In Them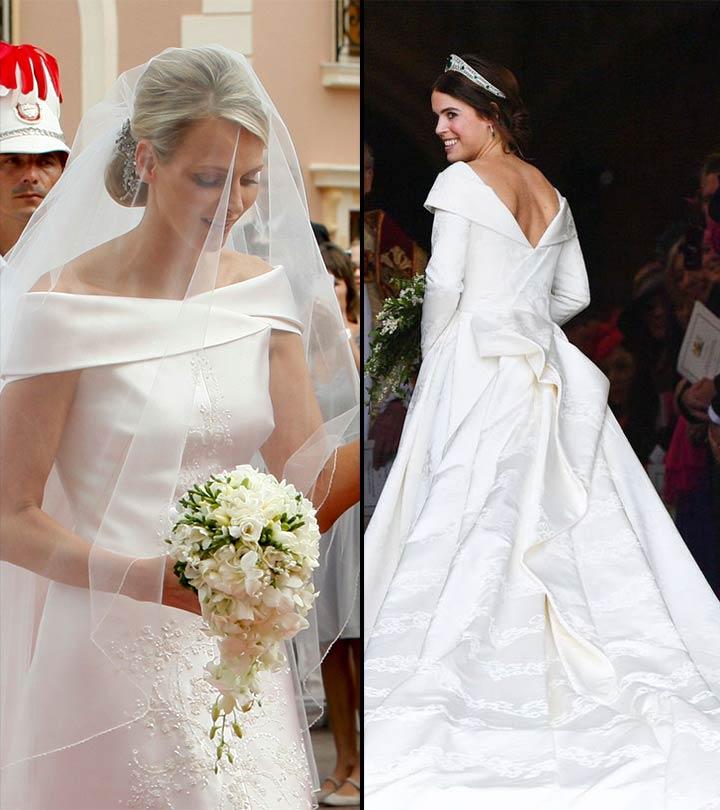 Every girl dreams of having a perfect royal wedding, and the planning begins at the tender age of 5! The first time you got your hands on your mother's wedding dress or covered your head with the pillowcase like a veil, you envisioned precisely how you would look in your dream wedding gown. When it comes to royal weddings, they inspire you even more with the beautiful gowns and grand events. As anticipated as they are, here are some of the most gorgeous royal wedding gowns and their intricate details that will keep your spirits lifted high about having the most exotic and one-of-a-kind wedding. Read on to know them all.
1. Kate Middleton
Kate's wedding dress was an inspiration for many girls who had been looking for royal bridal gowns. It was designed by Sarah Burton at Alexander McQueen. It had the perfect blend of tradition and modernity, with the lace flowers individually added to the dress. The gown cost over $300,000. Kate also borrowed a tiara that belonged to the Queen.
2. Queen Elizabeth II
Queen Elizabeth II opted for an ivory, silk wedding gown instead of the traditional white dress. It was decorated with 10,000 pearls and crystals. It also had tiny stars that symbolizes growth and rebirth after the war. The Queen used clothing coupons to pay for her dress.
3. Princess Grace Kelly
Grace Kelly's sophisticated style inspires many, even to date. Her wedding dress took months to be made, but it was worth it! It had hand-sewn pearls and had a long 91-centimeter train. The dress alone cost $7,266.
4. Princess Eugenie
Princess Eugenie wore a wedding gown with a folded neckline around her shoulders. It also had a long train and a low back to show a scar from a surgery she underwent as a child. She told her designer that she always wanted a dress that showed the scar, as it tells her story. The outfit is worth $135,000.
5. Princess Charlene
Princess Charlene looked gorgeous in her white dress designed by Armani. The long train was adorned with 20,000 mother-of-pearl tears and 40,000 Swarovski crystals. It took approximately 2,500 hours to make, and they even had a standby gown in case something went wrong with the first one.
6. Princess Hajah Hafizah Sururul Bolkiah
The daughter of the Sultan of Brunei wore a glittering dress decorated with emeralds, crystal beads, and a tiara. The silver gown is something that stood out from everyone!
7. Queen Letizia
The Queen wore the most expensive wedding dress that featured a long train made with golden embroidery. The $6-million-dollar wedding gown is now worth $8 million, and it looks like it!
8. Queen Rania
The Queen is famous for her exquisite taste and elegance. Her wedding gown was designed by British designer Bruce Oldfield. It had intricate gold embroidery, and it inspired many brides to be.
9. Princess Beatrice
2020 marked the wedding of Princess Beatrice of York. She wore a delicate gown that was borrowed from her grandmother. It had diamond embellishments and was refashioned for the new bride-to-be. She also wore a diamond tiara and paid tribute to her grandmother. Princess Beatrice is an inspiration for those who would like to remodel their grandmother's or mother's wedding dress.
10. Princess Margaret
Princess Margaret's wedding was unique for the whole world as it was the first royal wedding to be telecast. She kept her look and dress simple and opted for a V-neck body-boosting dress. It was simple yet made a statement of how elegant a simple wedding gown can be.
11. Meghan Markle
Meghan kept a simple yet chic dress designed by Clare Waight Keller, which had meaningful details. Her veil was 5 meters long and decorated with flowers representing 53 commonwealth countries. Her tiara was also borrowed from Queen Elizabeth. The gorgeous white dress was a style statement and cost $140,000.
12. Princess Diana
The gorgeous dress that Princess Diana wore at her wedding is something people can't forget easily. It was made with ruffled lace, sequins embroidery, and over 10000 pearls. It was so exuberant that it had to be folded numerous times to fit in the carriage. The cost of the wedding gown was over $200,000. For those who like a dress that will make a statement and look one of a kind, this is the dress to opt for.
So, now that you know what goes into making these gorgeous wedding gowns, you will know it's more than just a pretty dress. Each of these gowns is a work of art and holds way more emotion than any other attire you will ever wear. So, do you have any favorite wedding gown design in mind that you would like to draw inspiration from? Let us know in the comments section!
The following two tabs change content below.