10 Safety Pin Tricks To Get That Dream Saree Drape In 1 Minute!
If you're like me, wearing a saree and actually keeping it on is nothing short of a gold-medal-deserving achievement for you! Some or the other fold always sticks out like a sore thumb, ruining the sexy look you envisioned in your head.
But not anymore!
Draping the perfect saree is possible. Even for the sloppiest of us! Here are 10 super easy safety pin tricks that can help you get your dream drape without putting in much effort.
1. Use The Right Safety Pin
First things first, you have to use the right safety pin. And by right, we mean a safety pin that perfectly matches your saree. You see, camouflaging is not just for the animals. When draping your saree and fastening it with a safety pin, use colored ones so that they are not visible, giving you a perfectly seamless finish!
2. Never Let The Safety Pin Be Visible
Damaged hook in your favorite blouse and you have nothing else to wear? The safety pin will obviously come to your rescue but you have to be smart about it! Visible safety pin lines can totally ruin your look. So, make sure you fasten it in a way so that the thick top and bottom half of the pin face towards the inside of your clothes, next to your skin. This tip will be useful even when you're trying to keep your draping style in place.
3. Safety Pin It To Dance The Night Away
Dancing in a saree is no longer going to give you nightmares of a broken leg or a dislocated shoulder if you try this trick! Just hold your pallu and pin it to the front of your waist like you would tie your dupatta and show off your killer dance moves in your saree! This works well with chores at home too.
4. Keep Your Pallu Neat And Tight Always
A tight and neat pallu is the only thing you need if you plan to run about and carry out all sorts of chores in your saree. However, the key is to keep the pallu in place so that it doesn't budge at all, no matter what! This can be achieved by vertically (not horizontally) pinning your pallu with a safety pin and fastening it towards the back of your blouse. It also helps highlight your shapely shoulders!
5. Hide Your Bra Straps
If your blouse doesn't have a bra strap holder built in, you can try this hack. Conceal visible bra straps by fastening them along with your pallu with the help of a safety pin! As for the other shoulder, pin the strap under your blouse with a tiny safety pin.
6. Make Your Saree Adapt To Your Shape
Stubborn and stiff fabrics can prevent you from flaunting that itty-bitty waistline! The easiest way to fix that is to gather all the extra fabric near your hip and tuck it in the insides of your petticoat with the help of a safety pin. This way your saree will hug your waistline, helping you to show it off in all its sexy glory!
7. Do The Open Pallu Fearlessly
Open pallus are hard to pull off if you constantly keep worrying about possible wardrobe malfunctions! However, you can keep your open pallu in place (yes, it's possible) and prevent it from dropping off your shoulder by pleating and wrapping the open end of your pallu around your waist and securing it with a safety pin. You'll look chic and confident AF!
8. Prevent Your Pallu From Slipping Off Your Head
This neat hack can save all brides-to-be from a lot of stress! If you want to keep your ghoonghat in place and prevent it from sliding off, pin the free end of the saree towards your back, to your blouse. You can even try this out with heavy sarees and it'll work just the same! Just remember not to pin it too tightly as it can tear your saree.
9. Pin Up During The Trial
Want to know how you'd look in your desired drape style? When trying on your saree, drape it around and pin up the pallu and the rest of your saree in the drape style you want to. This'll give you an idea of your look and also teach you a thing or two about draping your saree the right way!
10. Make A Fish Cut In Your Saree
Fishtail drapes look beyond sexy. But you don't have to get a new saree to achieve that drape! You can simply use a safety pin to get the desired look. To create a fish cut in your saree, gather all the extra material near your waist and secure it neatly with the help of a pin. Just ensure that you fasten the safety pin under the pleats for a clean look.
The quintessential saree can take your look from ordinary to extraordinary if you drape it right! Fortunately, the humble safety pin is always here to help you drape your favorite 6 yards in the neatest way possible.
The following two tabs change content below.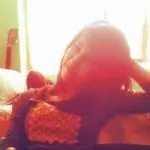 Latest posts by Tanya Arora (see all)