Sanitary Napkins From Aquatic Weed? This School Team From Kerala Creates Low Cost, Biodegradable Pads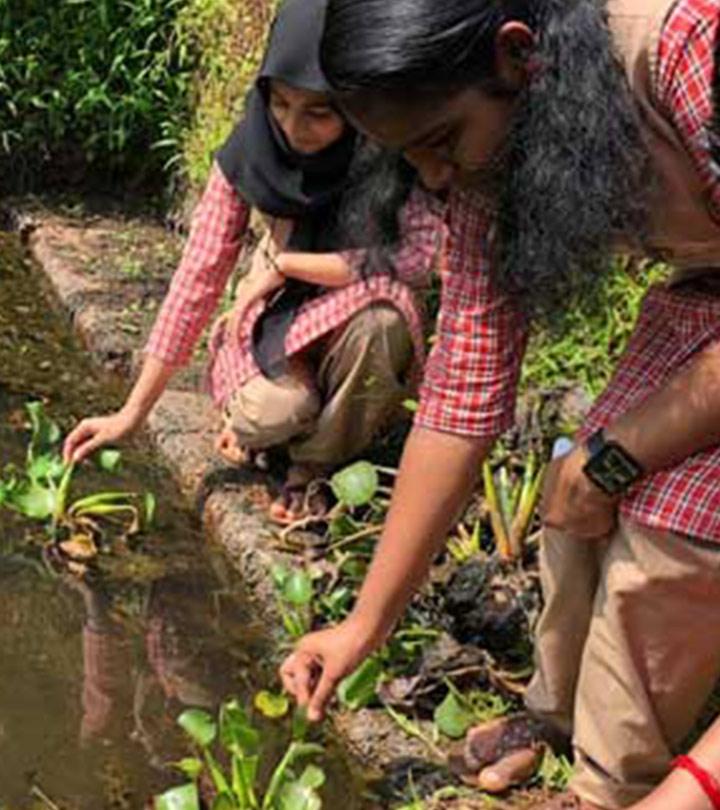 Plastic is one of the worst inventions of humankind. We created something that we don't know how to dispose and now it has started to sediment everywhere and soon, it will take over the planet. Our landfills, streets, water bodies, and air are filled with plastic or the poisonous fumes released by this evil substance. Even so, how many of us really try to reduce the use of plastic? We know that plastic is going to kill us all someday, and still use it because it is cheap and easily available. The usage of sanitary napkins is no exception to this thought. Every month, women in the reproductive age group menstruate and most of them use sanitary napkins made of plastic (for the most part) during these days. If you imagine the number of women all around the world who belong to this group, you can guess the amount of plastic waste produced by these women.
Of course, there are other options like menstrual cups but some women are more comfortable with pads. And not everyone can afford bio-degradable pads because of how expensive they are. So what do we do? A group of students from Kerala have the right answer to this question. They have developed eco-friendly and pocket-friendly sanitary napkins from cotton and water hyacinth — an aquatic weed!
Want to know more about this life-saving invention? Keep reading.
A Project for the National Children Science Competition (NCSC)
Sreejesh, Aswathi, and Henna, a trio of class 10, Ahammed Kurikkal Memorial Higher Secondary School (AKMHSS) in Kottoor, Kerala is the brains behind this amazing invention. They developed this idea in order to participate in the NCSC in 2018. During the year, the theme for the competition was 'Science, technology, and innovation for a clean, green and healthy nation' and had a sub-theme, 'waste to wealth'. Hence, with the help of their mentor, Sarath K. S., the young scientists began their work on the innovation.
In an interview with a leading news channel, Sarath said "People across the world are already making coasters, lamp, rugs, and other items from water hyacinth. The question was, how will our innovation be different? The idea was simply to use waste and make something eco-friendly so we decided to make sanitary napkins. Reason being, they are made of plastic and harm the environment in various ways."
The benefit of creating sanitary napkins out of water hyacinth is double-fold. The pads can replace plastic pads that are harmful for the environment and the water hyacinth can be removed from the water bodies. This is important because water hyacinth is a weed that grows at a very rapid rate and chokes the aquatic life inside lakes and ponds. It can destroy a pond within just months and is considered to be one of the worst aquatic weeds in the world. Hence, this idea is doubly sweet!
How Are The Pads Made?
Water hyacinth stalks are collected, cut, and sterilized in order to make the sanitary pads. The part of the pad that is absorbent is made from these stalks and cotton. The non-penetrative layer at the bottom is made of beeswax. And in the end, these pads are UV sterilized to make sure that they are safe and hygienic to use. The pads aren't produced commercially yet because the team is waiting for the license and patent. But, if they are produced for public purchase, they will be sold at a price as cheap as Rupees 3 per piece, according to Sarath. He also said that these pads are 12 times more absorbent than regular sanitary pads.
Why Are These Pads Necessary?
Even though many companies are coming up with bio-degradable alternatives for regular plastic pads, most women in our country won't be able to afford them. In the villages, where menstruation is associated with multiple stereotypes even today, it's hard enough to convince women to use any sort of hygienic pad. Many among them use cloth and other materials to soak the period blood and the purchase of sanitary pads is believed to be an additional expense that can be avoided. In such a scenario, only a cost-effective solution will work and that's exactly why these water hyacinth pads are amazing!
Before starting to work on the project, Sarath and his student team conducted a little study in order to understand how women are disposing their pads. "The survey revealed that 71 percent of households use sanitary napkins and 97 percent rely on plastic-based sanitary napkins. Also, while 48 percent burn the used pad, 11 percent flush it. The findings made it more crucial for us to produce bio-degradable pads and make everyone switch to it," said Sarath.
If they are hygienic and eco-friendly alternatives, there's no harm in switching to them rather than being stubborn about using plastic sanitary napkins. If our technology is able to produce such great inventions and if we support them by purchasing them, there is a good chance that we save our planet from a very painful end.
Would you use this pad if you were given the option? Share your thoughts with us in the comments below.
Banner Image Credits: NDTV
The following two tabs change content below.

Latest posts by Aswitha Reddy (see all)