5 Saree Draping Styles For Wedding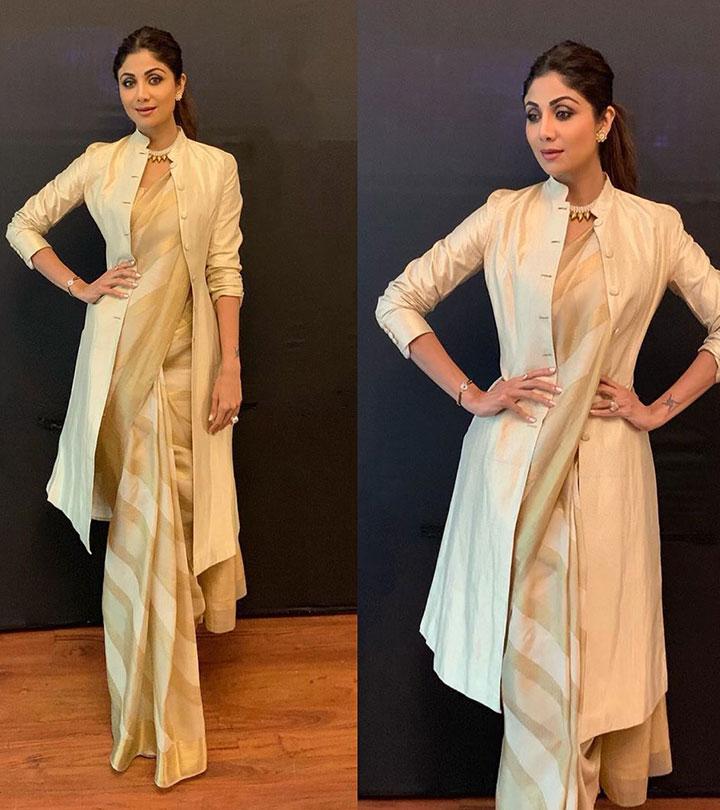 We all know that nothing in this world can be termed as "constant" except for the word "change". And this rightfully applies to the fashion industry as well. We've seen so many fashion trends evolving into something better and beautiful. And, we've also seen them change and forgotten. However, there's one particular fashion trend that stays rooted in our country, India, and that is the fashion of sarees. This Indian garment is like a true reflection of a woman's personality – that of sheer timelessness and elegance. And India being a land of vivid diversities of cultures and traditions, it's also a treasure trove of saree varieties. Every region in India has its women celebrate the saree garment in its own unique way.
And if you're looking for some inspiration to drape your saree in a different way for your wedding, we're telling you that you'll find the inspiration around you, in your own motherland, India itself. Let's take a look at some of the draping styles that can be tried for your wedding.
1. Seedha Pallu Draping Style
This form of saree draping comes from Gujarat, Uttar Pradesh, and Odisha. This way of draping the saree is an everyday affair in these states. This drape style resembles more of like you've worn a lehenga choli where the dupatta is replaced by a saree. During weddings, when you have to do a lot of rituals, it is likely that you'll feel much burdened by the usual style of saree draping. The seedha pallu style will give you more freedom for movement and your shoulders won't feel that heavy with the pallu. Also, if you've picked a saree that has a pallu with delicate work that needs to be showed off, then this drape style will help.
2. Nauvari Draping Style
The Nauvari saree, also known as the nine-yards saree is native to Maharashtra. This saree and the way it is draped reflect the strong, independent personalities of the women of Maharashtra. In this form of saree draping, the upper part of the saree is worn like the usual normal saree and the bottom part of the saree is worn in the dhothi-style. This draping style doesn't require you to wear an underskirt. Also, if you're someone who's always scared of tripping while wearing a saree, wear it the Nauvari style as it will allow free movement for your legs, as it's worn like a dhoti.
3. Coorgi Draping Style
For those who aren't aware, this draping style is native to Coorg district of Karnataka. Since Coorg is a hilly region, this way of draping allowed women to move around freely in the terrain. In this form of saree draping, the pleats are put at the back and the saree is wrapped around the waist like a skirt. What makes this drape style different is the way the pallu is tucked away just below the left shoulder and then it's wrapped around the right shoulder like it was a shawl. It is then pinned not using a pin but by a knot which the Coorgis refer to as molakattu. If you want to try something very different that will make people around you wonder what you did with your saree, then go for this style.
4. Athpourey Draping Style
This Bengali style of saree draping is considered as one of the most comfortable and easy styles of saree draping. You don't usually have pleats in this drape, you just need to wrap the saree around the waist. The pallu is draped in a manner that it is brought to the front on both the sides. This form of saree draping makes a woman look slender than her actual size.
5. Nivi Draping Style
Sounds like somebody's nickname, right? If you look at this saree draping style and compare it with the modern style, then it will hit to you that the modern style drape is actually a derivation of the Nivi drape. It's usually worn by the aristocracy. Even if it's not that work-friendly, this style of draping saree will accentuate your curves and will make you look ethereal and regal.
Apart from these traditional styles of saree draping, one can always go the innovative route and wear sarees. Right from styling your saree with crop tops and denim jackets to picking contrast colors for blouses, wearing saree has taken a fun route these days.
Women no longer crib about wearing them because every lady out there has made her own comfort formula of wearing it. Wedding season has almost begun in India, and if you've already decided to wear a saree, in which style are you wearing it? Let us know in the comments section below.
The following two tabs change content below.

Latest posts by Shivani K (see all)