8 Secrets Of Easy Haircuts That Make You Look Younger Who would have thought that a simple haircut can change your looks so much? Be it changing the length, adding bangs, styling curls, or accessorizing them, the simplest of changes can bring a huge difference in your appearance. What we love most is, certain haircuts can even make you look way younger than you really are. You can walk in the salon looking like the mid-30s and walk out looking like a really happening teenager. A nicely done haircut can wipe decades off your face. It can also define your jawline and accentuate the cheekbones. But the best part is, the effect is immediate. We at Stylecraze charted the secrets to making your haircut look absolutely perfect. So ready to bring your younger self back? Read on to know all the secrets!
1. The Shape Of Your Face
It's true, certain haircuts can reverse your age by the looks of it, but before you come to the conclusion of what haircut you want, make sure you keep factors like your face shape and hair texture in mind. Haircuts look different on different people, and even if your hairdresser sets your hair for the day, it will not stay like that after the first wash! You can always consult your stylist or search for hairstyles that are made particularly for your face cut. For example, long waves and curls for a rectangular-shaped face, oval faces can nail any kind of short hair, square-shaped faces rock the side-part look and diamond-shaped faces can show off that jawline with a swept-back and sleek ponytail.
2. Layering Always Helps!
There is no one kind of layer cut, and you can always find one for your ideal hair length. Also, layers are a boon for people with wavy hair. If you have slight curls and don't know what to do with your hair, you can always try layering them. One drawback of layering is, it will reduce the volume of your hair. So the longer your hair is, the more it will lose its thickness.
3. Time For Adding Bangs!
Bangs are something that can be as effective as time travel. They serve two main flaws of aging. First is they curtain the fine lines on your forehead really well, and second is they hide the receding hairline. They can be done even if you have really long hair and want to preserve the length. No matter what hair type you have, if you get the right bangs for your forehead, you are bound to look ten years younger.
4. Build The Volume
Thin hair mostly reminds us of old age when hair naturally falls out. If you have fine hair, there is a probability that you look more mature than your age. By building your volume, you can make yourself look up to decades younger. For immediate results, you can always try DIY techniques to curl your hair. Also, using dry shampoo, adding hair extensions, and blow-drying your hair upside down works wonders to push up the thickness of your hair.
5. Healthy Hair Is Young Hair
The healthier your hair is, the more youthful you will look. So if you have been neglecting to condition and nourish your hair, you have reasons to start pampering your hair right away! Make sure you eat healthy proteins and give lots of vitamin supplements to your hair. Also, a trim once every three months will make your hair look healthy again. We give very little credit to our diet when it comes to hair care. It is actually very important. Foods rich in protein and vitamins like eggs, spinach, nuts, and avocados are very good for your hair growth. Apart from exploring organic hair care products for your hair, this basic food intake will not only keep your hair healthy but also help in building good metabolism.
6. Color Magic
If you have been saving the hair color for later, now is the right time to use it. Hair color makes you look way trendier and adds dimension to your hair strands. By highlighting your hair, you can define the outer and inner layers, which makes your hair appear denser and makes you look way younger. Make sure you take the help of your hairstylist when it comes to choosing the right undertone and highlight color; also, the application of the colors needs practiced hands, and hence it's better you don't experiment with it on your own.
7. Style The Right Way
Even if you keep everything else aside, the way you style your hair also has a lot to contribute to how matured it makes you look. A simple hair partition can also make you look way younger if done right. Try to make a side parting, and you can switch sides to make sure none of them causes a permanent partition mark. Always puff your hair up after tying, and don't let it sit plain on your head. You can also try various head accessories like clips, hairbands, and scarfs to add bling to your hair.
8. Leave It Open
You must have noticed that leaving your hair open makes you look and feel way younger. It gives your hair a bounce and also makes you feel more lively. Even though untied hair can cause damage and break off easily, you can take extra measures to maintain its health and flaunt gorgeous hair. Some foolproof tips to keep your open hair looking fresh day and night is to include hair cream into your routine. Find the right serums for your hair and make sure you oil your hair regularly to avoid making your hair look frizzy. Keeping it tame and classy is the way to go if you want a youthful look.
So now that you know what it takes to look younger with your hair, giving the perfect haircut is not a secret anymore! Make sure you take proper care of your hair, so it doesn't look unhealthy. The more your hair shines, the better every haircut will look on you. Do you have any favorite haircuts that you always stick to? Let us know in the comments section!
The following two tabs change content below.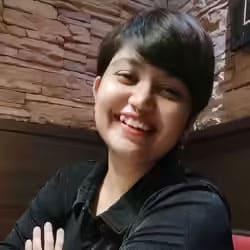 Indrani is a writer and artist who likes to add a dash of humor to everything she does. After graduating...
more