10 Simple Hairstyles to Make You Look Younger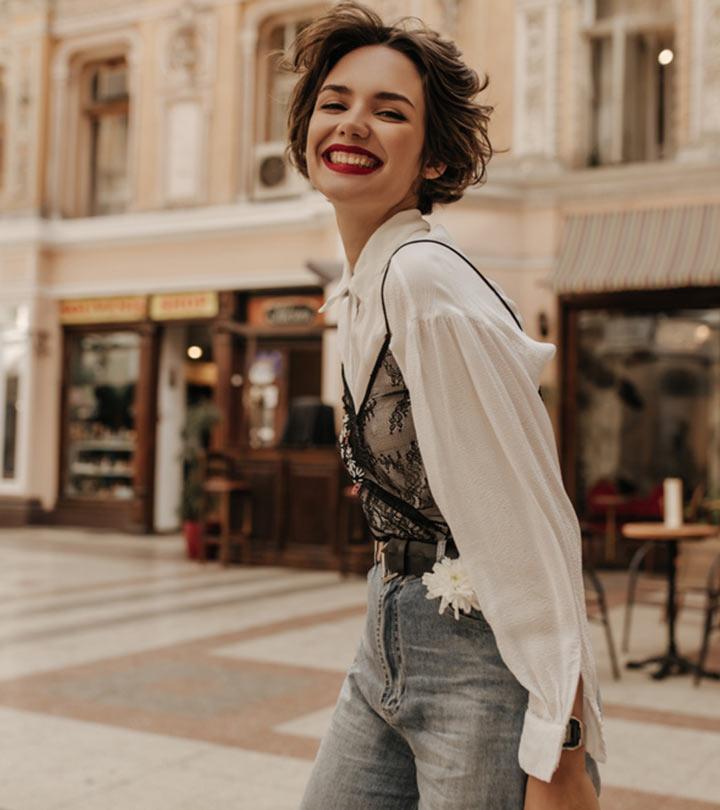 It is not only the makeup and skincare routines that lift off the age on your face. An appropriate haircut or hairstyle will totally do a good job. If you are wondering how that is possible, you can see for yourself with the help of a small experiment. Stand in front of a mirror and first part your hair from the middle. Tie a loose bun at the back and click a photo for comparison. Now change the hairdo to an extreme side parting and let a few fringes fall on your forehead. Click again and see the difference for yourself. It's really uncanny how a simple hairstyle can change your whole look and take away years from your face. Even though while choosing a haircut, you have to consider factors like the shape of your face and your hair texture, here are some easy haircut ideas that immediately drop your age by years. Read on to see which one will suit you the most!
1. Bangs
Bangs are our favorite, and the best part is, you don't have to make changes in your entire hair length for bangs! But always keep this in mind, no matter how easy it looks, do not try to do it yourself! There are ample videos online that will show you why you shouldn't try to cut bangs on your own. Visit a professional stylist and let them analyze your hair texture and determine what kind of bangs will suit you best. The reason why bangs help keep those years off of your face is because they cover your forehead, which is the storehouse of fine lines and wrinkles. Keep the bangs soft, instead of longer ones for the perfect and symmetric silhouette of your face.
2. Bob
Bob cut is an excellent choice if you are looking for a fabulous and low-maintenance hairstyle. There is no one kind of bob cut; hence you can easily find one that makes you look super fab. Make sure you consult with your stylist to know which one works best for you. You can also experiment with bangs with your bob cut to give that extra edge of cuteness to your hairdo. A bob cut gives the illusion of having defined cheekbones and a sharper jaw which makes you look youthful.
3. Shoulder Curls
For girls struggling with natural curls, we have a hairstyle that will make you look pretty and way younger. Ask your hairstylist to trim your hair to the shoulder so your curls can rest there and give a fuller look to your head. Even if you have semi-wavy hair, you can style curls so that they fall exactly to your shoulders.
4. The Lob
This is a variation of bob that was popularized by Selena Gomez. If you have poker-straight hair, you have to try this hairstyle at least once. It's one of the easiest to maintain and wear and also gives a sophisticated and polished look.
5. Long Waves
Do you have long hair that you've worked so hard on that you don't want to lose it at any cost? We have something for you! Wavy hair with a parted middle is the best for any hair length. This hairstyle can give you a youthful, relaxed look that works well for everyone. You don't have to worry about your hair being damaged or unhealthy as waves conceal it well and you have time to recover from that. Sometimes, women with long hair make the mistake of letting it grow wild but it will only make you look like you have not been bothered about washing your hair. Trim it and use a blowdryer to tame the curls.
6. Pixie
It is a blasphemy not to include the pixie when discussing hairstyles that suit all ages. This cropped hairstyle is bold and requires the least maintenance. If you are ready to break stereotypes about what the ideal hair length should be, this is the one for you. Some women tend to sport short hair due to hot and soaring temperatures. This would be perfect for women who are all about low-maintenance and look fancy plus sassy at the same time.
7. The Shag
If you have admired the hairdo Taylor Swift flaunts, you cannot resist trying this hairstyle. It suits every kind of face and makes your face look very lean. You can add layers to your bang and let it fall neatly on your face. You can also pin it up with a cute hairband or clip if you want to add a twist.
8. Short And Wavy
Those who have always complained about not having perfectly straight or curly hair and having little waves, we have the perfect cut to make you look way younger. It can be as short as you like, just let the waves grace over your neck, and you can even experiment with various headgears like hairbands and gears to make it look extra stylish.
9. Long Hair With Side Part
Whoever said long hair doesn't make you look younger did not try side parting on long sleek hair. Your hair parting has a lot to do with making you look younger and cute. Just style your hair to an extreme side and put on your favorite clip with it!
10. Wispy And Short
Many stylists suggest that mature women choose hairstyles that emphasize their natural beauty and give them a younger appearance. For those looking for delicate, feminine hairstyles, a short, loose style with soft bangs can be the best option.

Always consider your face type before going with one of these haircuts, because your face shape will determine which hairstyle suits you the absolute best. Don't just choose a celeb picture and randomly go for it because it may not suit your face type. Consult the hairdresser before proceeding. Now that you know what hairstyle you should opt for if you want to keep your actual age to yourself, go haywire! Make sure to discuss your hairstyles with your stylist before you try any of these. So, which of these is your favorite hairstyle to try? Let us know in the comments below!
The following two tabs change content below.