8 Solo Trips Every Girl Needs To Take Once In Her Life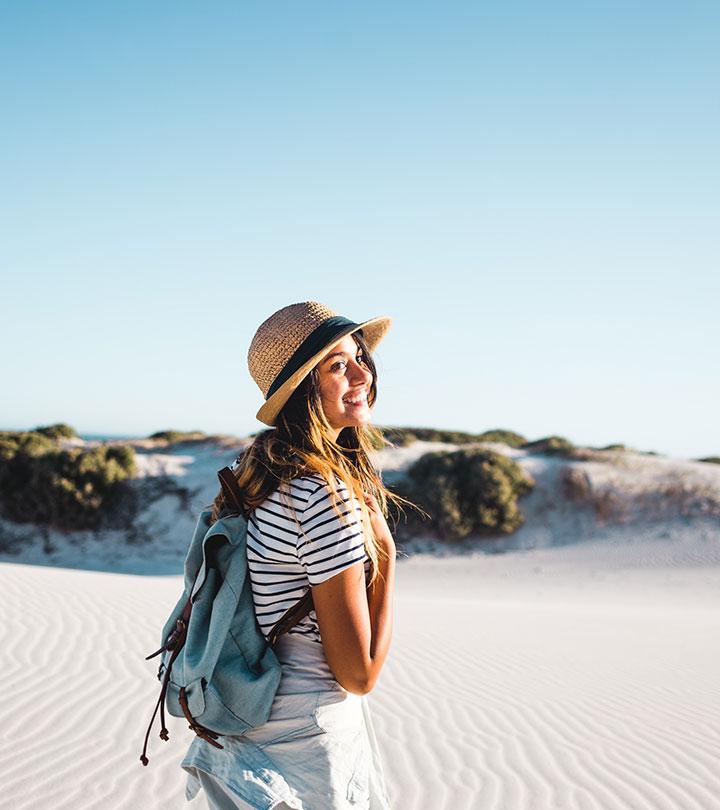 For those who have been bitten by the bug of wanderlust, travel is synonymous to food. Much like food is a necessity for the body, travel is food for the wandering soul. Whether one is traveling to learn, to explore, or to just make new beginnings, travel has a huge impact on one's life. So much that, it has a therapeutic effect on people, no wonder we often hear people say, "Gosh,I need to travel and reward myself!".A break from the usual grind or from the ghosts of your boyfriend's memories, travel could easily be the perfect remedy to all your woes.
That said, a person who loves traveling solo is often perceived as a free spirit. Solo travelers are the true nomads, who have freed themselves from the shackles of the society and decided to sway to march to the beat of their own drum. A solo traveler doesn't rely on anybody, s/he makes their own decisions, are comfortable in their own company. They are the ones with wildfire in their eyes, passion in their blood, and endless thirst for travel in their souls. They walk miles together to get that one glimpse of the perfect sunset. They trek for days to witness the beauty of the clouds hovering over the lilliputian world that we live in. They make switching cities, countries, and continents look as easy as changing pants. These solo travelers are the uninhibited soul warriors who refuse to settle and conform to society's rulebook. So, when solo traveling is all about breaking the traditions, why should women keep themselves at a distance from this?
Every girl should take at least one solo trip in her lifetime (we guarantee that you'll fall in love with solo traveling). It will change you as a person, it will strengthen you, it will help you meet people and connect with them. The magic starts to evolve, from the moment you take the first bus, train, flight, etc to that faraway land alone. The kindness of strangers, the exposure to different cultures, the familiarity among the unfamiliar will leave you overwhelmed and you'll end up asking for more.
If all this isn't enough to make you travel solo, then maybe these locales will.
Here's a list of world's best places you can visit as a solo woman traveler-
(Note: These are based on safety ranking and the happiness ranking, so we've got you covered)
Norway
Safety Ranking: 16
Happiness Ranking: 12
Like most of us, if seeing the Northern Lights in on top of your bucket list, head to Norway between November and March.This is the peak season for the aurora borealis. You can head to the heart of the Northern Lights zone—Tromsø. Norway isn't just a place, it's a surreal experience where you'll be mesmerised by the midnight sun, warm weather, and the stunning coastline. You can visit Oslo, the capital city, and get your dose of cultural trip, or you can cruise through the country's famous fjords on a multi-day adventure, while making stops at ports to hike, sled, dog sled, kayak, etc. It's definitely going to a scenic adventure for the memory book.
Denmark
Safety Ranking: 5
Happiness Ranking: 32
Colourful townhouses, iconic wooden ships, flower gardens, bubble fountains, and Danish museums. Denmark is all about aesthetic beauty and friendly strangers. Whether you are a Shakespeare aficionado (it's home to the UNESCO World Heritage site that inspired Elsinore Castle in Hamlet) or a history fanatic, Denmark is the pace for you if you're travelling solo and want a perfect blend of old town meets new city kind of feeling. You can start in Copenhagen, and move towards Nyhavn, Tivioli Gardens, and Hillerød. For the first-time solo travellers Denmark is a great place to get the newly independent feet moving.
Amsterdam
Safety Ranking: 6
Happiness Ranking: 5
The Dutch seem like a happy lot with a happiness ranking of number 5! Apart from the abundance of marijuana, Amsterdam is a laid back and friendly city. You can rent a bike and explore the Dutch city, go to the picturesque canals, world famous museums, and visit the popular urban park.If you love flowers, head to the neighbouring city, Holland (between April and May) and you will be greeted by farms of tulips.Dubbed as the garden of Europe, the Keukenhof is just outside Amsterdam and will give you the opportunity to spot more than 800 varieties of tulips. Oh, imagine the pictures you can click!
Among other places you can visit around the world, here's a glimpse of them.
Austria
Ireland
Greece
If you are looking at spending some quality time with yourself in Indian Subcontinent, here are a few places you can't miss-
Udaipur
The city of lakes, Udaipur is in Rajasthan. It is rich in culture, so much that the cultural heritage runs through the veins of the city. There are multiple palace hotels you can stay at to feel like royalty. Every street you set your foot in will tell you about the rich culture of the city. One thing is certain, you'll see a lot of color, good food, and the beautiful lakes in the city. If you find yourself amidst hordes of couples, don't be deterred, just soak in the majestic vibe of the city, click multiples pictures, and eat great food and you'll feel like you are all you need to travel and be happy!
Ladakh
If there's one thing you have to do in your life, it is to travel to Ladakh. No kidding, it is the Ultima Thule of travel, the holy grail. Whether you are a first-timer or a pro at solo traveling, you will find yourself bewitched by the serenity of the valley. The valley weaves a sense of calm, quiet spell that will make you experience the beauty of Himalayas in the best way possible. As a solo traveler, get a map, because you will have no connectivity here, and befriend the locals to ensure you have a great trip!
The following two tabs change content below.

Latest posts by Anjala Farahath (see all)

Anjala Farahath
Anjala Farahath is a 23-year-old tall mess under a hijab, trying to fit into the world of crop top while traveling nonstop, converting her passions into her job, and occasionally soaking in the raindrop. Do you think she needs to stop?