4 Looks We Absolutely Need To Own From Sonam Kapoor's Vacation Wardrobe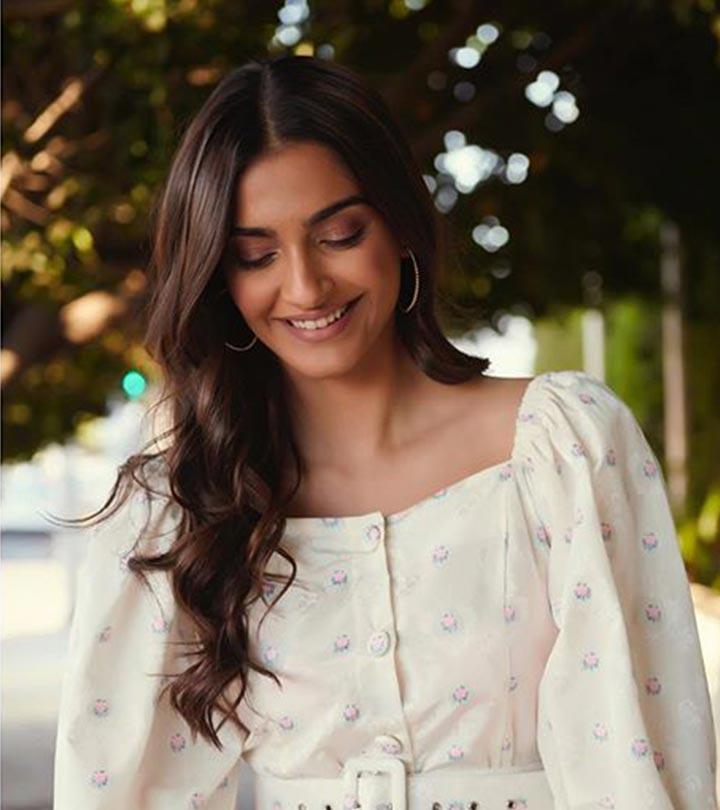 Bollywood forever has been the reigning source of latest fashion, isn't it? All the latest fashion trends that are on display right from the local cloth store on one of the most popular shopping streets in the country to the ones in the shopping mall — all of it is inspired from what Bollywood has been wearing lately. Every actor in the Bollywood industry is known to have their own unique style of dressing up. While some like comfort, some like to pick whatever makes them look top-notch trendy. However, Bollywood's fashion sense went higher by several notches upon the entry of a Bollywood diva who now hails the title of the most fashionable diva of Bollywood and that is Sonam Kapoor.
She must have debuted in the Bollywood industry with a very simple film that didn't require her to look chic. But it was only a matter of time for everybody else in the industry to realize that Sonam had complete knowledge about high street fashion. She knew about all the major brands of the world which Bollywood wasn't so familiar with. Every look that she adorns, it feels like a dream. And the best thing about her is that she is known to experiment with fashion that she wears. One day she could be this desi girl in a saree, the other day she could be this downtown woman or she could be this princess in her gown etc.
We can never stop talking about her sense of style. And her Instagram account stands testimony to that. Sonam being the humble person she is, always gives credits to her sister Rhea Kapoor. She says that it's Rhea who dresses her up and tells her what to wear and when. The sister duo also owns a fashion label called Rheson.
Now, the reason we're talking so much about Sonam and her style of fashion is because recently we came across some of her looks while she was on a vacation. To be specific this was an all-girls trip to LA. And my, oh my! the diva's vocational looks are amazingly extravagant and splendid. Even the simplest outfits that she wears are styled to perfection to make a complete look. Let's have a look at some of them.
1. It's Always A Good Summer-day Look
Summers and white dresses go hand-in-hand don't you think? And when Sonam decided to wear one on her vacation, we couldn't help but notice how smartly she had accessorized the dress.
Sonam wore a very mod, yet a very sophisticated Ralph & Russo white dress. The dress came with a white belted feature that created an accentuated effect on her waist. The dress was that of a wrap-like. Sonam was seen wearing Gucci's brown colored leather loafers and she held a pouch bag from Louis Vuitton. Her retro-themed round sunglasses further complimented this summer chic look of hers.
2. It's Good Vibes Only Free-Spirited Look
Most of the times we forget that one of the most important elements of fashion is comfort. And especially when on a vacation, one needs to always pick comfort wear. Sonam did too, although her comfort look also looks very diva-ish to us, isn't it? We mean just look at this breezy blouse-skirt outfit that Sonam wore when she visited Venice Beach in Los Angeles. The army green outfit set from Fatima Shaikh looked very cute on her. The blouse had billowed sleeves and a knot at the waist. The skirt was a calf-length A-line skirt. This outfit made for an ideal summer outfit for the summer in LA we think.
3. It's Sporty With Sophistication Look
It's no hidden fact that Sonam Kapoor's hubby Anand Ahuja has a fascination for sports, especially basketball. And on this vacation, Sonam was spotted trying to soak in the basketball vibe by attending a Lakers game. For this game, she turned up in a sophisticated sporty look. She sported a red sporty pullover over a navy pleat detailed turtleneck dress. She wore large earrings to keep her accessory game going strong.
4. It's Mellow-Yellow Affair Look
Yellow can never go wrong on a summer vacay, right? Looking very happy in her mustard yellow outfit, Sonam is seen teaming her mustard yellow sweater top with retro style jeans that are straight-fitted. She wore loop earrings and navy boots and a handbag as accessories for this look. Her charm choker added the cuteness quotient to this look.
We need to learn from Sonam on how to look super stylish yet comfortable even when on a vacay. Do you style yourself on a vacay too? Let us know in the comments below.
The following two tabs change content below.

Latest posts by Shivani K (see all)