6 Bollywood Star Kids Who Grew Up To Be Stylish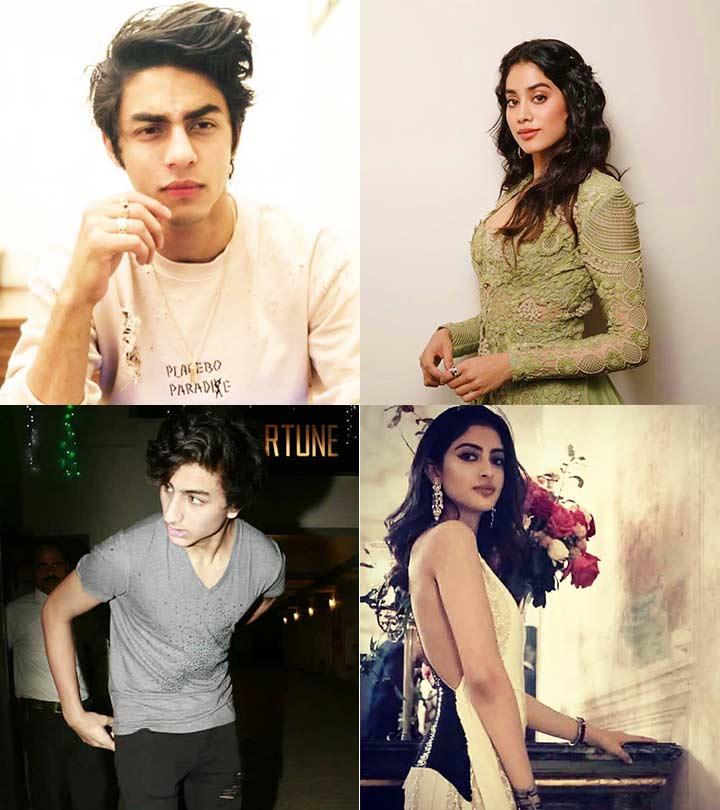 We can never get bored of Bollywood celebrities, can we? What are they wearing? What are they eating? Where are they hanging out? All of this is routinely discussed as breaking news, and the credit obviously goes to our media! There's another unique subset of Bollywood that too is very rigorously covered by the media and that is — Bollywood star kids! Right from what names these star kids will be given, their school choice to their career choice and habits (the bad ones especially), all of it is served on a platter to the world by our dear media.
We can't deny the fact that Bollywood has been the cradle for the fashion industry in our country. Bollywood stars have been show-stoppers and trendsetters since the inception of this industry. And today it's not just them, even their kids have been turning heads with their on-point fashion game. Well, what can we say except that the style keeda just runs in the bloodline of actors! Now, brace yourself as we present to you eight such Bollywood star kids who have grown up to be extremely stylish. Have a look.
1. Aryan Khan
Our very own Badshah a.k.a King Khan's crown prince seems to have grown up faster than we expected him to and is already on the radar of many renowned filmmakers. Although Aryan likes to remain aloof from the media, he has already earned himself a respectable fan base thanks to his killer brooding looks and simple-yet -sophisticated style. You'll mostly find this star kid sporting tees and denim with a pair of cool sneakers, like any other teenager.
From all that the media has managed to capture of him, one thing is clear that this lad doesn't like anything that has bling in it and black seems to be his favorite color, just like his dad. While we love his fashion, we would also love to see him flaunt his pearly whites some time, don't you agree? Nevertheless, he still tops this star kids style brigade.
2. Janhvi Kapoor
Janhvi, daughter of the late evergreen beauty Sridevi has grown up to be a very gorgeous elegant girl (needless to say, it's in the genes after all). From her looks, we can say that she is feminine to the core, although her dressing sense is an eclectic mix. From wearing dreamy gowns of Manish Malhotra for the red carpet to wearing monochrome tees and gym shorts, she knows how to carry herself well in every ensemble. In spite of her tender age (she's just 21 years old), the fashion police have never caught this teen committing a fashion faux pas.
3. Ibrahim Ali Khan
The royal star kid of the town, Ibrahim has definitely inherited his father's Nawabi looks, but to everybody's surprise, his style is also similar to his father's fashion sense. He loves to flaunt his love of partying to the world and doesn't shy away from the camera. He's been the talk of the town for his fashion and looks. We can easily tell that his style isn't just restricted to tees and jeans. He's seen dressing up according to the occasion, just like his dad Saif.
4. Sara Ali Khan
From being chubby-cute to fab-fit-hot, Sara's transformative journey has been the talk of the town ever since she debuted in Bollywood. She is undoubtedly the chirpiest of all the star kids and is an extremely happy soul. Coming to her fashion sense, Sara is often seen flaunting her diverse style, be it her Chikankari salwar suits or her designer dresses or her Bohemian tops, this lady loves wearing everything that makes her happy. And with the stylish diva, Kareena, as her stepmom, we're sure she'll only continue to look more gorgeous and stylish.
5. Suhana Khan
With her brother on the list, how could we miss out on this sassy teen? Suhana is surely a daddy's girl and all of her social media posts prove that hands down. King Khan's daughter has also been open about her aspirations of entering the tinsel town with her dad's support. She's always seen dressing up in a stylish manner and loves all things blingy and bold. Recently she got featured on the cover page of the Vogue magazine. And do you want to know how she looked on it? We'd have to say stunning!
6. Navya Naveli Nanda
A teen-beauty with brains, Navya, is the granddaughter of Amitabh Bachchan. She is not only catching up with but also living up to the legacy of her grandfather. She proved her worth by being one among the 25 girls chosen from around the world to perform at the Parisian Le Bal des Debutantes (how cool is that right?). Her grandfather keeps posting pictures of her on his social media page and every picture is evidence of her transformation into a fashion diva.
Who is your favorite star kid and why? Let us know in the comment section below.
The following two tabs change content below.

Latest posts by Shivani K (see all)