Story Of India's 1st Miss Universe Contestant Who Sported A Bindi And Gajra In The Swimsuit Round!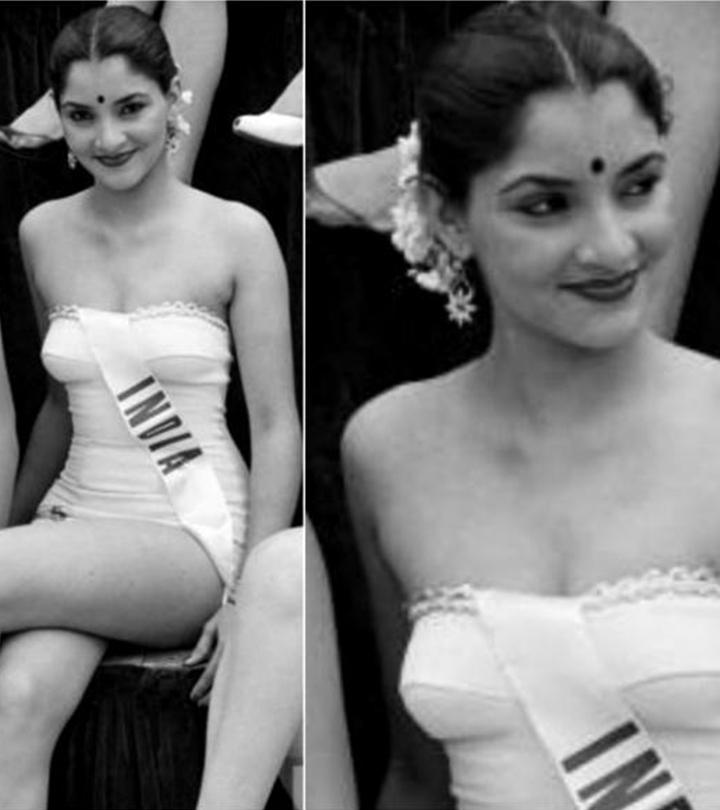 We're all familiar with Miss Universe Pageants, right? The annual international beauty pageant run by the American based Miss Universe Organization draws a viewership of more than half a billion. More than 190 countries partake in this beauty pageant.
On that note, can you name the Miss Universe winners from India? Do you know when the first-ever Miss Universe pageant was held? It was sixty-seven years ago, in 1952! Yes, we've been analyzing, accentuating, appreciating and honoring beauty since then!
While Finnish beauty queen Armi Helena Kuusela was crowned Miss Universe 1952, the first titleholder, you would be surprised to know that even in the traditional years, the pageant had a remarkable Indian beauty queen contesting for the crown.
If it wasn't for her confidence, her charisma, and her bold choice, pageant winners like Sushmitha Sen, Lara Dutta, etc. wouldn't have made India proud by winning accolades at the Miss Universe Pageant in the later years. She was Indrani Rahman, India's first Miss Universe contestant, who set the ball rolling for the coming years of beauty pageants in India.
Who Was Indrani Rahman?
She was the first enchantress! She was the first woman to represent India on a global platform, in the introductory edition of the Miss Universe pageant in 1952. Indrani was a native of Chennai. Her family background is a rather interesting one; her mother, Esther Luella Sherman (later known as Ragini), was an American, and father, Ramalal Balram Bajpai was an Indian. With this mixed-blood parentage, she grew up to be independent and intrepid.
At the young age of 15, Indrani eloped with Habib Rahman, a thirty-year-old world-renowned architect. She wasn't bound by the conservatism of the society, nor was she the one who would conform to the rules of a traditional society. Going by the glimpses of their relationship, Indrani and Habib certainly looked like a perfect pair that was romantically well-suited.
She Danced Her Way To Glory
Indrani was a classical dancer and not just an average one. She was mighty good at it! She was trained in four different variations of Indian classical dance forms — Bharatanatyam, Kuchipudi, Kathakali and Odissi. She began training as a 5- year-old in her mother's company. Her dancing journey began with Bharatanatyam under the training of Guru Chokkalingam Pillai, in the 1940s. Soon after, Korada Narasimha Rao trained her in the dance form, Kuchipudi. In the years that followed, this dance form led her to travel the world. For Indrani, there was no stopping. In 1947, India's leading art and dance critic Dr. Charles Fabri noticed her and suggested her to learn the classical dance form Odissi. Indrani, who had grabbed every opportunity that came her way, didn't let this one pass either. After learning Odissi for three years, she became a professional Odissi dancer and went on to populous it across the world. With a gifted talent and enchanting beauty, she gracefully put the spotlight on Indian classical dance forms, for the world to notice, and laud.
If you want to witness the dramatic magic that her dance possessed, here's a video for you, posted by her son, Ram Rahman:
When She Entered The World Of Glamour
At the age of 22, as a mother of a child, an undeterred Indrani sashayed down the ramp of Miss Universe Pageant in 1952, at Long Beach, California. It was the same year that she was crowned the First Miss India. Her striking personality, graceful presence, and a dash of ethnic display caught the fancy of the populace worldwide. Among the 30 contestants who walked the ramp in different outfits, accentuating their beauty and representing their countries, Indrani was hard to miss. She wasn't coy or conservative, as most women in her home country were expected to be. She was ambitious and uninhibited.
In the swimsuit round of the pageant, she particularly made a mark for herself by sporting a gajra and a bindi. This look, where she donned the swimsuit with a twist, certainly garnered worldwide recognition. Although she didn't win the pageant, she went on to become a global sensation.
Life After Miss Universe Pageant
Post her pageant days, Indrani continued her affair with dance and toured the world with her mother, putting the classical dance forms on the world map. In 1961, she was the first dancer to participate in the Asia Society Tour. In short, there was no stopping for Indrani.
During former Prime Minister Jawaharlal Nehru's official visit to Washington D.C., Indrani performed for Nehru and former US President John F. Kennedy. Queen Elizabeth II, Mao Zedong, Fidel Castro were among the other eminent personalities that she performed for. Ever since her global recognition, it was achievements galore for her. She was awarded the Indian Government's National award, Padma Shri in1969. She has also conferred the Sangeet Natak Akademi Award and the Taraknath Das Award. The rhythmic complexity of her footwork was a talent that she honed, mastered, and perfected.
Indrani, who settled in New York, popularized native Indian dance forms at a number of universities as a teacher. She was on board as a faculty member in the prestigious Juilliard School at New York's Lincoln Center for the Performing Arts in 1976. She also taught dance at Harvard University. Until her death in 1999, in Manhattan, she extensively contributed to the world of classical dance.
From championing rarely seen dance forms to breaking stereotypes and achieving the unachieved, Indrani Rahman's life was everything but ordinary. She believed in taking the leap of faith and venturing the road not taken. Indrani is a name in the history that needs to be looked upon, time and again, to not just appreciate her journey, but to thank her for opening the doors of opportunity for dancers and beauty queens, and for paving the path for the generations to come.
Banner Image Credits: im.indiatimes.in
The following two tabs change content below.

Latest posts by Anjala Farahath (see all)

Anjala Farahath
Anjala Farahath is a 23-year-old tall mess under a hijab, trying to fit into the world of crop top while traveling nonstop, converting her passions into her job, and occasionally soaking in the raindrop. Do you think she needs to stop?