Sudha Murthy Calls Herself A Low Maintenance Wife And Charms The KBC Audience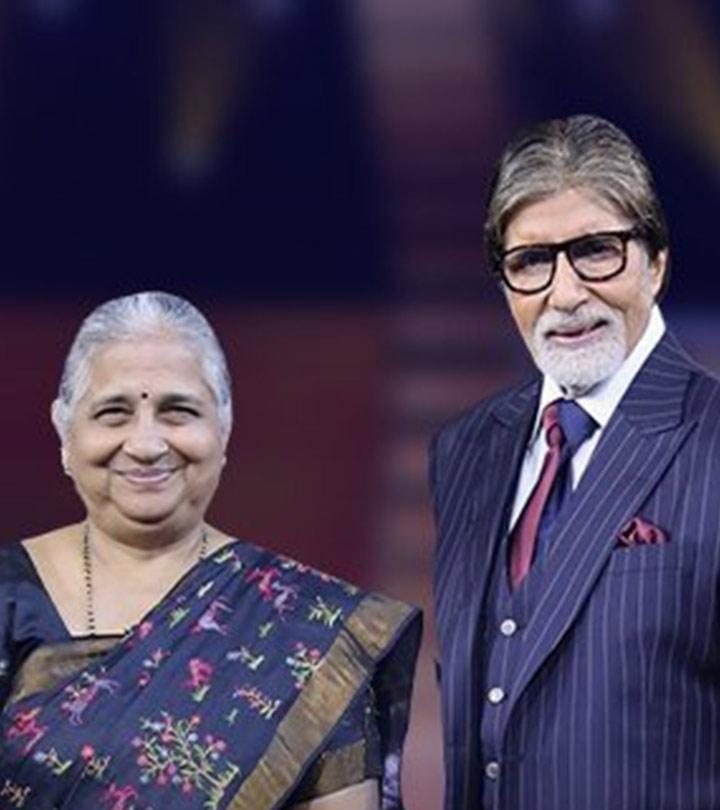 Recently, on the finale of Amitabh Bachchan's Kaun Banega Crorepati, he invited an exceptional person onto the stage. It was none other than the founder of Infosys Foundation and acclaimed Kannada and English author, Sudha Murthy. The Murthys are known world over for being the faces behind Infosys. Infosys is a multinational corporation that provides technology, engineering, business consulting, and outsourcing services and was founded in the year 1981 by seven young engineers. Sudha's husband, N.R. Narayana Murthy, was one of these members. However, before Infosys became a billion-dollar corporation and acquired other companies across the globe, they started on a meager sum of 10,000 rupees. And guess who lent them that money from her own savings? Sudha Murthy.
Although Sudha Murthy is a successful author and also married to one of the richest men in India, she admitted to being a low-maintenance wife on KBC. In another interview, the philanthropist mentioned how she gave up buying sarees twenty one years ago after a trip to the holy land, Kashi (Varanasi). There was even an incident where she was asked to stand in the queue for economy class instead of business class by this well-heeled woman while she was at the International airport in London. The irony was that the very same lady who judged Sudha for her attire was present at the meeting where Sudha was a guest for her philanthropic work. The same woman showed up in a simple khadi saree to suit the theme of the philanthropic event. Sudha Murthy's simplicity is something we all need to learn for sure. To know more about Sudha Murthy and her incredible sacrifices, accomplishments and philanthropic work, read on:
Who Is Sudha Murthy?
Sudha Murthy was born as Sudha Kulkarni in the year 1950 in the small town of Shiggavi, Karnataka. Her father, a surgeon by profession, always encouraged her to do well in her academics. With his guidance, she did exceptionally well in her exams and despite her parents' initial hesitance, chose to enroll in an engineering college. In interviews, Sudha recounted how her college principal approached her father at a barbershop and told him that despite Sudha's intelligent nature, she would have a tough time as the only female student. The principal spoke about how the college didn't even have a ladies' bathroom and how he was afraid she would face harassment from her male peers. He also went so far as to try to convince Sudha's father to get her to change her mind.
Eventually, it was time for Sudha's first day. She mentioned how even the school janitor thought a girl student enrolling was a joke and how her classmates stared at her like she was a wild animal. Her classmates even spilled ink on her chair in attempts to stain her plain white saree. When the lecturers weren't paying attention, her classmates would stick flowers in her hair and tell her things like "A woman's place is in the kitchen or medical sciences and not in engineering." They would jeer at her and write poems on anonymous notes and leave them in her name. However, Sudha beat the men who troubled her at their own game by scoring the highest grades and maintaining her academics well despite their failed attempts to dissuade her.
Early Work Life
After graduating with flying colors, Sudha came to a point in her life when she had to choose between pursuing a scholarship in the United States or taking up a job. She came across a vacancy that fit her skills and criteria at TATA Telco. However, there was one problem— the vacancy stated, "Ladies may not apply". Furious at the idea of the loss of an opportunity just based on her gender, she wrote a postcard to JRD Tata. Surprisingly, JRD Tata was very impressed by her letter and requested her to come down to Mumbai for an interview, and she was offered the job. Confused between taking up the scholarship and going to USA and pursuing the job, her father advised her to take up the job. He told her if her agenda was to fight for women's equality, becoming the first woman to be appointed in a Telco would be a good start. And so, this is where her professional career began.
How She Met Narayana Murthy
During the KBC segment, Sudha Murthy opened up about how she met her husband. She cracked a joke about the times she used to see Murthy's notebook in her friend's hands. As there were different locations from London to Peshawar marked next to his name, Sudha had jokingly said that he sounded like an international bus conductor. While Narayana was extremely shy and introverted, Sudha was the exact opposite. Bold, vibrant and extremely ambitious about her career. They met through their mutual friend, G.K. Prasanna. They soon became close friends and spoke about everything, from books to traveling abroad, and they started spending time together. Eventually, Narayana proposed to Sudha, and she planned on introducing him to her parents. Sudha's father, however, did not take kindly to Narayana's ambitions of being a communist political leader and opening an orphanage.
Despite her father's verdict, Sudha and Narayana continued seeing each other for three years. She joked about how Narayana was always broke when they started dating and how he owed her four thousand rupees. After Narayana acquired a steady job at Patni Computers, Sudha's father finally approved of the match and gave the couple his blessings. They were married in 1978 in a simple traditional wedding with their families that they both contributed to equally.
In 1981, when Narayana wanted to start his own venture with a few friends, it was Sudha who put in her savings and invested in them and gave him a three-year deadline to achieve his goals. When Infosys started taking off, Sudha quit her job to help her husband with the company, and in 1983 they moved to Bangalore. Eventually, Sudha had to choose between assisting Infosys and taking care of their growing family (they had two young children by then). Making the ultimate sacrifice, Sudha stepped down from her role and let Narayana take the reign of Infosys. When Amitabh Bachchan asked her what she has learned from her husband, she stated that the creation of jobs is the most valuable lesson she has taken away from her husband. She admitted that she was extremely charmed by his intelligence when they first met and that is what attracted her the most to him.
 

View this post on Instagram

 
How I Taught My Grandmother To Read And Charitable Endeavours
Sudha went on to write critically acclaimed children's stories and anthologies, and she has been writing prolifically ever since. In 1996, with the help of her husband, she started the Infosys Foundation, which focused on providing affordable healthcare and education for the underprivileged, public hygiene, and women empowerment. Drawing inspiration from the absence of a female toilet in her college when she initially joined, she went on to build over 16,000 public restrooms for people in the city of Bangalore.
On KBC, Sudha spoke about how she encouraged women from underprivileged communities to work at Infosys, not as housekeepers but as computer engineers in their own right. She also gave the audience a little insight into her personal life and admitted she enjoys watching movies and is a huge film enthusiast. When asked how she started writing she mentioned it was her mother who instilled the habit into her and ensured she wrote prolifically. Answering all the questions with a charm and grace one could only expect from her, she went on to win 25 lakh rupees!
Women like Sudha Murthy have been hugely inspirational for women all across the country and have genuinely changed the way people perceive women in STEM disciplines. Tell us what you think of Sudha Murthy's inspiring story in the comments below.
The following two tabs change content below.

Latest posts by Niharika Nayak (see all)

Niharika Nayak
Niharika has a passion for all things art, music and travel. During her spare time she likes experimenting in the kitchen, painting pop culture icons and chasing after random street cats. Her dream is to one day own an amusement park so she can ride roller coasters for free.