10 Fun and Spooky Dishes For Your Halloween Party This Year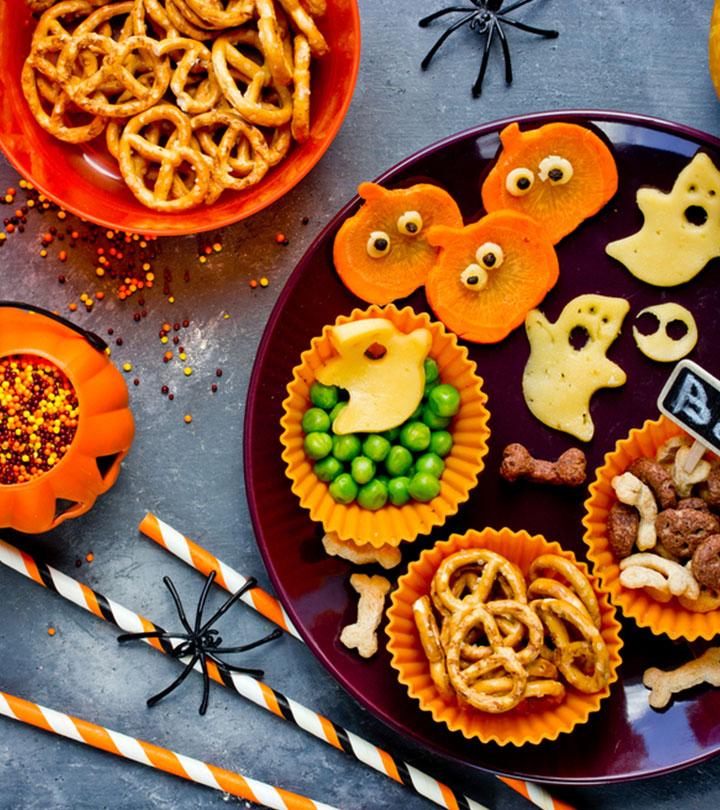 T'is the season of spooks! If there's one thing that all of us do appreciate and admit about the month of October, it's the fact that it is Halloween season. If you're ready to throw your very own Halloween themed party this year with a few close friends and others, we've prepared a list of some simple and delicious snacks you can give a try. Here are some spooky versions of tasty and common food treats that will have not just kids, but even adults begging for more!
1. Mummy Themed Bread
Mummies don't just live in Hollywood movies and Egypt! You can make some in your very own kitchen. This simple cheese, tomato, black olive, and bread slice starter is perfect for people who are on a tight time crunch but still want to make the best of what they have, you can give this simple treat a try. All you need to do is toast some bread, add a little tomato ketchup to it, two olives for eyes and oodles of cut up cheese slices and voilà, your simple mummy themed starter is ready!
2. Werewolf Burgers
Who doesn't love a good meaty burger (sorry vegetarians)? Well, for all you vegetarians and vegans out there, there are tonnes of replacement patties you can use instead of meat but here's the meaty recipe. All you need is some classic tomato sauce, burger buns, jalapeños, carrots, cheese, lettuce and two peppercorns for the eyes. This is the perfect meal if you plan on having a barbecue with your buddies and want everyone to have a spooky treat.
3. Spider Web Mini Pizzas
Is your mum a baker, coz those are some nice webs (jk jk)! This cute little vegetarian mini pizza makes for the perfect appetizer to your meaty and fabulous werewolf burgers. If you want to go all the way, you can use special marinara sauce as the base. It is pricier than tomato ketchup but gives your pizzas a delicious tangy kick that is the perfect amount of sourness along with the sweetness. Once you're done coating the base in marinara sauce, add thinly sliced cheese on the pizza and set it to bake in the oven or fry on your cast iron skillet. Once the pizza is fully ready you can use black olives to make you little spiders. You can just make one spider or go ham and make two or three. Just remember that the taste of the olive should not overpower the marinara sauce or cheese.
4. Vampire Spaghetti
Give this classic Spaghetti dish a spooky twist by turning it into a blood-curdling vampire (the vampire looks pretty darn cute though)! You can make use of cheese to make the eyes and the fangs. Black olives are great to make vampire irises and you can add a little extra sauce to the cheesy eyeballs to give your vampire that bloodshot glare that will make every party guest shiver in their jammies. Who needs to put on a horror movie when they can just glance at their plate?
5. Sausage Mummies
If you thought we were done with mummies, you were mistaken (muahahaha)! There's no finger food more delicious than sausages wrapped in dough. In order to make these you need to separate the dough into different amounts of portions that you require. Take one portion and flatten it into a circle or oval. Make sure the long side is about the exact length of the sausage, place the sausage in the middle, make 5 cuts on each side with a knife. Once this is done, you should have 6 strips of dough at each side of the sausage. Braid the strips to enclose the sausage and repeat the method for each sausage. To make the spooky staring eyes, you need two small pieces of cheese for the eyeballs and two peppercorn pieces for the irises.
6. Gravestone Mousse
And what better way to end your delicious party than with chocolate mousse and biscuits as gravestones and chocolate shavings as "mud". The best part about this dessert is how easy it is to make. All you really need is chocolate mousse and your favorite biscuit to finish this treat. You can find tonnes of recipes online and there are plenty of vegan friendly options available too.
7. Shrunken Head Potatoes And Salsa Sauce
Give your Halloween bash the voodoo magic it needs to spark everyone up. When it comes to baking potatoes, you need to have the perfect level of crispness, and golden skin. You also need to ensure that the potato is light, fluffy, and creamy on the inside. To make the potatoes look like convincing shrunken heads, all you need to do is carve out a pained looking face in your potatoes and set it to bake. For accompaniment, you can either make your own spicy salsa sauce or buy one from the store if you're short on time.
8. Finger Hot Dogs
Now this dish is definitely going to give your guests a good scream. You can buy hot dog buns from the store and even add mustard if you wish (although that will take away from the spooky angle). Carve out your sausages in the shape of human fingers and set your trap on the dining table. Be prepared for your guests to ask questions and be worried that the fingers might be real.
9. Mashed Potatoes And Green Peas
Another great appetizer for your vegan and vegetarian friends is mashed potatoes. Just mash the potatoes up till their super creamy and garlicky and add green peas to make eyes. This dish is set to be a straight up hit for tonnes of partygoers. What better way to start a party than with everyone's favorite potato.
10. Dirt Cups With Gummy Worms
You can take chocolate chips, biscuits and fill it in a cup. Once the cup is filled, you take the icing and you add it in layers on top of the chips and biscuits. To top it off you finally add gummy worms on the top layer and there you have it, a second chocolate dessert option.
You might not be able to have the Halloween party of your dreams, but that doesn't mean you shouldn't at least try to have fun with it. Give these simple Halloween food goodies a try and prepare to be worshiped as the Halloween Queen! Do let us know if you liked these Halloween treats and if they were up to your tastes!
The following two tabs change content below.

Latest posts by Niharika Nayak (see all)

Niharika Nayak
Niharika has a passion for all things art, music and travel. During her spare time she likes experimenting in the kitchen, painting pop culture icons and chasing after random street cats. Her dream is to one day own an amusement park so she can ride roller coasters for free.