10 Indian Women Who Broke The Internet And Inspired Us To Live Our Dreams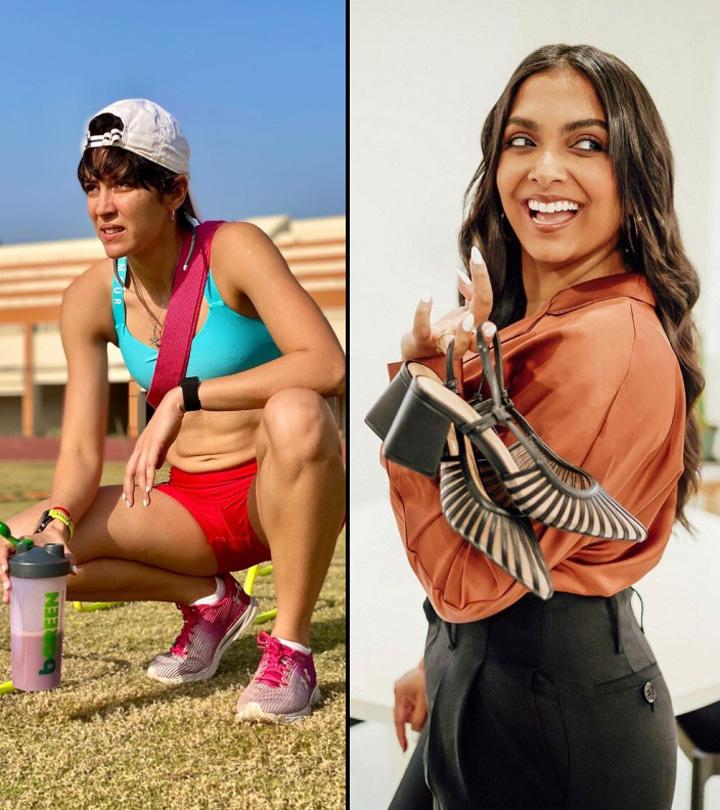 In our past ten years, we have seen a massive boom in technology in many ways. From having large personal computers in our homes to harnessing the power of the internet in the palm of our own hands, we've seen massive changes in our generation. With the advent of smartphones, many of us have shifted to getting our entertainment through OTT platforms and social media. And ever since the pandemic hit, we've been spending more and more time on our smartphones and computers. Since the coronavirus pandemic is still ongoing and many of us are confined to the space of our own homes, we have no choice but to rely on the internet for our entertainment. Indian women from all over the world have been breaking gender norms and proving themselves to be more than capable of handling themselves as well as entire businesses. So here is a list of 11 incredible Indian women who have been breaking the internet and inspiring us to pursue our own dreams, no matter how big:
1. Ayesha Billimoria
When you hear the name Ayesha Billimoria, the first thing that comes to your mind is sports. The young athlete has been going out of her way to inspire other sports enthusiasts to work hard and achieve their dreams. Ayesha enjoys speaking about perseverance, fitness, and self-love, and she is an Olympic aspirant. She currently works as a sports trainer and model and has also worked as a speaker for TedX and written her own book, Run! Phew. What makes Ayesha even more incredible is that she survived a bike accident in the early 2000s and overcame partial paralysis.
2. Karuna Nundy
Karuna Nundy is a famous supreme court advocate who is renowned for her work in improving human rights in India. She is famous for representing the comedy group, AIB and contributing towards improving the rights of assault survivors. That's not all she's done, however. Karuna has also represented survivors of the Bhopal Gas leak in the supreme court. She is active on social media and helps in raising awareness about our rights and laws.
3. Masaba Gupta
Masaba gained fame after she worked under the late Wendell Rodricks and eventually opened her own store, House of Masaba. She has established herself as a fashion designer, and her designs are a fusion of her Indian and West Indies heritage. After establishing herself as a name to look out for in the fashion world, Masaba starred in her own Netflix show, Masaba Masaba, and received rave reviews for her acting. The apple doesn't fall far from the tree, and the show also starred Masaba's National Award-winning mother, Neena Gupta. Recently, Masaba broke all boundaries in the fashion world and decided to pose for her friend and fellow fashion designer, Sabyasachi.
4. Deepica Mutiyala
Deepica is a proud Indian-American fashion guru who is known for her makeup tutorials on Facebook. She went viral for a beauty trend in which she used bright red lipstick to cover up her under-eye circles. Soon, she was featured on The Dr. Oz Show and The Today Show. The video has more than ten million views as of today. Deepica is now a businesswoman, an entrepreneur, and the founder of Live Tinted, which is a multicultural community about culture and beauty.
5. Faye Dsouza
Faye is not a regular news anchor. She is someone who stands her ground, speaks up for what is right, and does not tolerate being spoken to in a rude or condescending tone. She started out by working for the Times Network and later decided to go independent. Her incredible coverage of the coronavirus pandemic and timely bite-sized news updates on Instagram are what make her extremely popular. She is often called the news anchor of the youth and is extremely inclusive, progressive, and a pioneer of women's rights in the workplace and safety.
6. Prajakta Kohli
Prajakta started off her career on Youtube and gained popularity for making funny comedy shorts and snippets of her life. Her Youtube channel is called MostlySane, and she is now an actress that works on OTT platforms. On her social media account, she likes to share tidbits of her daily life and dreams.
7. Komal Pandey
Komal Pandey is a 27-year-old fashion blogger, model, and makeup enthusiast. She has over 1.3 million followers on Instagram and is known for giving out exciting tips and flaunting quirky fashion tricks. She has even been voted as Cosmopolitan's Best Fashion Influencer & Vlogger in the years 2020 and 2021. She is most known for making interesting short videos from the comfort of her own home and mixing and matching western and ethnic clothes.
8. Shereen Sikka
Shereen is another fashion blogger with a massive social media following. She is the founder of the blog, Love and Other Bugs. Shereen enjoys creating content and likes to show off her heirloom sarees, designer buys, and vintage bags.
9. Anoushka Mehta
Anoushka is the founder of Modern Mowgli and is an activist for animal rights. She is a firm believer in the concept of "Adopt, don't shop" and goes out of her way to promote adoption over buying breeds. She is also a lover of Indie dogs and cat breeds and is known to feed them. Anoushka feeds over 190 dogs every day and has managed to foster and later give up 90+ Indian dogs for adoption. And what's more, she is only 24 years old!
10. Saloni Chopra
Saloni Chopra was born in Mumbai and later raised in Australia. She is an actress and model and has worked in Hindi films and television. In 2018, she broke the mold by being one of the first Indian women to come forward and speak up against harassment in the Bollywood film industry. Saloni had revealed her experience with assault and harassment during the MeToo movement and spoke out against disgraced Bollywood director, Sajid Khan. She is known for her outspokenness on social media and drawing light to issues faced by everyday women in this country. She often shares images centered around harassment, domestic violence, and other topics that are considered taboo and tries to spark conversations about women's rights.
No matter where Indian women settle and what career paths they decide to pursue, there is no denying that they are incredibly intelligent, hardworking, charismatic, and wonderful. We salute the ten incredible women featured on our list and every other hardworking Indian woman out there. Do let us know if you follow any of these women on social media in the comment section below!
The following two tabs change content below.

Latest posts by Niharika Nayak (see all)

Niharika Nayak
Niharika has a passion for all things art, music and travel. During her spare time she likes experimenting in the kitchen, painting pop culture icons and chasing after random street cats. Her dream is to one day own an amusement park so she can ride roller coasters for free.