9 Top Bollywood Actresses Who Rocked The Bikini Look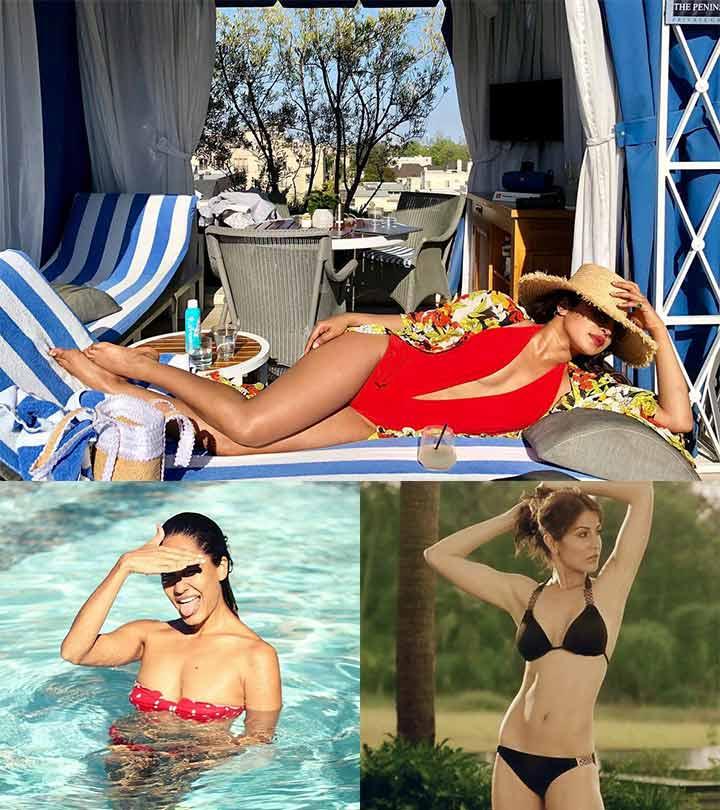 Nuanced cinema, spunky dialogues, heart-rending sentiments, and larger-than-life romance. These are some of the thoughts that comes to one's mind when they think of Bollywood. Apart from all this, there is another thing, that sets them apart. It's the actors and actresses who work in them.
Indian beauties from all parts of the country, enthrall the audience with their craft and their beauty. And since cinema is a visual medium, they have to work extra hard on their bodies to be appealing on screen and look good in anything, be it a saree or a bikini. To be able to wear a bikini onscreen is considered a hallmark of great fitness. And our actresses in Bollywood have been carrying of this sensual garment with aplomb since the 60s. Here's a look at a few of the contemporary actresses who raised the temperature with their bold bikini avatar:
1. Katrina Kaif
This gorgeous diva has won many hearts with her beauty and grace. She was working as a model in London when she was discovered by filmmaker, KaizadGustad and cast her in his movie, Boom. While that movie didn't launch Kaif's career in the way which it was expected, she did earn herself a loyal fanbase pretty quickly. Today, Katrina is one of the biggest stars in Bollywood, and constantly wows her fans with her fitness levels. Needless to say, she can pull off the bikini look like no other.
2. Priyanka Chopra
Our desi girl(well almost desi, courtesy her new marital status) is not only a great actress but a world-renowned beauty as well. While proving her mettle as an actor on screen, she also set the benchmark for beach body by donning the iconic golden monokini in her movie, Dostana.
3. Kareena Kapoor
The royalty of Bollywood, Kareena can be considered as the pioneer of fitness trends in the industry. Back in 2008, when her movie Tashan came out, she astounded everyone by achieving a size-zero figure. And with that, she sizzled onscreen by donning a fluorescent bikini on her petite frame. Yoga studios all over the country saw an increase in their subscription due to the buzz that she created.
4. Alia Bhatt
She might be a newbie compared to the stalwarts we discussed here but this petite-framed beauty sure knows how to pack in the oomph factor. Since the beginning of her career in Bollywood, Alia has been quite comfortable being in her own skin. She was seen sporting a canary-yellow bikini in Student Of The Year, which also happened to be her debut. She followed it up with another appearance in Shaandar. Looking at the results onscreen, we are pretty impressed.
5. Deepika Padukone
She seems quite an obvious addition to the list given her statuesque physique. Even with her athletic frame, Deepika works quite hard on her body and it shows. One only has to look at her various ad campaigns, where she can be seen posing effortlessly in swimwear, to see how dedicated she is to her fitness and health. Evidently, it pays to work hard.
6. Anushka Sharma
Though the actress has never been in news for being a fitness freak, she is quite disciplined when it comes to leading a healthy lifestyle, and that is something that is said not by us, but by her dear hubby, Indian cricketer, Virat Kohli. The cricketer can often be seen posting images and videos of the two of them working out together. And the result is so evident! Anushka sure looks amazing in her beach-babe avatar!
7. Disha Patani
She began her innings on the stage in Tollywood, by starring in the Telugu movie, Loafer, and was soon seen in the biopic on MS Dhoni, followed by her next movie, Baaghi-2. Often quite active on her social media profiles, the actor can be seen posting images of herself in attractive gear. Her unique combination of a sleek frame and envious curves makes for a perfect clotheshorse when it comes to donning a bikini.
8. Lisa Haydon
This leggy lass with legs for miles is a sight for sore eyes in a bikini. Her tall frame makes her the center of attraction every time she pops up on screen. And she is one of those few people, who can carry a bikini in a very graceful manner. Case in point, the picture given above.
9. TapseePannu
Before becoming the breakout star with her movie, Pink, Tapsee made her foray into Bollywood with a movie called, ChashmeBaddoor, and followed it up with a small cameo in the action movie, Baby. Contrasting to these roles was her role in Judwa, which was an essentially a masala movie where she was seen raising the temperatures in a bikini, like a quintessential Bollywood bombshell.
We are pretty sure seeing these beauties look so great in bikini must've given you the motivation to hit the gym. Who is your favorite bikini babe? Share your thoughts with us in the comments section.
The following two tabs change content below.