What Is The Difference Between A Hair Mask, Conditioner, And A Balm?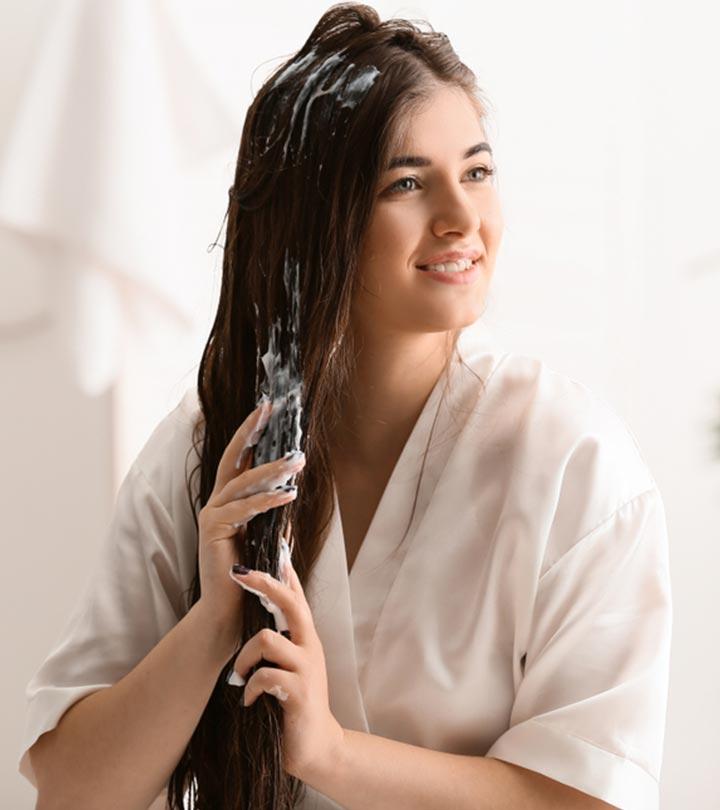 If you run through the essentials of hair care, you will come across products like hair balms, masks, and conditioners. Of course, all of these products are made to nourish your hair and impart shine to your strands, but are they really the same? No siree! Each of these products has a different purpose and knowing how to use them is equally important. If you've also wondered how they are different and how you can use them, you are at the right place. Here in this article, we have explained the difference between these products and how you can use them to improve the health of your hair. Read on!
1. Conditioner
Many of us use conditioners because it makes combing and smoothing the hair simpler. Yet, everyone should incorporate conditioner within their routine. This is because shampoo not only removes impurities from the hair but it may also lift the cuticle. So, an open hair cuticle must be closed, which is what a conditioner is supposed to do. Without it, your hair will be more susceptible to damage, breaking, and fraying. The conditioner consequently protects the hair, allowing it to be ready for styling. In addition, the conditioner smooths and softens the hair, making it easier to comb. It will also make the hair less brittle, frizzy, and electrically charged. And isn't that worth it?
Most of us still perceive conditioner and head balm to be the same product with identical qualities. But that's not the case! A conditioner is lighter and primarily operates on the exterior of the hair, whereas a balm is somewhat more nutritious, acts on the surface, but then also penetrates lower into hair and addresses particular concerns. Conditioners are utilized primarily for protection, luster, and smoothness. The purpose of a hair mask is to regenerate and hydrate hair. Also, there is a distinction in the application. A conditioner is only applied to medium-length hair, and its light consistency makes it suited for daily usage. In contrast, a balm can be applied to the scalp, and because of its fuller texture, it is advised to apply it no more than twice or three times each week.
2. Leave-In Conditioner
Leave-in cleansers are frequently misinterpreted. It may appear from its name to be an alternative to the traditional rinse conditioner, however, this is not the case. It is more accurately referred to that as leave-in care. It is an extension – additional care – and the third phase in the hair care process, following washing and rinses conditioners or masks. It may be used for both wet and dry hair, and its purpose is to supply the hair with something the conditioner did not.
As previously stated, leave-in conditioners cannot replace normal conditioners. So, what is the primary distinction? In their attributes and uses of course! After washing, a traditional conditioner is applied to the whole length of the hair and rinsed after approximately one minute. Its primary function is to regulate the pH of hair after washing, restore moisture, and give protection; thus, it often does not provide extra care. Unlike rinse-out conditioner, leave-in conditioner is placed on damp or dry hair and allowed to work without rinsing. It is a speedy method of imparting flexibility, hydration, and control.
3. Hair Mask
There is no other product with comparable regeneration properties as a hair mask. Conditioners that just operate on the hair's surface are unlikely to give repair and long-term care. Masks, on the other hand, with the densest structure and maximum concentration of active ingredients, are actually designed for the regeneration of the core and cuticle of damaged hair. Applying a hair mask is vital if your hair requires assistance. For instance, if they are weak, shatter easily, are weighed down by styling tools, etc.
The primary difference between a balm and a conditioner is that a balm reaches the inner structure of the hair, known as the cortex, and addresses specific issues. In contrast, a conditioner simply operates on the surface. In addition, the mask's impact is longer-lasting than that of a conditioner, which has an instant but temporary effect. Yet, you must wait for the outcomes. Also, a hair mask has a considerably richer texture and also more concentrated content than a conditioner, and it must be left on the hair for a much longer period than a conditioner. Also, the frequency of usage varies. A mask is not appropriate for daily usage, since it might weigh down the hair and have the opposite effect. But, you may apply conditioner after every wash, including after applying the mask. So, now that you know the difference between the products, which one would you use for pampering your hair? Let us know in the comments section!
The following two tabs change content below.