SPONSORED
The Goodness Of Neem – 8 Uses That Will Make You Fall In Love With The Plant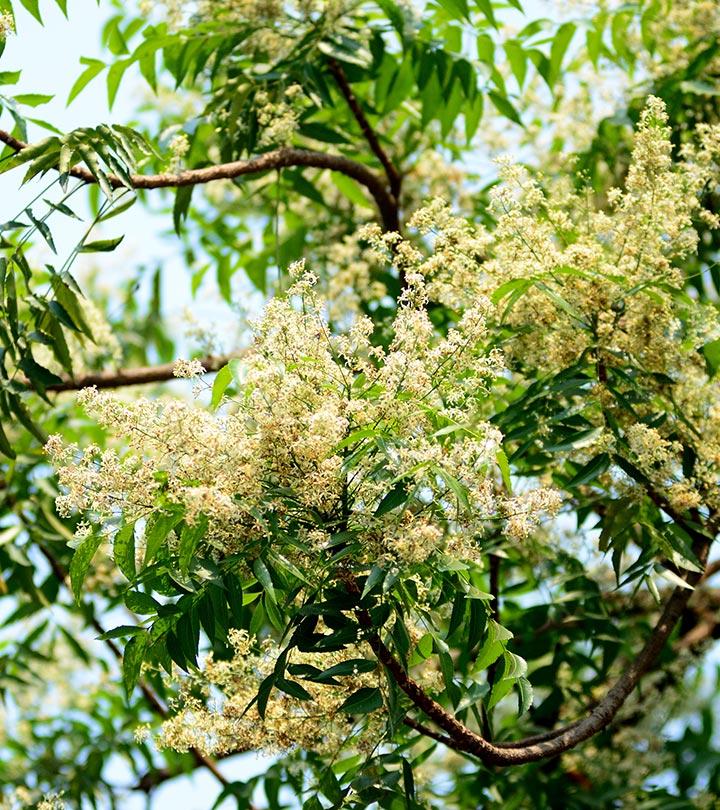 When I look back in time and think of that one favorite 'me' place as a child, it is without a doubt that swing, which was made of tough rope and a gunny bag and tied on that tall Neem tree in my Nani's garden. I remember sitting alone on that swing every evening, swinging away in glee. The cool breeze and the healthy shade of the Neem tree just added to all the fun. Oh! Those were the times! My Nani would always tell me stories of the heroic Neem tree, and encourage me to spend as much time as I could under it. Although it didn't mean much then, I now know and value the benefits of this king of trees – The Neem Tree.
The mighty Neem tree is considered to be one of the longest living, fastest growing trees. It is an evergreen, almost a magical tree, whose every part (seed, leaves, bark, flowers) has incredible uses. They say you shouldn't sleep under a tree once the sun sets. This is because plants let out carbon dioxide in the evening when they are said to be asleep. But the Neem tree is one such tree that gives out oxygen 24X7. It is truly the tree of life.
Neem is a particularly popular herb used in the world of Ayurveda. It has been used in traditional remedies for the last 5000 years. It is said to have about 130 different biologically active compounds. These make it an extremely effective antibacterial, antiviral, and also a powerful immunostimulant agent.
All of this sounds all right, but it is not until I list out what you can do with the different parts of this amazing plant that you will really understand its worth. These are everyday uses, and you will be encouraged, as you should be, to plant more trees, especially Neem trees around you.
1. The Universal Healer
Whether it is a burn, infection, an insect bite, or a wound, the antibacterial and anti-inflammatory properties of Neem help to treat and heal all of these. All you need to do is make a paste of the leaves, and apply them to the affected area a few times in the day. And in no time, the problem will vanish. A Neem leaf pack can also help relieve and alleviate neuromuscular pains.
2. A Powerful Health Tonic
Neem can remove toxins, so it is a great blood purifier. It also helps reverse the damage of free radicals in the body. So it delays premature aging. Neem is gut-wrenchingly bitter, but its juice has too many benefits. You could pinch your nose and gulp it down, or add spices to it to make it tasty. Either way, you should drink it for better health and immunity.
3. Say Goodbye To Dandruff
It is its antifungal properties that help us get rid of that pesky dandruff in a jiffy. All you should do is boil some neem leaves until the water takes its fresh green color. Let this Neem decoction cool. Once you wash your hair with shampoo, use this Neem water as a rinse.
4. Bid Your Skin Woes Adieu
Neem, along with turmeric, is known to be the perfect skin care solution. It has treated issues like ringworms, itching, eczema, and even mild skin diseases. Talk about pimples, acne, or even oily skin. Here's your solution! The Purifying Neem Pack works efficiently in removing the excess oils and getting rid of acne and blemishes. It has a great mix of ingredients, and that ensures it works!
Neem is an antibacterial that improves the skin health in general, making it immune to problems. It also helps fight bacteria, effectively combat acne, ulcers, and boils. It removes the infection from the root, making sure the pimples and blemishes never return.
Turmeric is a well-known antiseptic and anti-inflammatory agent that soothes the skin and makes it supple and soft.
Fuller's earth works as a cleanser, removing the debris under the epidermis, whether it is oil, dirt, or pollutants.
This pack, which is packed with natural, herbal ingredients, is super affordable, extremely effective, and so convenient. Imagine! You can get a good facial in the comfort of your home, every week. Perfect!
You can buy this product and more here – Himalaya Herbals. Also, for more information about Himalaya products check out their Facebook page.
5. Revive Your Senses (Eyes, Ears)
Thanks to the increasing levels of tension, owing to our lifestyles, our eyes are always super stressed. To get rid of the tiredness, irritation, and redness, all you need to do is to boil some neem leaves. Let the water cool and then wash your eyes with it. You could do this every day to increase your eye health.
If you have boils in your ears, blend a few Neem leaves with honey and add a few drops to your ears. They shall be cured.
6. A Dentist In A Twig
We've often spotted people in rural India chewing on a twig. They are, in fact, chewing on a Neem twig, and it is a great habit. For years, people have used the Neem twig as a toothbrush. It is a great tool to fight bacteria and germs. It also helps to maintain the alkaline levels in the saliva. As stated earlier, since Neem is antibacterial, it keeps bacteria at bay. The Neem twig also treats swollen gums and gives you cleaner, whiter teeth. As you keep brushing, the twig disintegrates into bristles, thereby, preventing plaque.
7. A Digestive Tool
The Neem flowers are so delicate and pretty, but they are power packed and can treat nausea, anorexia, and belching. They can also destroy and kill intestinal worms. The flowers also have a cooling, calming effect on your system. It is good for your overall health and immunity!
8. The Petals Are A Delicacy
Neem flowers are added to food to create a delicate flavor. They are bitter, but add to the dish, giving it that perfect five-flavor balance. In Tamil Nadu, the Neem flowers are dried and powdered and added to food as a seasoning. From flower rice to Ugadi pachadi, and even rasam and lentils, these flowers are added to a whole lot of dishes. They are also dried, roasted, and added as a garnish.
Well, well, need I say more? Neem is truly an all rounder that protects and cares for you. It is one of nature's best bounties. When it can do so much for you, it is time you consider protecting it too. Don't cut trees. Grow them!
For more information, click here
The following two tabs change content below.